The continued growth of information technology can be seen in fields like online education, social networks, entertainment, health, agriculture, and cybersecurity, to name a few. To help meet this demand, many universities have established an online master's in information technology (IT) program. With so many choices, you can find the perfect program for you in terms of cost, career specialization, and learning flexibility. Since there are so many options, you might have questions on how to find the right program for your specific needs. How do you narrow down great programs? To help with your search, we've created this page that lists this year's best online IT master's programs. See which schools stand out for 2023.
2023's Best Online Master's Programs in Information Technology
Inside Look at 3 Popular Online IT Master's Programs
Choosing the best school can be a very personal decision. However, schools can vary widely in terms of cost, curriculum, and learning format. To give you an idea of what to expect when researching online master's degrees in information technology, we written detailed write-ups of three quality options. See if one of them meets your needs.
Arizona State University

Arizona State University is a world leader in distance education, offering a plethora of online programs to students to choose from. One of its most popular is its Online Master's in Information Technology program. To earn this master's degree in IT, students must take 10 classes for a total of 36 credits. Classes include:
Middleware Programming and Database Security
Principles of Computer and Information Technology Architecture
Software Development for Information Technology
To help students earn their degree as quickly and easily as possible, some classes are less than eight weeks long. Due to the tech-heavy curriculum, interested students must have an adequate background in information technology or a related field. This means they need a bachelor's or master's degree in computer science, software engineering, or a similar major. Applicants must also have a 3.0 GPA in their most recent 60 credits of post-secondary learning.
Purdue University Global

Online learning is popular because of the flexibility it offers. Purdue University Global epitomizes this flexibility in the curriculum for its Online Master of Science in Information Technology program. The average student should be able to spend just 20 hours per week on schoolwork while completing the degree. Most classes last six weeks, and the program offers five start dates throughout the year. The degree requirements are offered 100% online, which means students can complete the program without ever having to set foot on campus.
To accommodate students with various academic and professional interests and goals, the Purdue University Global program has the following concentrations:
Business intelligence and analytics
Information security and assurance
Project management
Of the 60 credits needed, 40 are major-related, while 20 are electives, giving students the chance to further personalize their learning experience.
Carnegie Mellon University Heinz College

Ask almost anyone in the information technology or computer science field to name what they believe are the top 10 colleges and universities, and Carnegie Mellon University is going to show up on almost every list. So it's no surprise that its Online Master's of Science in Information Technology program is ranked #1. Carnegie Mellon offers four concentrations and two of them are online: Information Technology Management (ITM) and Information Security and Assurance (ISA). The ITM degree is offered through a part-time program that's 100% online and asynchronous. This means students never have to leave their computer to earn their degree and they can complete their coursework any time that works for them. The ISA degree requires students to take both online and on-campus courses. On-campus classes occur six times a year at the Carnegie Mellon Washington, D.C. location.

Advantages of Earning an Online Master's in Information Technology
The information technology master's degree is very popular, and for good reason; it's convenient and helps professionals advance their IT careers. Let's look at these advantages and benefits when earning an online master's in IT.
Flexible learning

Undergraduate degree-holding professionals already working in the IT sector need serious flexibility to continue working while in school. This is why many programs can be completed without ever having to visit campus. Most universities allow students to complete their course requirements asynchronously.

Specialization

An undergraduate degree focuses on foundational concepts, but with a master's degree, students can choose courses that help them accomplish their personal or professional goals. For instance, a student may have an interest in business analytics and data mining but is missing the knowledge necessary to take on these responsibilities at work. A master's degree can fill in this knowledge void.

Shift into a new field

The opportunity to specialize or learn more advanced knowledge allows students to switch to a different area of work. For example, many IT curriculums at the master's level offer coursework in topics relating to project management and research. This makes it easier to move into a research and development or a supervisory role at work.
What You'll Learn in an Online Master's in Information Technology Program
Most master's in information technology online programs have one-third to one-half of their curriculum comprised of electives. This makes it possible to specialize or to learn topics that pique personal or professional interests. Most core classes involve topics like project management, IT security, databases, and software development. From there, students are free to create their educational path. Below are five classes most IT students can expect to see during their master's degree studies.
Sample Courses
Advanced Information Security

One of the most pressing issues for IT professionals today is the protection and integrity of the data their organization creates and stores. This class examines advanced means of protecting information in a variety of different locations. Besides technical security protocols, like encryption, students learn about the human aspect of keeping information secure.

Advanced Database Management Systems

Before enrolling in this class, students should have a basic understanding of databases and how they work, especially relational databases. This course takes the next step in teaching more complex concepts including indexing, concurrency control, information security, data integrity, and query optimization.

Information Systems Project Management

This course looks at project management for information systems and technology projects. Through the use of case studies, students discover how to use project management processes and project management knowledge areas to efficiently and effectively oversee and carry out IT projects.

Legal and Ethical Issues in IT

Information technology the laws relating to it are changing rapidly. In addition to learning about existing and potential laws concerning the regulation of information technology, students also examine ethical guidelines associated with the use of IT within an organization.

Technical Communication

Information technology is highly technical, which means laypeople may have trouble fully understanding the theories, principles, and strategies. It takes additional effort to communicate these ideas to managers, clients, and third parties who need this technical information but do not possess the background to fully understand it. This class teaches students how to effectively communicate IT ideas and principles, especially within the written medium.
Specialization Pathways
One of the main reasons IT and computer professionals decide to earn a master's in IT is to focus on a particular specialization or concentration. Schools offering an online master's in information technology degree understand this and make sure students have several concentrations to choose from. Below are five of some of the more popular specialization options available to information technology master's degree students.
Data Analytics

With the prevalence of the internet and connected devices, such as tablets and smartphones, the collection of data has become relatively easy. The primary challenge is now sifting through it all to glean useful information. This specialization trains future data analysts to take advantage of the theories and concepts needed to manage, organize, collect, and interpret massive amounts of data and use what's learned to help with business decisions.

Information Security and Assurance

Many businesses and organizations gather and store vast amounts of information about their clients and customers, especially personal information. Organizations need professionals with expertise in protecting sensitive digital information and maintaining data privacy. Students learn about tactics and principles for risk management and ensuring data integrity.

Healthcare Informatics

Health informatics is the science of how to use data to improve health and the delivery of health care services. This growing area increasingly relies on information technology, especially for patient records. This concentration trains students in not just health informatics, but also how to leverage these skills and knowledge to succeed in a management role.

Information Technology Management

For IT professions looking to take the next career step by moving into a more prominent management role, information technology management is a promising concentration. Courses in this specialization offer management tools and strategies, along with how to apply those concepts to achieve business objectives like more efficient project management.

Software Application Development

In this concentration, students learn about the software development process. This includes the identification of customer needs and incorporating their preferences into designing new software. Students also learn about how to test software, especially with apps designed for mobile devices.
The Importance of Accreditation for Online Master's in IT Programs
When deciding among the best online information technology schools, one important characteristic to consider is accreditation. Accreditation is a verification process where a third-party organization reviews a school to ensure its curriculum meets basic quality standards. In other words, accreditation proves that a degree means something.
Accreditation is also important because many employers and most schools only accept academic credentials from accreditation institutions. If you want to apply for financial aid, most scholarships and school loans are awarded only to recipients attending an accredited school or program.
There are two types of accreditation. There's institutional accreditation, which applies to the entire school. Then there's programmatic accreditation, which applies to a specific program. A master's degree in information technology does not have programmatic accreditation. Therefore, when choosing a school, confirm it has institutional accreditation from one of the major regional or national accrediting bodies. To help make this determination, you can use the U.S. Department of Education's Database of Accredited Postsecondary Institutions and Programs search tool.
What You Can Do with a Master's in Information Technology
A master's degree in information technology increases the potential for advancement. Specialization and increased knowledge about a particular subfield of information technology, like cybersecurity, can hold professionals in good stead. The degree can open up new areas to work in, such as research, and can offer skills and knowledge to shift into a management or supervisory role. Here are five potential careers tailor–made for graduates of a master's degree in information technology.
Computer and Information Systems Manager
Computer and information systems managers oversee the overall information technology operations of an organization. Due to the high-level nature of these responsibilities, a master's in IT can prove most useful, as it offers the ability to stay up-to-date on the newest computer developments and obtain additional management skills.
| 10th Percentile | Median Annual Pay | 90th Percentile |
| --- | --- | --- |
| | | |
Computer Systems Analyst
Computer systems analysts examine and analyze an organization's information systems, then offer assistance in updating and improving the IT operations. Many computer systems analysts have liberal arts degrees. However, a substantial information technology skill set is needed. A master's degree in IT can provide this additional training.
| 10th Percentile | Median Annual Pay | 90th Percentile |
| --- | --- | --- |
| | | |
Network and Computer Systems Administrator
Many organizations rely heavily on the efficient and reliable operations of network systems. To ensure these network systems stay up and running, organizations rely on network and computer systems administrators. A bachelor's degree is typically required to work in this profession, but many businesses require a master's degree because it provides the most recent IT knowledge, as well as management training, as part of its curriculum.
| 10th Percentile | Median Annual Pay | 90th Percentile |
| --- | --- | --- |
| | | |
Information Security Analysts
Cyberattacks are on the rise, so organizations are working harder to protect networks, databases, and computer systems. To help in this defense, information security analysts assess the cyber threat risk for a given organization, provide plans for improving security, and then help implement these plans. A master's degree offers major benefits, including additional training related to information security risks and courses that help integrate the IT field with business and management.
| 10th Percentile | Median Annual Pay | 90th Percentile |
| --- | --- | --- |
| | | |
Computer and Information Research Scientist
Computer and information research scientists explore possibilities for creating new computer technology and ways of better implementing existing technology. The goal is to help other scientists and engineers solve challenges in a variety of fields, from robotics to healthcare to cybersecurity. Most computer and information research scientists need a master's degree to obtain the requisite advanced research knowledge necessary to accomplish their goals.
| 10th Percentile | Median Annual Pay | 90th Percentile |
| --- | --- | --- |
| | | |
Costs and Financial Aid for Online Information Technology Master's Programs
Before enrolling in an information technology master's degree program, you'll need to make sure you have the monetary resources to pay for it. One way to do this is to acquire financial aid. There are various types you might be eligible for, including grants, fellowships, scholarships, and school loans. The most popular loans come from the federal government, while scholarships, grants, and fellowships can often come from the school itself or private organizations. Students who already have full-time employment when enrolling may have employer tuition assistance available as a part of their workplace benefits. To learn more about these financial aid options, visit our financial aid page.
What Your Online Master's in Information Technology Could Cost
| School Name | No. of Credits | Cost/Credit | Total Tuition Cost |
| --- | --- | --- | --- |
| | | | |
| | | | |
| | | | |
Q&A with an Online Master's in IT Program Director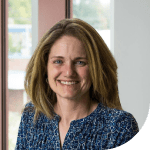 Kathleen Hyde, MCIS, MBA, is the Chair of Cybersecurity Programs for Champlain College Online. She is responsible for the online cybersecurity and computer forensics and digital investigations undergraduate programs, as well as the MS in the digital forensic science program. As program director, Ms. Hyde maintains the cybersecurity and digital forensic programs' competitive and relevant edge, promotes the growth of the nation's cybersecurity workforce, and shares her passion for lifelong learning by teaching several online classes.
Q. What emerging careers are you seeing pick up steam for those who have the IT master's degree?
A. Having an understanding of information technology is critical in so many professions today. An advanced degree in IT can provide a great foundation for a career in networking or systems design and administration. While these aren't exactly new and emerging careers, the technology that is being used in them continues to evolve. For example, the introduction of 5G is changing what we can do with mobile devices.
At CCO, having an understanding of IT is required for those who decide to advance in or change their careers. Our Masters of Science in Information Security and Digital Forensic Science degree programs require students to "know" IT. Careers in both of these fields require skilled professionals who can grow as technologies like artificial intelligence and automation continue to evolve.
Q. Even to the average person watching the nightly news, IT is a very hot topic right now. How have your courses changed over the years as new trends emerge and new careers open up in the field?
A. IT is a hot topic, and new technologies and products are being introduced to the market daily. The trick, if it can be called that, is to take a measured approach with our programs and courses. Rather than getting caught up in every announcement, we look at long-term trends and listen to industry leaders who share with us the skills they need their employees to have now and in the future. In the last few years, we have redesigned our MS in Information Security and added academic certificates in Data Science, Blockchain, and Information Technology.
Q. What are a few of the most important things you want your IT students to learn – what will hold them in good stead as they move through their career?
A. One of the best pieces of advice that I can give is that today we need to consider ourselves lifelong learners. Students aren't students only when they are attending class. Especially in IT, you will constantly have to learn and maybe even reinvent yourself. Those who were in IT early on had to reinvent themselves and those who are involved now will have to reinvent themselves in the years to come. Be open to self-improvement, learning new skills, and change.
Beyond that, pick a programming language and maintain your skills, even if you haven't needed to do that in the past. If for some reason, the technology that you currently know, love, and support suddenly is replaced, you will have a skill to fall back on and the ability to pivot.
Q. Anything you'd like to add about information technology courses?
A. Take as many as you can and also take advantage of free resources, including webinars, virtual conferences, and white papers. Don't solely focus on new technology or the latest buzz to the detriment of core knowledge and skills. Be sure you understand how things work and why so that as technology evolves, you will be able to problem–solve and troubleshoot.
FAQs About Online Master's in IT Programs
What are the admissions requirements for an online master's in information technology?
Even the best online information technology schools differ in the exact requirements for admissions into their respective programs. However, there are some similarities in what they expect from applicants. These requirements include:
Application
Official transcripts
Personal statement or essay
Resume or curriculum vitae
One or more letters of recommendation
Most programs also want incoming students to have a background of training or education in information technology. Some schools require a bachelor's degree in IT or a similar area of study. Others require students to have completed certain technology classes, like a programming course. As for GRE or GMAT scores, many programs do not require them or make them an optional part of the admissions application.
How long will it take to finish my master's in information technology online?
The average online master's in information technology degree requires students to complete about 30 to 36 credits. Given how most curriculums are designed for working professionals, most students will complete their coursework on a part-time basis. Therefore, the typical program can be completed in as little as 15 months, like at Southern New Hampshire University, or 24 months, as is the case at Grantham University.
Can I earn my IT master's 100% online?
Most online master's in IT programs allow 100% of the coursework to be completed online. This means no campus visits or having to travel to specific locations to complete course requirements. A few programs have part of the curriculum offered in a blended learning format, requiring the occasional visit to campus.