Imagine that you fell off a ladder and shattered your hand. Once the cast is off, who will help you retrain your body to do everyday tasks, like buttoning your jacket, holding a pencil, or using a fork? That job goes to an occupational therapist. Occupational therapists (OTs) empower people who are living with injuries, illnesses, or disabilities to do daily activities like dressing, hygiene, driving, and cooking. Occupational therapy professionals must have at least a master's degree to work in this field; they go through rigorous training to be prepared to treat patients of all ages, from children to the elderly.
Earning an occupational therapy master's degree online is a major investment, so when you choose an OT school, you'll want to know that you'll get a quality education. To help you find the best school for you, we've listed this year's top programs below, which is made up of accredited online occupational therapy programs from schools based on factors like affordability, strength of online education, and student support.
Best Online Occupational Therapy Master's Programs in 2023
1
East Greenwich, Rhode Island
Type:
Private not-for-profit
New England Institute of Technology is a hybrid program, with a weekend format that requires students to be on campus five weekends in each ten-week academic term and to participate online during alternate weeks. Students will learn techniques to identify clients' functional problems as well as underlying physical, mental, and psychosocial problems and establish intervention plans. After completing classroom work on campus and Level I Fieldwork off campus, students begin working in the community for Level II Fieldwork, where they can apply classroom training in real life situations. Graduates will be prepared for work in a variety of healthcare settings. Admissions requirements include an associate degree in occupational therapy from an ACOTE-accredited educational institution, certification as an occupational therapy assistant by the National Board of Certification in Occupational Therapy, minimum GPA of 3.0, and a personal statement.
Program Highlights:
Occupational Therapy, M.S
Credits: 113
Length: 10 terms/30 months
Cost: $825 per credit hour
Mode: $825 per credit hour
Accreditation: Accreditation Council for Occupational Therapy Education
School Services & Accreditation
| | |
| --- | --- |
| Career Services | Yes |
| Academic Counseling | Yes |
| Accreditation | NEASC |
2
Type:
Private not-for-profit
Barry University's occupational therapy master's program provides students with an opportunity to earn an advanced degree and to prepare for certification as a registered occupational therapist. The program is delivered in a hybrid mode, with on-campus weekend and online sessions scheduled so students can balance their personal and professional responsibilities. Students complete a 12-week full-time fieldwork placement after the first year of the program and a second full-time fieldwork placement after year two. The program offers a 15:1 student-faculty ratio, allowing for personal attention and guidance. More than 80 percent of the faculty hold a PhD or the highest degree available. In addition, 93% of students in the program pass the NBCOT Certification Exam. Admissions requirements include a Bachelor's degree, minimum 3.0 GPA, grade requirements in prerequisite courses, two professional letters of recommendation, and a statement of purpose.
Program Highlights:
Occupational Therapy (MS)
Credits: W74-74 (Entry-level students); 35-36 (Occupational Therapists)
Length: 2.5 years
Cost: $990 per credit hour
Mode: Hybrid
Accreditation: Accreditation Council for Occupational Therapy Education
School Services & Accreditation
| | |
| --- | --- |
| Career Services | Yes |
| Academic Counseling | Yes |
| Accreditation | SACSCOC |
A Deeper Look at 3 Popular OT Programs
While college rankings are a good place to begin your search for an online OT master's program, you'll want more information before deciding on a program. What will I learn? What are the admissions requirements? How long will it take to complete my master's? And how much will it all cost? Digging into the details of individual online OT master's programs can help answer these questions and give you a better idea of what to expect once you enroll. We've provided in-depth writeups of three quality options below.
Concordia University Wisconsin

Concordia University Wisconsin's master of occupational therapy program gives students a strong theoretical knowledge base and multiple opportunities to use that knowledge on real patients, from children to adults. To get the expertise they need to work with patients, students take classes that cover functional anatomy, clinical reasoning, occupational health and wellness, and patient advocacy. After that, students demonstrate what they learned during fieldwork experiences at healthcare facilities. The program is taught in a blended format, meaning students have a mix of online and in-person courses.
Applicants can choose from the accelerated track, which is typically for high school students who want to combine their bachelor's and master's studies; the bridge track, for those currently working as certified occupational therapy assistants; and the post-baccalaureate track, for students who already have a bachelor's degree. To be admitted to the Concordia University Wisconsin program, applicants are expected to have at least a 3.0 GPA and coursework in biology, anatomy and physiology, and statistics with at least a B average.
Barry University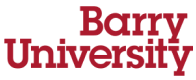 The occupational therapy MS program at Barry University is a combination of distance and face-to-face education, where students take some classes online and then meet for in-person instruction at the Miami Shores, Florida, campus two weekends each month. The curriculum includes classwork on neuroscience, assessments, interventions, healthcare law and ethics, and leadership and management. After classes are completed, students go on to participate in full-time fieldwork at a skilled nursing or rehabilitation center for 12 weeks. During this time, students build their observation, assessment, interviewing, critical thinking, and activity analysis skills.
To be admitted into this program, students must have a bachelor's degree from a regionally accredited college or university, at least a 3.2 grade point average, and at least a grade of B in anatomy, physiology, psychology, kinesiology, and sociology prerequisites. Also, applicants are expected to complete at least 40 hours of volunteer work or observation at an occupational therapy clinic to prove that they have familiarized themselves with the realities of the profession.
Elmhurst University

The Elmhurst University master of occupational therapy, which can be completed in two years, teaches students how to collaborate with other medical professionals, integrate theoretical principles to provide appropriate treatments, work based on the legal and ethical standards of the field, and use occupational therapy techniques to provide care to individuals or groups. Classes teach planning an intervention in several contexts, including when working with patients that have mental health issues, acute physical health challenges, learning disabilities, and chronic pain. To reinforce these principles, prospective Elmhurst students must participate in a fieldwork experience in which they get supervised practice working with patients.
To be admitted, Elmhurst requires that applicants have a bachelor's degree and at least a 3.2 GPA and gives preference to applicants with a composite verbal plus quantitative GRE score of 300 plus a writing score of 4. Also, students should earn at least a B- in prerequisite courses, which include statistics, abnormal psychology, developmental psychology, and anatomy and physiology.
Advantages of Earning a Master's in Occupational Therapy Online
Occupational therapy is a rewarding career in a field that the Bureau of Labor Statistics expects to grow much faster than average. Enrolling in a master's in occupational therapy online program means you can tap into those job benefits while also taking advantage of program-related benefits like these:
Hands-on training

Some people may be reluctant to enroll in occupational therapy degree online programs because they mistakenly believe they will not get the hands-on training they need to prepare for this career. However, these programs provide the best of both worlds: Not only can students enjoy the benefits of taking online classwork, but they also get the opportunity to regularly receive in-person instruction leading up to their required fieldwork training.

Flexibility

Although students are required to get some of their instruction on campus, online programs allow them to gain the theoretical knowledge they need in sessions conducted online. In addition, these schools have in-person sessions that may be conducted during evenings or weekends, which gives students the flexibility they need to juggle this coursework with their other obligations.

Affordability

Online schools are an affordable option because students may be charged per credit hour, which can significantly drive costs down. Eliminating debt relieves a major point of stress for students, meaning they can focus on their classes and not worry as much about their funds.
What You'll Learn in Online Occupational Therapy Programs at the Master's Level
The curriculum offered by occupational therapy departments is designed to combine the theoretical principles of occupational science with practical strategies for delivering quality patient care. You'll graduate with numerous important skills, including the ability to choose the appropriate therapeutic intervention to meet a specific patient's needs, collaborate with other healthcare professionals to create patient treatment plans, and understand ethical standards that occupational therapists are expected to follow throughout their careers. Plus you'll have hands-on experience that's critical to quickly finding success in this field
While the specific coursework in online occupational therapy programs depends on the school you attend, the following are some courses that may be offered.
Research Methods

This course provides a look at the principles that are used when conducting qualitative or quantitative occupational therapy research. Students learn how to develop research questions and then devise a study that answers those questions, collect and interpret data, and report on findings. Also, the class provides an understanding of how to evaluate published research and apply it to an occupational therapist's own work.

Occupational Development Across the Lifespan

Students in this class learn the occupational developments that take place throughout a person's life, from the cradle to the grave, such as motor, social, emotional, and cognitive changes. Also, the course provides an understanding of what is considered normal and abnormal development during each stage of life.

Neuroscience in Occupational Therapy

This class focuses on the nervous system and how it functions, develops, and behaves when someone has a neurological disorder. Specifically, students learn about the physiological and anatomical workings of the central, peripheral, and autonomic nervous systems.

Functional Anatomy and Kinesiology

This class covers clinical anatomy and kinesiology from an occupational therapy perspective. Students learn about different types of musculoskeletal conditions and how to treat them.

Occupational Therapy Fieldwork

After students complete their coursework, they are required to participate in clinical experiences to apply the principles they learned to a real work setting. During this time, students gain practical skills under the supervision of a licensed occupational therapist. Some programs also require completion of a research project.
Specialization Options for Your Online Occupational Therapy Program
To help students prepare for the type of job they want, schools may allow them to choose different specializations. Through these concentrations, students take coursework that helps them gain the expertise to work with a specific kind of patient or in a specific type of position. The following are some of the specializations you may be able to choose.
Gerontology

This specialization is for those who want to work with older patients who may have mobility and cognitive challenges or are recovering from medical events like a fall or stroke. People who complete this concentration may go on to work with patients in various clinical settings, such as nursing homes or in patients' residences.

Pediatrics

Those who want to provide services to children can enroll in this specialization to learn how to work with young patients. Coursework covers childhood development, human embryology, and pediatric trauma.

Mental Health

In this concentration, prospective occupational therapists who want to use their expertise in a mental health setting learn to conduct cognitive assessments and provide psychosocial occupational therapy interventions.

Stroke Rehabilitation

People who want to specialize in providing treatment to stroke survivors can enroll in this concentration to learn the best practices. Occupational therapists can get the Certified Stroke Rehabilitation Specialist (CSRS) credential.

Rural Populations

This specialization provides a look at how occupational therapists can best treat those in rural communities who may have limited access to healthcare services.
Accreditation for Online Occupational Therapy Programs
To ensure that they get the best training, online occupational therapy students should only consider programs that are accredited by the Accreditation Council for Occupational Therapy Education, which is part of the American Occupational Therapy Association. Accreditation helps ensure that students get the educational value they need and deserve; to receive this stamp of approval, schools are evaluated based on their curriculum, faculty, research, mission, and ability to give students the skills employers look for.
To work as an occupational therapist, you must pass an exam administered by the National Board for Certification in Occupational Therapy. Accredited master's in occupational therapy online programs will provide the best preparation for you to take and pass that all-important exam.
What You Can Do with a Master's Degree in Occupational Therapy
After graduating from an occupational therapy master's program, students enter the workforce with numerous marketable skills, including monitoring, assessment, critical thinking, communication, and empathy. Thanks to these abilities and the technical knowledge they receive in their online programs, students can pursue the following positions.
Certified Occupational Therapist
Occupational therapists work in hospitals, skilled nursing facilities, home healthcare services, outpatient clinics, or in practices with physical therapists and speech therapists. These professionals assess a patient's needs and abilities to perform specific tasks, create a treatment plan, and help the patient meet their treatment goals. To help patients be successful, occupational therapists provide recommendations for equipment—such as wheelchairs and leg braces—that the patient may need to help them in their daily lives and teach them how to use these tools.
| 10th Percentile | Median Annual Pay | 90th Percentile |
| --- | --- | --- |
| | | |
Pediatric Occupational Therapist
Pediatric occupational therapists use their expertise to work with children. Through their knowledge of occupational therapy, as well as their understanding of childhood development, people in this specialization are able to create age-appropriate treatment plans and work with patients and parents to implement them.
| 10th Percentile | Median Annual Pay | 90th Percentile |
| --- | --- | --- |
| | | |
Occupational Therapy Supervisor
An occupational therapy supervisor oversees the work of occupational therapists in healthcare facilities to ensure that patients are receiving the best care. Specific duties may include monitoring the activities of occupational therapy staff members; recruiting, hiring, and training occupational therapists; maintaining personnel records; and making daily decisions about the operations of the department.
| 10th Percentile | Median Annual Pay | 90th Percentile |
| --- | --- | --- |
| | | |
Health Educator
Health educators promote wellness in their communities by teaching people what behaviors they should incorporate into their daily lives to prevent illness and get the best health outcomes. These professionals investigate the health needs of a community, create programs and materials that will educate people about these issues, and implement education programs and monitor them for their effectiveness. Health educators may be employed at hospitals, outpatient care centers, civic organizations, government agencies, and healthcare clinics.
| 10th Percentile | Median Annual Pay | 90th Percentile |
| --- | --- | --- |
| | | |
Clinical Director
Clinical directors manage the day-to-day activities of clinical departments in a healthcare facility. Their work includes supervising employees, hiring and training new workers, maintaining schedules, and ensuring that their activities do not exceed established budgets. To be successful in this job, professionals need to have strong communication, organizational, public speaking, and technology skills.
| 10th Percentile | Median Annual Pay | 90th Percentile |
| --- | --- | --- |
| | | |
Costs and Financial Aid for Online Occupational Therapy Programs
Getting an online master's degree in occupational therapy is a necessary step for entering the occupational therapy field, but it is also a huge financial investment. It's important for interested students to know exactly what their financial obligations will be when they enroll in an occupational therapy master's degree online—even if they do qualify for financial aid.
To give you an idea of how much you may pay for your online occupational therapy master's program, we have collected information from a few different schools in the table below. To find out ways you can get help paying for your education, log on to our financial aid page.
What Your Online Master's in Occupational Therapy Could Cost
| School Name | No. of Credits | Cost/Credit | Est. Total Tuition Cost |
| --- | --- | --- | --- |
| | | | |
| | | | |
| | | | |
Frequently Asked Questions About Online Occupational Therapy Programs
What are the admissions requirements for an online master's in occupational therapy?
Occupational therapy master's programs are extremely rigorous, so it's important for prospective students to understand what schools expect of them when they apply. Although each department will have its own standards, graduate programs usually expect applicants to:
Have a bachelor's degree from an accredited school
Have work experience as an occupational therapy assistant or medical assistant or experience shadowing an occupational therapist
Have at least a 3.0 grade point average
How long will it take to finish my master's in occupational therapy?
When students enroll in a program full-time, they can complete their degree in about two years. Part-time students, on the other hand, may finish their studies in three to four years.
Can I earn a master's in occupational therapy 100% online or do I need to visit campus?
Since occupational therapists must have experience working with patients, students in master's programs are required to complete some of the coursework on campus. Although many classes can be taught online, programs will generally expect students to come to campus for in-person instruction during evenings or weekends. Also, students participate in fieldwork where they are able to apply everything they learned in their program to real-world patient care settings under the supervision of a licensed occupational therapist.