A master's degree can advance your career by enhancing your resume and deepening your skillset. However, taking a year or two off to attend a full-time program is a sacrifice few can make, so many people choose to complete their master's degree online while working full time. With an online master's degree program, you can advance your career from the comfort of your own home. In some cases, it is possible to complete an online master's degree in one year or less, depending on the program, your time commitment, and what previous schooling or experience you bring to the table.
Since not all online master's programs are created equal, this guide helps you find a top-quality program that suits your lifestyle. Not only does it profile top-ranked programs in the U.S., but it also discusses the types of online 1-year master's degree programs available as well as what factors you should consider before applying. Advice from a one-year master's program graduate rounds out the discussion.
1-Year Online Master's Degree Programs
A one-year online master's degree is one of the fastest ways to further your education and advance your career. When looking for a program, make sure it has the curriculum, resources, and opportunities to advance your career goals. If you want to work full-time while completing your program, make sure the one you select is flexible and allows you to take classes outside of working hours.
Finding a flexible program to meet your educational needs takes patience but it's worth the effort. The following list of accredited one-year online master's degree programs should provide you with a solid starting point in your search. Schools are listed alphabetically, so be sure to click the tabs to see them all and compare options.
| College | Programs |
| --- | --- |
Why Consider a 1-Year Master's Online?
There are a variety of advantages to one-year online master's programs, from flexibility and increased earning potential, to saving time and money. For many, a one-year program that is also online provides the quickest and easiest way to career advancement. When compared to longer or in-person programs, though, there are some disadvantages to an accelerated program, such as increased intensity and tighter timelines. Considering the pros and cons of a one-year online master's program can help you know if it's the right approach for you or if a two-year program or in-person program better suits your needs.
Pros of a 1-Year Online Master's Program:
Take less time to complete

With other programs taking two to three years, the program completion time is substantially less. You'd also save commuting time and be able to devote more time to studying and other commitments.

Improve your chances for promotion

Getting a master's degree is a fantastic way to accelerate your career. It shows commitment to your profession and provides additional resources and knowledge you might not be able to get otherwise.

Increase your earning potential

Individuals 25-34 years old with master's degrees earn $10,000 more a year on average than those with only bachelor's degrees. Employers are willing to pay more for your increased knowledge and skills.

Improve your opportunity for a new career

A one-year master's degree provides a quicker way to start a new career. If you currently work on the editorial staff of a publishing company but want to join the supply chain operations team, for example, an MBA can help you pivot your career.

Gain new knowledge related to your current profession

Combining a full-time career with continued education provides new knowledge that allows you to better thrive in your current role. Many employers reward employees who decide to upskill through higher education.

Learn new skills to stand out above co-workers or for personal interest

Whether you're looking to stand out from the competition or want to advance your education for personal development, a one-year program provides a streamlined way to learn the new skills you desire.

Save money

Condensed programs sometimes have a lower price tag, though not always, than traditional master's programs. Other areas of money savings include not having travel costs and being able to advance and earn a higher salary an entire year sooner.
Cons of a 1-Year Online Master's Program:
Program intensity may not align with your lifestyle or commitments

While you will get your degree faster, the program will be more intense than a longer program. This could significantly strain your lifestyle and leave less time for other interests and commitments.

Balancing work and school may be tough

Juggling work and school assignments may also be difficult, especially since the program is accelerated. A one-year program may require a lot of late nights after an already long day of work.

Tighter timelines and deadlines for assignments

Most one-year programs have extremely tight timelines. This makes deadlines for assignments harder to meet as you try to comprehend the more advanced information that makes up any quality master's program.

May offer fewer networking opportunities

Longer programs and especially in-person ones have more built-in networking opportunities. Because one-year programs are so intense and because the coursework is all online, connecting with others in your program becomes more difficult.

May not provide as in-depth knowledge of subjects

Professors may have to cut some of their usual curricula to suit a shorter online format. This means the information you receive might not be as in-depth as in longer or in-person programs.
11 Popular 1-Year Online Master's Degrees
Some master's degrees are easier and more popular to get online than others. Generally, programs that don't require hands-on experience are easier to earn online. In addition, career fields like accounting and administration require a master's to advance professionally, so these fields often have popular online programs to suit the increased demand.
Below are the top disciplines with one-year online master's programs. We've also included information on some of the job and advancement opportunities available along with information on potential income.
What to Look For in a 1-year Online Master's Degree Program
Knowing the options available in one-year online master's degree programs is a great starting point, but it's also important to determine which programs are right for you. Finding a program that suits your lifestyle and career goals is a multifaceted process with many considerations. Factors to consider when choosing a program include accreditation, cost, curriculum, resources, learning style, and graduation rate. These categories will not only guide your search for the perfect program, but they can also help you compare one program to another.
1. Accreditation
Make sure the master's program you choose is accredited. Depending on your career path, also make sure the program meets your state's requirements. For example, accountants and mental health practitioners often need special accreditation to practice in their state. For fields like these, a master's program meeting your state's and any professional governing body's licensure requirements is essential in choosing a program that will help you reach your career goals.
2. Costs, Scholarship Opportunities, and Financial Aid
While cost is a significant consideration for most students, don't look only at the price of the program. Also consider scholarship opportunities and financial aid since these can make a school with higher tuition cost the same and sometimes less than one with lower tuition. Programs usually provide financial information on their websites, but you can also reach out to program directors to learn more. Additionally, consider scholarship opportunities outside of your institution of choice to offset the cost of your master's program.
3. Curriculum
No two master's programs are alike, so research what the curriculum is like for a specific program of interest to determine if it will help you meet your career goals. This is especially true for broad degrees like a master's in health sciences, for example, since some health science programs are tailored toward medical research roles while others prepare students for careers in healthcare administration. Make sure to choose a program tailored to your ideal career path.
4. Student Resources
Beyond the curriculum, you'll also want to explore the resources available to you as a student. As an online learner, pay particular attention to the online resources. If there's a writing center at your institution but it only provides in-person services, it won't help you improve your accounting term paper if you learn remotely and can't go to campus. Also consider whether a program offers networking opportunities since success in many fields also depends on making professional connections.
5. Learning Formats
When considering the learning format, look at a program's experience with online instruction and your personal preferences. Programs experienced in online education often have better learning formats because they have spent years perfecting their online curricula. Also make sure a program suits your specific learning preferences. For example, if you enjoy a hands-on program with lots of activities or prefer a lecture-heavy program with exams, there's likely a master's program available in that format.
6. Graduation Rate
The goal of a master's program isn't just to learn but to graduate, so investigate the graduation rate for different programs you're considering. The graduation rate of a master's degree in social work program reflects the program's effectiveness and student satisfaction. A high graduation rate shows that students are completing the program and acquiring the necessary skills and knowledge to meet the rigorous aspects of the job. It also suggests the program provides adequate support and resources, leading to a positive learning experience.
Low graduation rates, on the other hand, may signify a challenging curriculum, insufficient support, or a mismatch between student expectations and program offerings. Choosing programs with high graduation rates increases the likelihood of receiving a quality education and achieving personal and professional goals.
Tips and Advice from a 1-Year Master's Program Graduate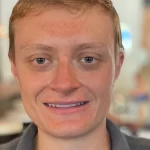 When deciding on a one-year master's degree program, talking with past students to get their perspectives can be invaluable. That's why we sat down with Kentucky Morrow to discover insider tips to help you ensure success in your online master's program. After majoring in economics at Emory University, Kentucky Morrow decided to get a one-year online master's in healthcare management from John Hopkins University. Here's what he had to say about his master's degree and how it gave him the skills necessary to serve as a VP of Finance and later as a co-founder of Ralli Alcohol Health.
What did you consider when choosing your specific program?
I joined the Johns Hopkins Healthcare Management program to both get a deep understanding of healthcare, where I previously had limited experience, and because of the brand name. Whenever people ask where I went to school, the Hopkins name always stands out.
Looking back after completing your degree, what advice would you give to yourself when applying to programs?
I would focus more on opportunities outside the classroom. Initially, I really focused on academics, which is important, but the clubs, internships, and networking opportunities are what have stuck with me the most.
What was the main reason you wanted to complete a master's program?
The program was really helpful for me in transitioning my career trajectory. It let me position myself from academia to industry while also helping me get hands-on experience to discuss in interviews.
After getting your master's degree, how did your career trajectory change?
My courses and the opportunities in my program were instrumental in helping me go from an entry-level investment banker to vice president in four years and subsequently launching a startup.
What are the most important skills you developed in your master's program?
The program at Hopkins was great because it was interdisciplinary. I was able to use my skills in financial economics from undergraduate studies to understand the financial aspects of investment banking, but the industry experience of a healthcare management background let me really understand the strategic and operational challenges faced by the CEOs of the healthcare companies we were advising. That similarly translated to launching Ralli where understanding the clinical and regulatory challenges of an alcohol health company was just as important as building a brand.