Graphic design is one of the most sought-after and emerging career fields today. Building your career as a graphic designer requires knowledge and skills that combine traditional techniques with cutting-edge technology. Fortunately, graphic design is one of many master's degrees you can earn online from the comfort of your home. In this guide, we will explore some of the top programs in the country where you can earn your graphic design master's online and highlight different career options to advance your professional goals. Let's get started and see what you can accomplish by earning your online master's in graphic design degree.
Top Online Master's in Graphic Design for 2023
1
Type:
Private not-for-profit
Liberty University's Master of Fine Arts (MFA) in Graphic Design is designed to help graduates find success in the arts and visual communication industry. Courses are designed to train students to communicate through visual mediums including typography, digital illustration, digital imaging, and design techniques. Professionals with an MFA have a competitive edge over other artists in the industry. The program is completely online, allowing students to maintain their employment and meet personal responsibilities. Students will complete a 180-hour internship under the supervision of a professional working in graphic arts design. They also have the option of completing a 90-hour practicum where they compile a body of creative work. Admissions requirements include admission application, artist statement, portfolio, transcripts, and a GPA of 3.0.
Program Highlights:
Master of Fine Arts in Graphic Design
Credits: 30
Length: 2 years
Cost: $565 per credit hour
Mode: Fully online
Accreditation: Southern Association of Colleges and Schools Commission on Colleges
School Services & Accreditation
| | |
| --- | --- |
| Career Services | Yes |
| Academic Counseling | Yes |
| Accreditation | SACSCOC |
College Spotlights: Master's in Graphic Design Online Programs
There are many excellent graphic design online master's programs around the country with different program features to fit different career goals and busy schedules – it's just a matter of finding the right one for you. To help you in your search, we've highlighted three of the best online master's in graphic design programs available based on several important factors, including affordability, curriculum, support services, and accreditation. Be sure to check out our full program rankings that will be available later this year.
Liberty University

Courses in Liberty University's online Master of Fine Arts in Graphic Design program provide training in a wide range of graphic design areas, including digital art, digital design, 3D, vector illustration, game design, publication, and many others. During the program, students complete a 180-hour internship under the supervision of an approved graphic design professional. Students are also required to complete either a thesis or portfolio project and pass an oral examination. All didactic coursework is completed 100% online. The internship may also be completed online upon program approval.
Program admission requires a previously-earned bachelor's degree with a cumulative GPA of 3.0 or higher. Other application requirements include an artist statement of purpose and fine arts portfolio consisting of 20 items that best depict the applicant's interests and abilities. The average program completion time is two years. The per-credit tuition price for this 60-credit hour program is $565. Generous tuition discounts are available to active military, veterans, and their spouses.
Minneapolis College of Art and Design

The Master of Arts in Graphic and Web Design degree from the Minneapolis College of Art and Design (MCAD) is designed to provide working adults with real-world skills and experience to build their portfolios and advance their careers. The 30-credit hour program consists of ten courses in design principles, research typography, ideation, web design, programming, and more. The curriculum culminates with a capstone project in which each student assembles and presents studio work produced throughout their courses of study. The curriculum features a mid-program review. Students gain valuable experience by presenting their work for feedback to a MCAD faculty team and respected working professionals in the design community. All coursework is completed 100% online with no campus visits required. Most courses are presented in an asynchronous format allowing students to complete their work at any time. However, some courses include weekly synchronous remote meetings.
Admissions requirements include a previously-earned bachelor's degree, a portfolio consisting of ten pieces of the applicant's strongest work, a personal statement, a current resume, and a student-created introductory video. Both full-time and part-time options are available. Full-time students can start their programs in either the fall or spring, while part-time students must start their fall program.
Savannah College of Art and Design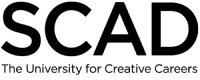 Through its eLearning division, the Savannah College of Art and Design offers an online version of the same Master of Arts in Graphic Design program available on both its Atlanta and Savannah campuses. The program provides a collaborative learning environment that enables students from diverse locales to share their ideas, research, and work with each other. The curriculum consists of coursework in professional practice for visual design, ideation of models and process, and design, research, analysis, and discourse. Students have the option of completing a graduate internship in which they undertake a field or teaching assignment under faculty supervision. The degree can be earned by completing as few as 45 credits, although additional coursework may be required to bring the total credits to between 50 and 70.
In addition to its MA program, SCAD offers a Master of Fine Arts in Graphic Design in an online format. The MFA program includes a thesis requirement and can be completed with as few as 90 credit hours.
Advantages of Earning an Online Master's in Graphic Design
If your goal is to become a leader in the graphic design field, then earning your master's in graphic design can help get you there. Here are three major benefits to becoming a graphic design master's graduate:
You'll gain valuable specialized skills

In today's highly-competitive business environment, the graphic design industry is exceptionally competitive. Graphic artists must possess the most advanced, innovative, and specialized skills to succeed in their careers. A master's in graphic design provides those skills.

You'll become eligible for top jobs in the graphic design field

Along with advanced design skills, master's in graphic design degrees provide important business and leadership training that opens the door to top management jobs with design firms, advertising agencies, and corporation art departments, as well as prepares graduates to successfully run their freelance businesses. A master's in graphic design additionally provides graduates with the terminal credential needed to teach graphic art and design at the college level.

You'll earn your degree in the most convenient environment possible

Earning a master's in graphic design online from a top school allows students to conveniently fit their studies into their busy schedules while receiving the same quality education (knowledge, skills, feedback on your work, access to collaboration, etc.) as their school's on-campus program.
What You'll Learn in an Online Graphic Design Master's Degree Program
Providing you with advanced practice skills, specialized training, and preparation for leadership roles is what the master's in graphic design is all about. Your online master's program will cover all aspects of modern graphic design practice in traditional print media, branding, packaging, product design, interactive and digital media, and more. You'll complete your studies with a culminating project that will provide you with a portfolio of your best work that you can use to impress employers and land the challenging and high-paying position you're after.
Below are descriptions of five courses similar to those you'll likely find in the curriculum of the online master's in graphic design program you choose. Different programs cover this subject matter in different ways, though. For example, some programs approach visual design and history within separate courses for different contexts (interactive, static, publication, etc.) Nevertheless, you can be sure that your program will cover all of the topics described in the descriptions below.
Common Courses
History of Graphic Design

An overview of the theory and practice of graphic design emphasizes European and American design histories from the Industrial Revolution to the present. Students learn how to identify major styles of the past and their influences on present-day styles in political, social, and technological contexts. Students are additionally introduced to historically significant graphic artists and their contributions to popular styles and graphic art practices.

Interactive Design

A discussion of theories, concepts, and methodologies related to interactive design and their application in various contexts. Students learn to research and identify cutting edge technologies in web development and media applications, evaluate technological solutions and executions, and the best practices for on-screen and online design, development, and publication for a broad range of digital platforms.

Typography

Immersive course into advanced typographic practice emphasizing both the technical skills of typography and typography as an expressive medium. Topics include the history of typography, concepts and methodologies, type forms and compositions, ideation, research, signage, mapping, identity systems, and more. Students complete class projects to demonstrate their understanding of how typography is used to articulate meaning about a range of topics.

Visual Design in Context

This course presents a broad-based survey of the foundational concepts of visual design. Topics include graphic design history, the theoretical basis of graphic design, design vocabulary, cultural influences, and technical innovations. Special emphasis is given to the importance of research in the ideation process. Some programs divide course content into separate courses for visual design in static (or publication) content and interactive content.

Culminating Project

All online graphic design master's programs include some type of culminating activity. For MFA programs, it's typically a thesis. MA programs most often culminate with a portfolio project. The purpose of the culminating project is to provide students the opportunity to demonstrate their mastery of the graphic design knowledge and skill gained throughout their courses of study in a form that can be presented to prospective employers and clients.
Specialization Options
Graduate degree programs in many majors offer students some specialization (or concentration or track) options that allow them to tailor their studies to a particular area of their major subject corresponding to their professional goals and interests. Online graphic design master's programs do not offer such specialization options. Instead, they encourage students to explore those areas of the field they wish to prepare for through their choices of electives, assignments, projects and works created during the program.
Here are five areas of the larger graphic design field in which many master's students focus their coursework. Keep in mind that these specializations are not mutually exclusive and share many practice talents and skills among them.
Advertising and Marketing Design

Marketing design concerns promoting a brand's products or services in a visually engaging way. Advertising design is the area of marketing design specifically focused on creating commercials and ads for television, radio, print, digital media, billboards, etc. The skills and duties of advertising and marketing professionals include market research, branding, public relations, pricing strategies, and more. Marketing and advertising specialists typically work for advertising agencies or directly for corporations and businesses.

Industrial Design

Industrial design has to do with the designing of products, devices, objects, and services provided by businesses. Industrial designers apply their professional skills to the functionality, manufacturing, and appearance aspects of products and services. Industrial designers are typically employed by manufacturing companies but may also work for design agencies and independent consultants.

Interactive Design

A particularly popular area of graphic design today, interactive (or interaction) design is described by usability.gov this way: "Interaction design focuses on creating engaging interfaces with well thought out behaviors. Understanding how users and technology communicate with each other is fundamental to the field." Industrial designers work across the entire digital/information technology industry, combining engineering, IT, and usability skills with traditional graphic design techniques.

Motion and Animation Design

In the simplest terms, motion, and animation design concern design that moves. Motion and animation designers have traditionally worked (and continue to work) in the film and television industries creating animated films, movie clips and segments, trailers, and commercials. However, traditional roles have expanded to include the digital realm in areas such as website and application development, social media, virtual and augmented reality, game development, and more.

Publication Design

A foundational area in the history of graphic design that remains relevant in the present. Publication designers work for book and magazine publishers, online publications, advertising agencies, individual product and services companies, etc. They also often work as independent contractors. Publication designer tasks include researching and developing concepts for print and digital publications, creating design elements (logotype, covers, tables of content, features, illustrations, etc.), and maximizing publication impact by improving the relationship between editorial and advertising content.
Accreditation Standards for Master's in Graphic Design Online Programs
Accreditation is the process through which you can be assured that programs and schools meet specified academic quality standards. It confirms that the program you're interested in is worth your time and money. Proper accreditation is also important because you won't be able to get federal student aid without it.
There are two primary forms of postsecondary accreditation: institutional and programmatic. Institutional accreditation refers to the vetting of colleges and universities as a whole. It is administered in the U.S. by a number of regional and national accrediting agencies approved by the Department of Education. DOE-approved agencies regionally accredit all of the schools mentioned in this guide.
Programmatic accreditation concerns the vetting of individual degree programs. Programmatic accreditation for U.S.-based master's in graphic design programs is administered by the National Association of Schools of Art & Design (NASAD). Not all graphic design master's programs are NASAD accredited; however, which means that institutional accreditation is an absolute must when it comes to your graphic design master's program choice.
What You Can Do with an Online Master's in Graphic Design
Leadership positions are available in the full range of industries that rely on the talents of highly-trained graphic artists, including advertising, sales, public relations, education, animation, the internet, and new media platforms, and more. These are high-paying jobs with real growth potential, but you'll need the right knowledge and training to land them. Master's in graphic design degrees are built to provide those skills. We've identified five of the most popular jobs open to graphic design master's graduates and described them below. We've included current estimated salary figures for each to give you an idea of what you might earn with your master's in graphic design degree.
Art Director
Art directors are responsible for overseeing other designers and artists' work in taking design projects from concept to completion. Art directors are employed in all sectors of the commercial art field, including newspapers, magazines, television, film, advertising, websites, video games, theater, and other live productions.
| 10th Percentile | Median Annual Pay | 90th Percentile |
| --- | --- | --- |
| | | |
Graphic Designer
Graphic designers work with both text and images to design and produce visual concepts and works that inform and excite consumers. Graphic designer positions can be found in a number of industry settings. Job tasks include selecting illustrations, colors, photographs, font styles, and other elements to produce designs for brand logos, print media, websites, product packaging, advertisements and marketing materials, and much more.
| 10th Percentile | Median Annual Pay | 90th Percentile |
| --- | --- | --- |
| | | |
Animation Director
Animation directors supervise animation department teams' work to create 2D and 3D moving images and visual effects for movies, television, websites, video games, and other media forms. They work in close collaboration with producers, directors, and clients to develop concepts for animation projects, determine the techniques and tools needed to develop those concepts, and then oversee all project work by completing the final product.
| 10th Percentile | Median Annual Pay | 90th Percentile |
| --- | --- | --- |
| | | |
User Experience Director
User experience (or UX) concerns an individual's responses and perceptions to the use or anticipated use of a product or service. UX directors are in charge of training and supervising user experts and designers' teams in the development of end-user experience features in a range of systems and settings.
| 10th Percentile | Median Annual Pay | 90th Percentile |
| --- | --- | --- |
| | | |
Industrial Designer
Graphic design professionals employed as industrial designers help design and develop manufactured products of all kinds, particularly their functionality and appearance. Specific tasks include consulting with supervisors and clients to determine design requirements, researching the various ways products will be used, creating preliminary sketches and product prototypes, and using modeling software for product design.
| 10th Percentile | Median Annual Pay | 90th Percentile |
| --- | --- | --- |
| | | |
Costs and Financial Aid for Graphic Design Master's Programs
Pursuing a grad degree can be expensive. You don't have to let the cost of a graphic design master's degree stop you, though. There are plenty of valuable financial aid resources out there to help you pay for your degree program, starting with the student loan. Student loans are available from private lenders and state government funds, but the biggest source is the federal government. Other important funding sources include private- and school-sponsored scholarships and grants, assistantships and fellowships, and work-study programs. Working graphic artists may be surprised to learn that many of their employers sponsor tuition assistance programs for their employees, so be sure to ask.
To learn more about degree funding resources, visit our financial aid webpage.
What Your Online Master's in Graphic Design Could Cost
In the chart below, we've listed current tuition costs for the online master's in graphic design programs for three schools to give you an idea of what you might expect to pay for your program. These figures do not include additional program fees and other necessary (books, supplies, internet access, etc.), so your total cost will be greater.
School Name
No. of Credits
Cost/Credit
Total Tuition Cost

45 minimum (MA); 90 minimum (MFA)

$38,475 minimum (MA)

$76,950 minimum (MFA)
Q&A with an Online Master's in Graphic Design Professor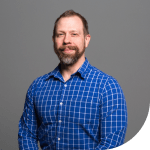 Lafe Smith is the director of the Master of Arts in Graphic and Web Design and teaches within the MA and Continuing Education programs at the Minneapolis College of Art and Design. Lafe also works as a freelance illustrator and holds a BA in Art from the University of Iowa and an MFA in Sequential Art from the Savannah College of Art and Design. His teaching goal is to help guide students in developing their creative voice and skill sets into a clear, industry-focused career path.
Q. Can you tell us a little about the students in your online MA in Graphic and Web Design program?
In terms of graphic design experience, it varies. There are students that have a BFA in graphic design or something within distance of that. Some are coming from a career as a designer. They might be developers. They might be in a branding and marketing position where they are putting design into practice quite a bit. On the other hand, I'm seeing more students coming from pretty different backgrounds. We currently have a student coming from an environmental science background. Her motivation is, "I want to present data in a more engaging and appealing manner that is not your standard templates of like an Excel grid or standard PowerPoint. Our students are realizing that design is a powerful communication tool in order to get their messaging through and they need this degree to really strengthen that.
Q. Where are they located geographically?
Just by being in Minneapolis, we have the largest number of students coming from the Twin Cities area and in Minnesota. But we also have students on the West Coast. We have students on the East Coast. We have students in the states that are surrounding us. We had a student in our first cohort who was in Tel Aviv, Israel. We had a student from Copenhagen with us for a year. Slowly but surely the word is getting out about what we have to offer and how you can really participate from anywhere.
Q. What are the current areas of graphic design or associated technologies that your students are most interested in?
Well, I think the name of the program starts to suggest that a little bit where it's graphic and web design, and in some cases, students coming in might be missing one-half of that. Some are graphic designers who don't have coding skills. On the other side of that, we have students who know code but don't have the best design sense. They don't know how to take code and make something look really great on screen and accessible and marketable. One of the popular areas that we're seeing interest in is user design. And I think it's a reflection of where students are seeing jobs pop up.
Q. Can you give me an idea of how the program works in practical terms? How do students present their work?
A lot of times work might be stored on the cloud or a web page or through an online app like Figma or Marvel. As much as we want visual work to stand on its own, we also want to know: "What was your process for that? What were you thinking? What are your goals with this?" We host live weekly meetings that allow for real-time conversations, to share work and ask questions. We have guest speakers we can invite from anywhere. And just like our students, we have faculty on the West Coast, on the East Coast, and from here in Minnesota. We can go to locations that, if it were an on-campus program, that would be limiting. So, it works tremendously well.
Q. If you had one or two specific pieces of advice to pass on to students considering your program what would they be?
Bring what you already know. Bring your past experience that's academic and professional and skills-based. Stay curious and be ready to challenge yourself. Really embrace those new ways of thinking, the new methods and technologies. And embrace critique and disruption. Just be ready to challenge yourself.
And the other one is – I find with our admissions webinars and some of the communication I get from perspective students where they say, "I don't have the best portfolio or I'm not sure I'm a good fit for this." Students don't have to have all the answers and they don't have to be a master upon entry. But you do need to have the passion and that fire: "I'm going to dedicate myself to this. I'm not sure where I ultimately end up, but I definitely have this passion that I know is going to carry me through this journey." So, you don't have to have answers. Have the passion and stay curious.
Frequently Asked Questions About Online Master's in Graphic Design Programs
What are the admissions requirements for an online graphic design master's degree program?
Every online master's in graphic design program offers its unique take on the subject, so it's no surprise that admissions requirements vary somewhat from program to program. There are lots of similarities, however. We've listed below admission requirements similar to those you'll need to fulfill when applying to the program of your choice. Our advice to you here is to make sure you meet those requirements fully and in detail, including all submission deadlines. Nothing will sink your acceptance chances quicker than a missed deadline or application error.
Previously-earned degree: A previously-earned undergraduate degree, typically a bachelor's degree in graphic design or art-related major, is required. A stated minimum cumulative GPA on undergrad coursework may also be required or considered. Official or unofficial college transcripts for undergrad work must be submitted as proof of degree and GPA.
Portfolio: A portfolio containing the applicant's strongest work will be the applicant's single most important application submittal for making a case for acceptance into the program. The portfolio should demonstrate the applicant's high level of professional skill and reflect their intended specialized course of study.
Resume: A current resume, including the applicant's previous academic work and professional experience, along with relevant exhibitions, accolades, internships, and publications.
Additional requirements: Other possible requirements may include letters of recommendation, a personal/artistic statement, and an interview (in-person, phone, or video). International students will need to provide proof of English language proficiency.
GRE/GMAT test scores: GRE and GMAT scores are typically not required but check with your program to be sure.
Many programs will not require applicants to take the GRE, although some require it unless the applicant has significant professional experience in a field related to environmental science.
How long will it take to finish my master's in graphic design online?
Your program length will depend on many factors, most importantly, whether you choose an MA or MFA program and whether you choose to study full- or part-time. Based on our survey of currently available online graphic design master's programs, MA programs are typically completed with a minimum of one year of full-time or two years of part-time work. Full-time MFA students, on average, complete their courses of study in two years, while part-time MFA students typically take three years.
Can I earn my master's in graphic design 100% online?
All of the graphic design master's programs mentioned in this guide feature courses of study that can be completed entirely online. There's one possible catch, though. All of the MFA programs discussed in this guide require completion of an internship experience, typically with an off-site company or agency. One MA program includes an internship option, also. The internship program's program approval is always a requirement, whether your proposed internship may be completed online or not.