Health informatics (HI) uses technology to improve the quality of healthcare and its delivery to patients. It is revolutionizing healthcare worldwide, meaning jobs that pay well and should continue to be in high demand. Earning an online master's degree in health informatics can be a great entry point into this field or a way to strengthen your knowledge and move up in your current position.
To help you find the right program, we've created a list of this year's best online master's degrees in health informatics based on factors such as affordability, student support services, and academic quality. Beyond the rankings list, you'll also find other helpful information, including a breakdown of specialization options, a look at potential career pathways, and a Q&A with a health informatics professor and assistant dean.
Top Online Master's Degrees in Health Informatics for 2023
Inside Look: Popular Online Healthcare Informatics Master's
Completing any degree program starts with finding the one that best suits your study needs and professional goals. To help you get started on your degree search, we've spotlighted three quality online health informatics master's programs below. See whether one of them ticks all the right boxes for you or simply use them as a jumping off point for finding a different school.
Drexel University
Drexel University's Online MS in Health Informatics is geared toward current healthcare professionals seeking skills in using electronic data to improve the safety and quality of patient care. It's also for current IT specialists interested in pursuing careers with health and biomedical organizations. This 45-credit, fully-online program is formatted with four 10-week quarters and designed to be completed with two years of full-time study. Students can shorten their degree completion time by increasing their quarter caseload, or they can take it in a part-time format.
Admission criteria for Drexel's Online MS in Health Informatics program includes a bachelor's degree in any major from a regionally accredited college or university and a minimum 3.0 GPA in a completed postsecondary (bachelor or higher) degree program. Current tuition rate is $1,342 per credit. Discounted tuition rates are available to military members, Drexel alumni, and members of the university's educational partner network.
Purdue University Global

Purdue University Global's 48-credit Master of Health Informatics program emphasizes technology-based knowledge in informatics, health information systems, data analytics, and database systems, along with the development of important leadership and management skills. The 100% online curriculum culminates with a practice-based capstone project in which students apply knowledge and skill gained in the program to solve a real-world HI-related problem. All degree requirements can be completed in less than 18 months of full-time study by taking two courses per 10-week term. Purdue Global features notable student support services that include access to career and academic advisors and one-on-one tutoring at no additional cost. Students access these services online or by visiting one of Purdue Global's regional locations.
Tuition is $420 per credit. Substantial tuition reduction benefits are available for Purdue Global alumni, Indiana residents, active military, veterans, international students, and employees of Purdue Global partner organizations. Program start dates are available throughout the year.
University of Cincinnati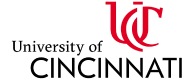 The 33-credit hour program for the Master of Health Informatics (MHI) degree offered by the University of Cincinnati Online consists of 10 courses in subjects such as the healthcare and public health landscape, health informatics and information systems, and project and program management. Students complete studies with a practicum course in which they design an experience that facilitates the application of HI theories, tools, and principals learned in the program. All coursework is completed 100% online with no in-person campus visits required. The entire program can be completed in a little as 24 months, and both full-time and part-time options are available.
Admission requirements include a bachelor's degree in any major, and no previous experience in IT or healthcare is required. GRA and GMAT scores are not required for applicants with an undergraduate GPA of 3.0 or higher. Applicants with a GPA under 3.0 must submit GRE or GMAT scores and may be admitted conditionally. Students whose bachelor's degree is from a school not regionally accredited may be admitted following a general education requirement check and after taking care of any class deficiencies.
Key Benefits of Earning an Online Master's in Healthcare Informatics
Pursuing any postsecondary degree, including one in health informatics, requires significant commitment of both time and money. To help you decide if health informatics is right for you, detailed below are three of the biggest advantages of earning your master's in health informatics online.
In-demand skills

Health informatics is a young and constantly expanding field in need of professionals with up-to-date HI knowledge. Earning a master's in health informatics online provides you with both the latest, cutting-edge skills in HI and the specialized skills needed for top jobs throughout the healthcare industry.

Career advancement into leadership

Earning a health informatics bachelor's degree can help you gain an entry-level HI position. Master's in healthcare informatics programs, however, help graduates launch or advance their HI careers into mid-level and upper-level positions in management and administration as well as into advanced practice positions.

Convenience of online study

Online health informatics programs are designed with study flexibility so students can earn their degrees while balancing their busy work and life schedules. Convenient features include full-time and part-time curriculum options and asynchronous courses for completing coursework from any place and at any time.
What You'll Learn in a Master's in Healthcare Informatics Online Degree
A master's in healthcare informatics online prepares graduates to manage health systems. Students learn to identify or create the proper data collecting and management techniques to fit the needs of specific healthcare systems and then to employ those techniques for the management and maintenance of those systems. The end goal of the coursework completed in your master's in health informatics curriculum helps you understand how to use information technology hardware and software, so healthcare professionals can make the best treatment decisions possible to better patient outcomes.
Below are descriptions for five master's-level health informatics courses like the ones within most health informatics online degree programs.
Common Courses You Can Expect to Take
Data Analytics

An introduction to the health data analytics field, this course focuses on the techniques used in extracting data and creating knowledge databases from healthcare data sets. Students learn to identify organizational goals and the needs of information users and then to employ the correct analytical methods to meet those goals and needs.

Foundations of Informatics

As an introductory course in the foundations of informatics and health information technology, this course begins with a review of the history and development of health informatics that is followed by the theories and models employed in informatics practice. Topics include the structure, function, and transfer of information, human/technology interactions, and the socio-technical aspects of healthcare computing.

Health Vocabulary and Terminology

A solid understanding of basic healthcare terminology is crucial to both HI academic study and practice. This course provides a review of healthcare terminologies, vocabularies, and classification systems. Students learn to identify proper sources and uses of relevant words and terms and to apply them to health information systems for effective communication and data integrity practices.

Information Systems and Management

This course focuses on the use of computer networks and database systems as they apply to healthcare practice and administration. Topics include information architectures, major information systems and standards, information system cycles, information retrieval, clinical and administrative applications, confidentiality and security, and systems testing and evaluations.

Leadership in Healthcare

A staple of every program's core curriculum, this course provides students with knowledge of leadership and management practices to advance the capabilities of healthcare professionals in identifying and meeting current healthcare organizational challenges. Emphasis is on self-analysis, communication techniques, and strategies for best practices for greater leadership effectiveness.
Specialization and Concentration Options
One way to set yourself apart in the broad and competitive field of healthcare is to become a specialist within the larger HI field. Do this by focusing your degree studies on a specialization or concentration option offered by many master's in health informatics online programs.
Below are five specializations currently available from one or more online health informatics programs. If the program you're interested in doesn't offer these options, you can still tailor your studies to align with your career interests through your choice of elective courses.
Clinical Informatics

This specialization provides students with the knowledge and skills reflected in the American Medical Informatics Association's approved core content for clinical informatics. It also prepares students for medical informatics board certification. Course titles include Data and Analytics, Decision Support Systems, HIT Standards and Interoperability, and Telecommunication Networks.

Data Science

The specialization trains students to function as members of a health care team employing data-related tools and methods to improve patient care and the healthcare systems that deliver it. Students in this specialization gain skills for extracting and analyzing relevant information from large and complex datasets. They then present their findings to health care providers and executives in their organization.

Healthcare Supervision and Management

This specialization prepares students for leadership challenges in the ever-changing and technology-driven field of healthcare informatics. Graduates possess advanced knowledge and skills in critical thinking, organizational structure, business, and communications to become effective managers and administrators for rehabilitation, long-term care, and other healthcare organizations and facilities.

Health Technology Informatics

This specialization is for students whose primary interest is in information technology. Graduates are prepared for positions as IT project managers, information systems coordinators, web administrators and developers, and technology suppliers. Topics include HIT standards and interoperability, decision support systems, big data management, organizational operations, information system acquisition, and global health systems.

Registered Health Information Administrator (RHIA)

This specialization is for students seeking the academic accreditation required to sit for the examination for RHIA professional certification. RHIA certification denotes holder competencies in the management of protected health information and the business of healthcare. The RHIA credential is often required or preferred for top positions in a range of healthcare settings, including hospitals, physician private practices, private businesses, government agencies, education institutions, and others.
Accreditation Details for Online Health Informatics Programs
Accreditation of colleges and universities, and the programs they offer, is the process where schools and programs are vetted for quality. The importance of accreditation for the program you choose cannot be overstated. Simply put, never sign on to a program not properly accredited.
There are two basic types of postsecondary accreditation to look for during your HI degree search. Institutional accreditation deals with accreditation of the school as a whole. Institutional accreditation of U.S. colleges and universities is implemented by several Department of Education approved regional and national accrediting agencies. The second type, programmatic accreditation, vets individual degree programs. Programmatic accreditation of U.S.-based HI master's programs is administered by the Commission on Accreditation for Health Informatics and Information Management Education (CAHIIM). Many master's in health informatics online programs are CAHIIM accredited. Make sure that any program you consider that is not CAHIIM-accredited is offered by a school with proper institutional accreditation.
Most online health informatics programs, including all the programs mentioned in this guide, are properly accredited. Confirm a program's accreditation status before you commit to it. In most cases, accreditation information can be found on the program's webpage. If not, contact the program directly or check its status by visiting these CAHIIM and Department of Education websites.
What You Can Do with a Master's in Health Informatics
Career opportunities are plentiful for health informatics professionals, and you can launch an HI career with a bachelor's in health informatics or closely related major. Advancing in the HI field, however, will likely require a master's degree. You need not have majored in HI on the undergrad level to be admitted to a health informatics online degree program. Health informatics master's students come from a variety of backgrounds and are prepared for advanced careers in a range of health care settings. Here's a look at five potential careers available to master's in health informatics online degree holders.
Applications Systems Analyst
An application systems analyst consults with clients or their organization's management to determine their software needs and then develops software to meet those needs. Application systems analysts oversee application testing, provide database management support, create and maintain security and operational audits, manage security processes and ticketing systems, and identify, analyze, and resolve issues regarding computing equipment capacities and limitations.
| 10th Percentile | Median Annual Pay | 90th Percentile |
| --- | --- | --- |
| | | |
Data Analyst
Health care organizations increasingly depend on data of all kinds to make crucial business decisions affecting organization stability, efficiency, and quality healthcare systems and patient outcomes. The data analyst extracts and analyzes data to make that possible. Data analysts must possess a range of computer and IT program skills, such as those for Microsoft Access and Excel, SharePoint, and SQL databases.
| 10th Percentile | Median Annual Pay | 90th Percentile |
| --- | --- | --- |
| | | |
Clinical Informatics Specialist
Clinical informatics is an HI subfield that concerns the application of information technology and informatics for the delivery of quality clinical services. Job responsibilities include information system integration for usage across all organizational areas; identifying, analyzing, and resolving hardware and software issues; systems evaluation and making recommendations to improve functionality and security; and training and overseeing systems usage by healthcare staff for better patient care.
| 10th Percentile | Median Annual Pay | 90th Percentile |
| --- | --- | --- |
| | | |
Informatics Nurse
Informatics nurses, also known as nurse informatics specialists and nursing informaticists, use their medical training and nursing experience to improve the function and use of electronic medical records and patient care systems and software. Tasks include maintaining medical software and hardware, troubleshooting healthcare information systems, training medical staff in systems usage, and ensuring the integrity of electronic documentation for accreditation review.
| 10th Percentile | Median Annual Pay | 90th Percentile |
| --- | --- | --- |
| | | |
Information Technology Consultant
Information technology consultants typically work for large healthcare organizations, technology consulting firms, or as independent consultants advising individual clients in the integrating of IT systems into their businesses. Tasks include studying and analyzing information system needs, conducting feasibility studies, diagnosing and resolving problems indicated by customer reported incidents, installing and maintaining hardware and software, and creating training materials and conducting employee training sessions.
| 10th Percentile | Median Annual Pay | 90th Percentile |
| --- | --- | --- |
| | | |
Costs and Financial Aid for Online Health Informatics Programs
Program cost is a major concern for anyone considering any degree program. Fortunately, there are several options available to help pay for college, including scholarships and grants, graduate assistantships and fellowships, employer tuition assistance, and work-study programs. The most common form of college financial aid is the student loan. Your best move in securing the funds you need to pay for your master's in health informatics degree program is to tap all the financial aid resources available to you. Start by contacting program financial aid offices and by visiting our financial aid webpage.
What Your Online Master's in Health Informatics Could Cost
Current tuition costs for three online master's in health informatics programs is provided below to give you an idea of what you might pay for your HI degree. Remember, though, your program's total cost is greater due to additional program fees and the cost of books, supplies, internet access, etc.
| School Name | No. of Credits | Cost/Credit | Total Tuition Cost |
| --- | --- | --- | --- |
| | | | |
| | | | |
| | | | |
Online Master's Q&A with a Health Informatics Professor and Assistant Dean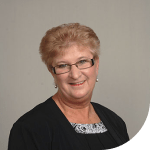 Nancy Szwydek is the Assistant Dean and Director of Quality Assurance for the ground health programs at Purdue Global. In 2016, she became the academic program chair for the health information management, health informatics, and billing and coding programs and spearheaded PCAP approval for the billing and coding program and AEP designation for the master of health informatics and health information management programs. Prior to working in education, she worked as a registered nurse for over 30 years Ms. Szwydek received her AAS, BHS, and MPH degrees from Kaplan University (now Purdue University Global), and her Nursing Diploma, Maryland General Hospital School of Nursing.
Dr. Zeynep Behjet is a full-time adjunct faculty member in the School of Health Sciences at Purdue Global and teaches health informatics and health information management courses. Prior to joining the Purdue Global faculty, she worked at as a faculty member at Mount Washington College in New Hampshire teaching health sciences courses. Dr. Behjet received her MD from the University of Tikrit, MEd from Plymouth State University and MS from Kaplan University (now Purdue University Global). She also completed an observership at Dartmouth in the pathology department to better augment her clinical informatics experience.
Q. Can you talk a little about your students? What are their backgrounds?
Szwydek: Most of the students in our graduate and health informatics programs have some type of healthcare or information technology background. Most are working in the field prior to coming into the program. An interesting thing about health informatics is that you don't necessarily have to have a background in health to be able to perform the skills necessary to become a good employee. So we draw people with a nursing or some other kind of health background, maybe some folks with IT backgrounds as well. Even people who just really want to work in data.
Behjet: I also have MDs and pharmacists. We also have a lot of nurses. We also have IT people, people who work in data analytics. Some of them have some experience in healthcare, but some do not.
Q. Are your students looking to move up in their current organizations? Do you see a lot of students looking to switch careers or employers?
Behjet: We actually have both. We have students who have already been promised a position with their current organization but they need the degree to get into that position. And we have people who just want to change their career. They have an IT background but very limited knowledge about healthcare. They want to switch to healthcare. They feel that with the healthcare industry, IT is always in demand.
Szwydek: I would add that you have people who are already working in healthcare that want to keep their careers going for a long period of time. I'm speaking from a nursing background. I have a wealth of knowledge in the healthcare industry and I want to do something where I can still contribute but not be on my feet a lot. So health informatics would be a great opportunity for somebody like that.
Q. Do your students finding the transition to online learning an easy one? If not, where are they having problems in making the move?
Behjet: Students might have some problems, but we have training for them at the beginning of the program. We also talk to them a lot about time management. The majority of them are already working online and the online pace works very well for them. We actually schedule assignments so that they can work [on their degree programs] on the weekends. We also have our seminars in the evenings mostly. So, students know the environment, they know online learning. That's why they come to this program.
Q. It sounds like it's about finding the balance between flexibility and still keeping people on pace
Q. Where is the informatics field heading?
Szwydek: I think there's going to be a lot of data analytics that have to do with telehealth, and that takes you back to reimbursement. How are insurance companies going to reimburse for telehealth? What kind of providers do you need to have? So, I think that's going to be a biggie. And I also think quality. Patient satisfaction is a massive piece for any institution, to make sure they're delivering great customer service.
Behjet: There is so much improvement in mobile health, as well. There are more applications being generated every day with data being linked into electronic health records. There's a general idea of including patients in their health and their decisions. So, patient-generated data and having it incorporated into electronic health records so it helps providers make the right decisions, that's one of the areas. And I would say that privacy and security are always big concerns. It's now a focus and will stay a focus in the future as well.
Q. Do you have one or two particular pieces of advice for prospective online healthcare informatics students that might help them to succeed in their degree programs?
Behjet: I would say for online learning, just be familiar with technology. Manage your time. Always know your deadlines. And if you are in doubt of anything, contact your instructor and let them know. They can help you to manage your courses and catch up.
Szwydek: I would definitely say that communication is a big piece. You know, when working in a virtual environment it's easy for someone to fall off the grid and not to communicate with the faculty member. So, I think communication and not being afraid to reach out.
Frequently Asked Questions About Online Health Informatics Programs
What are the admissions requirements for an online master's in health informatics?
Admission requirements for all online health informatics master's programs are similar, and the requirements described below give you an idea of what to expect. There are differences from program to program, though, and it's crucial to have a detailed understanding of the requirements for any program you apply to, since missing a deadline or application requirement may prove fatal to your admissions chances.
Previously earned degree: A baccalaureate degree from a regionally accredited college or university is required. International students will have degrees evaluated on a case-by-case basis. Some programs require an applicant's previously-earned degree be in a major related to IT or healthcare, but most accept degrees in any major.
Undergraduate GPA: Most programs have a minimum cumulative GPA requirement on undergraduate coursework of at least 3.0. Some programs accept undergrad GPAs below the stated minimums on conditional admission.
GRE/GMAT test scores: Some programs require submission of GRE or GMAT test scores. Other programs, Drexel University's and the University of Cincinnati's programs, for example, waive GRE/GMAT requirements for applicants meeting a GPA minimum on undergraduate coursework.
Other application requirements: Common requirements include official transcripts for all previous college-level coursework, a current CV or resume, one or more letters of recommendation from academic or professional sources, and a written personal statement or statement of purpose. Proof of English language proficiency, typically in the form of TOEFL scores, is required of international applicants.
How long do online master's in health informatics take to finish?
Most programs can be completed in about two years of full-time study. Both full-time and part-time formats are common, though, and part-time students can expect to spend around three years completing program requirements. Program lengths do vary, however. For example, Temple University says its online MS in Health Informatics program can be completed in two years of part-time study. Check with each program you're considering for completion time lengths and limits.
Can I earn my master's in health informatics completely online or will I need to visit campus?
Most online health informatics master's programs can be completed 100% online without any on-campus or other in-person requirements. Some elective courses, however, may be available only on-campus. A few programs, like Purdue Global, give online students the option of taking one or more classes in-person if they. Most programs welcome campus visits from their online students to meet face-to-face with faculty members and peers.