According to the U.S. Department of Labor, jobs in healthcare management are projected to grow 32 percent between 2019 and 2029. That's eight times the job growth projection for all occupations combined. So, if you are currently working in the healthcare field and looking to take on a leadership position in your organization, or seeking a new career with great earning potential and professional growth, healthcare management may be right for you.
One of the best ways to launch your HCM career is by earning a quality, accredited master's in healthcare management degree online from a top university. This page gives you a comprehensive look at this year's best online healthcare management degree programs, including how to find the right program for you. Get started on your search for the best online healthcare management master's in our rankings list below, plus find other key information about the degree further along in the guide.
Top Online Master's Programs in Healthcare Management – 2023
In-Depth: Popular Online Master's in Healthcare Management
Excellent healthcare management master's programs are available online from lots of reputable colleges. But how do you decide which one is best for you? We've spotlighted below three of the best Master of Science in healthcare management (MSHM) online degrees currently offered to give you an idea of what qualities you should look for in your program search. These schools score high marks on a number of important factors such as accreditation, cost, curriculum comprehensiveness, study flexibility and options, and available support services. See how the programs on your list stack up.
American University (AU)

The purpose of American University's online MS in Healthcare Management program is to prepare graduates for mid- and senior-level HCM positions, as well as to become independent healthcare consultants, analysts, and advisors. The 30-credit hour program is divided into four phases: Core, Electives, Field/Professional, and Capstone. In the Core phase, students work within a cohort to complete a set of core subject courses that provide them with a broad-based foundational knowledge in healthcare management. In the Electives phase, each student selects one specific course tailored to meet his or her particular career and industry goals. The Field/Professional phase is designed to provide real-world skills in a number of topics, including teamwork, communications, and technology. The curriculum culminates with a student-specific capstone leadership project that includes a multimedia presentation.
Students in the AU's MS in Healthcare Management online program have access to a number of important support services, including the Career Directions Program in which they can participate in online career workshops and coaching opportunities. Students also have the option of visiting AU's Washington, DC campus for a two-day program of professional development and networking activities.
University of Arizona

The University of Arizona's 100% online MS in Healthcare Management program is designed to develop valuable advanced skills in healthcare management for current and prospective physicians, executives, and administrators. The program's curriculum consists of a set of seven core courses providing foundational knowledge and skills in healthcare-related technology, business and finance, management, and organizational structures. Students tailor their studies with additional coursework in one of three concentration tracks: Healthcare Informatics, Healthcare Innovation, and Healthcare Leadership. The program concludes with the completion of a capstone project in which each student researches and executes a project that "delivers real value for a healthcare organization." All coursework is accessed and completed 100% online. The entire program can be completed in as few as 12 months, but students may take up to three years to earn their degrees.
Admission requirements include a bachelor's degree from a regionally-accredited college or university (or international equivalent) earned with a 3.0 or higher GPA. No GRE or GMAT exam is required. The current per-credit tuition cost is $1,000. Students can start their program in either the fall or spring semesters.
University of Massachusetts Dartmouth

The MS in Healthcare Management degree from UMass Dartmouth provides leadership and management education to professionals currently employed in the healthcare field. All students complete eight required courses focused on the key areas of leadership, motivation, and collaborative skills development, as well as effective management of organizational quality, error reduction, and costs. Depending on their professional interests and goals, students then complete an additional two elective courses, a master's thesis, or a master's project. Program features include limited class sizes, networking opportunities with faculty and other working healthcare professionals, and one-on-one personal advisement services from enrollment through the entire course of study.
Admissions requirements include a baccalaureate degree in any major or discipline from a regionally-accredited college (or international equivalent), GMAT test scores (not required for applicants meeting certain waiver qualifications), a current resume, letter of recommendation, and a personal statement describing the applicant's career goals and motivation for seeking the degree. The current total cost (tuition and fees) for both Massachusetts and out-of-state residents for each three-credit course is $1,920. This MSHM program is offered through UMass Dartmouth's AACSB International-accredited Charlton School of Business.
Why Earn an Online Master's in Healthcare Management?
There are tons of advantages to earning a healthcare management master's degree, especially through a top online program. Here are three of the biggest:
More money

Earning your online master's in healthcare management degree is likely to pay off in a fatter paycheck starting with your first post-graduate job. According to figures from PayScale.com, for example, the average annual salary for healthcare management master's graduates is around $11,000 greater than their counterparts with only a bachelor's degree in healthcare management. But the real boost comes as your career progresses into senior-level positions, with average salaries for those with a master's in healthcare management in top positions approaching double (around $171,000) those with bachelor's degree (around $93,000).

Job security and mobility

Job demand means job security. As mentioned above, there is a tremendous demand today for health management professionals. And healthcare management jobs are found in an impressive range of settings (hospitals, healthcare clinics, physician offices, nursing and long-term care facilities, medical labs, and research facilities) throughout the United States and around the world.

Convenience of earning a degree online

Distance learning lends itself particularly well to the subject matter of healthcare management academics. That means that you can enjoy all of the convenience and flexibility that online study has to offer while earning a master of science in healthcare management degree of the same high quality as one earned in a traditional classroom setting.
What You'll Learn in an Online Master's in Healthcare Management Program
The main goal of healthcare management master's programs is to provide students with practicable skills in the key areas of business and leadership. It's why healthcare management programs are often housed in a school's business departments. The courses described below are taken from current online MS in healthcare management curriculums to give you an idea of the specific business- and leadership-related subjects you'll cover in your course of study. In addition to this coursework, most students will conclude their academics by completing a culminating activity, such as a thesis or capstone project, that allows them to demonstrate their command of the business and healthcare knowledge and skills gained in the program.
Popular Courses You Can Expect to Take
Data Analytics

Successful data collecting and analysis leads to more effective management and greater value for healthcare organizations. This data analytics course teaches students how to collect and apply relevant data through the use of emerging technologies. Topics include data mining, exploratory data analysis, affinity analysis, classification and prediction analysis, discriminant analysis, logistic regression, and clustering.

Financial Management of Healthcare Organizations

This course presents a comprehensive look at financial management tools and practices for investments and financial decision-making in for-profit and not-for-profit healthcare organizations. Topics include short-term and long-term financing issues and their analysis, capital budgeting, asset management, financial ratio analysis, present value concepts, cost of capital, and mergers, acquisitions, and new ventures.

Healthcare Information Systems

An introduction to the methodologies, tools, and technologies used in current healthcare information systems. Topics include systems standards, security and emerging technologies, programmatic logic and practice as it relates to application development and the relationship between information and human resource management. Also included is a review of legal and ethical issues facing information systems professionals.

Human Resources Management

An examination of the role human resource professionals play in meeting the challenges and goals of their healthcare organizations. Relevant issues covered include staff recruitment, selection, training, evaluation, compensation, and retention. Other topics include sexual harassment policies, diversity training, gender bias, and the legal and ethical issues involved in human resource practices.

Leadership in Healthcare Organizations

Review of leadership theories and practices, and the development of leadership skills, as related to effective healthcare management. Topics covered include influence and conflict resolution strategies; communication strategies; organizational hierarchy, design, and control; and negotiation strategies and techniques. Practical skills are developed through the use of case studies, exercises, and simulations.
Specialization Tracks
Healthcare management master's programs often allow students to tailor studies to suit their individual career goals and academic interests by offering specific specialization or concentration options. We've outlined below five such options currently available from one or more online healthcare management master's programs. If a program doesn't offer specialization options or offer one in the specialized area you're interested in, you may still be able to focus your studies through your choice of elective courses, your thesis, or capstone project.
Global Health Program Management

The increasing occurrence of public-health crises, such as the COVID-19 pandemic, has resulted in an exploding need for competent healthcare leadership on an international scale. The global health program management specialization teaches students how to formulate global health service policies and strategies, manage healthcare programs in a range of culturally-diverse environments, and improve healthcare delivery within the limitations of various national health systems.

Healthcare Informatics

Healthcare informatics involves the use of information technology (computers, big data, etc.) to collect and organize patient information for digital healthcare record systems, and then analyze that information to improve patient outcomes and organizational economic efficiencies. Course subjects in this specialization include data mining, data visualization, and health analytics.

Healthcare Leadership

The healthcare leadership specialization is designed primarily for individuals currently in the healthcare field who are interested in gaining important skills to move into mid- and senior administrative positions. Specific course topics include negotiation techniques, strategic decision making, human resource management, healthcare system management principles, and healthcare macroeconomics.

Healthcare Policy and Regulatory Leadership

This is one of the more unique specializations, with an emphasis on the psychological aspects of disasters and other threats to a community. The Community Resilience specialization looks at ways to help communities not only plan and respond to a crisis but also move on in a healthy manner after the crisis is over.

Healthcare Innovation

Healthcare management exists at the crossroads of medical and healthcare services and the exploding world of digital information technology. This specialization is for students who intend to lead in the development and implementation of cutting-edge tools and technologies that result in greater efficiency in healthcare delivery. Course topics include healthcare marketing strategies, healthcare entrepreneurship, healthcare finance, and healthcare quality and reliability.
Accreditation for Online Healthcare Management Master's Degree Programs
Accreditation of degree programs and the schools that offer them is the process through which those programs and schools are vetted for quality. It also ensures employers that graduates of a degree program are well prepared to handle their duties and responsibilities as healthcare management professionals. Proper accreditation is additionally important because most financial aid resources require it. For all of these reasons, confirming the proper accreditation of any healthcare management program you're considering should be the first priority in your program search.
There are two basic types of postsecondary accreditation: institutional and programmatic. Institutional accreditation is conferred on postsecondary institutions as a whole. Institutional accreditation of U.S. colleges and universities is administered by a number of Department of Education approved regional and national accrediting agencies. In addition, many of the university business departments that offer healthcare management master's degrees are themselves accredited by the Association to Advance Collegiate Schools of Business (AACSB International). Programmatic accreditation concerns the vetting of individual degree programs. No U.S. agencies or professional associations currently provide programmatic accreditation for online master's in healthcare management degrees, however. As a result, it's critical that you only consider programs offered by schools with proper institutional accreditation.
To confirm the accreditation status of master's in healthcare management programs check program and school accreditation websites, or contact the program directly. You can also check accreditation status by visiting these Department of Education, CAHIIM, and AACSB International websites.
What You Can Do with a Master's in Healthcare Management
We've shown you how the healthcare management field is exploding with high-paying jobs available throughout the U.S. and around the world. We've also shown you the huge leg up in the job market you'll get by earning a quality online master's in healthcare management degree. But just exactly what healthcare management job will you land? Here are five examples from among the many professional positions you can apply for as a healthcare management master's graduate, along with recent salary figures for each from PayScale.com.
Chief Nursing Officer
The chief nursing officer (CNO) is responsible for overseeing nursing and nursing support staff activities at hospitals or other nurse-employing healthcare facilities. CNOs are tasked with ensuring that practices continually meet all required hospital procedures, as well as relevant laws and regulations. The CNO reports to senior organizational management and acts as a liaison between management and nursing staff.
10th Percentile
Median Annual Pay
90th Percentile
Chief Operating Officer
The chief operating officer (or COO) is the senior executive in charge of all daily operations of a corporation. In the healthcare field, this would typically include larger hospitals and other medical facilities, as well as healthcare-related organizations such as HMOs and medical equipment suppliers. COOs are normally the second-in-command in most corporations, answering directly to the CEO and boards of directors.
| 10th Percentile | Median Annual Pay | 90th Percentile |
| --- | --- | --- |
| | | |
Clinical Program Manager
Clinical program managers, or CPMs, are the executives responsible for the day-to-day management of clinical healthcare facilities. Common CPM tasks include the recruitment, hiring, training, and management of clinical staff; managing clinic budgets and other finances; and developing strong business relationships within their communities, especially with other health-related facilities (hospitals, clinics, public health agencies, etc.)
| 10th Percentile | Median Annual Pay | 90th Percentile |
| --- | --- | --- |
| | | |
Healthcare Consultant
Healthcare consultants often work for large healthcare organizations and are typically brought in to identify the strengths and weaknesses in a particular facility or department within the organization. Healthcare consultants are also often hired as independent contractors providing similar services—but from a third-party perspective—to those same facilities and organizations.
| 10th Percentile | Median Annual Pay | 90th Percentile |
| --- | --- | --- |
| | | |
Health Information Management Director
Health Information Management (HIM) directors oversee the information collection, analysis, and management activities of a healthcare organization or facility. Responsibilities additionally include the designing of IT systems used for collecting and managing healthcare information and data, as well as the supervision of coding and medical record department staff. The HIM director is normally considered a senior management position, with HIM directors typically reporting directly to an organization's top administrative official or a facility's general manager.
| 10th Percentile | Median Annual Pay | 90th Percentile |
| --- | --- | --- |
| | | |
Costs and Financial Aid for Online Master's Degree in Healthcare Management
If you are like the vast majority of degree seekers, you're going to need help in funding your degree program. Fortunately, there are several financial aid resources available to online healthcare management master's students. The most common resource is the student loan. Sources of student loans include state government agencies and private lenders, but the largest source by far is the federal government. Other popular funding resources include program-sponsored assistantships, fellowships, and work-study programs, along with scholarships and grants (from private organizations and schools themselves) and employer-sponsored tuition assistance programs. To find out more about available degree funding sources, contact your program's financial aid office. And be sure to visit our financial aid webpage.
How Affordable Your Online Master's in Healthcare Management Could Be
The chart below contains current tuition costs for three master of science in healthcare management online programs. It will give you an idea of the wide range of program costs out there and an idea of what you might expect to pay for your program. Keep in mind, though, that your total degree price tag cost will include additional program fees, plus costs for books, supplies, internet access, etc.
| School Name | No. of Credits | Cost/Credit | Est. Total Tuition Cost |
| --- | --- | --- | --- |
| | | | |
| | | | |
| | | | |
Q&A with An Online Healthcare Management Program Director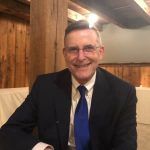 Dr. Michael Rip is the founding director of the postgraduate Healthcare Management program in the Broad College of Business at Michigan State University. Dr. Rip was born in Cape Town, South Africa. He is a graduate of the University of Cape Town and worked for seven years in the Department of Community Health at the University of Cape Town Medical School before immigrating to the USA. Prior to his current position, Dr. Rip was the founding director of the postgraduate Public Health program in the College of Human Medicine at MSU and worked in MSU's Department of Epidemiology for some 15 years.
Q. Who are the students in your HCM master's program? What are their backgrounds?
The degree is designed for students who are in healthcare but in the broadest definition of healthcare. We have another smaller category of students who come from industry outside of healthcare. For example, we have some people who are senior HR or sales in large corporations. This is extremely good because we need people who have business acumen outside of the healthcare industry to come into healthcare.
A third category, again much smaller, is fairly recent graduates, people who didn't get into medical school – or dental or veterinary – but still want to remain in healthcare. And the smallest category would be people who were in a career in something else and then decided that wasn't for them and have decided to do healthcare.
Q. Where are your students located?
A. About 60% are based in Michigan. Our students come from an enormous, vast array of institutions across the country and we now have interest internationally, particularly from Europe. One of the advantages of having [the program] virtual is that we are able to have students who represent and have experience across the industry and geography.
Q. Are your students continuing to work while earning their degrees?
A.Yes. The degree was designed for working professionals and that's why it's online. One of the hallmarks of our program is that we have two-hour lives sessions once a week. And that's become wildly popular. The students very much enjoy meeting once a week in a live session. The other piece that's been crucial to our program students are divided into four-person teams and go through the degree in that four-person team. And that's proven to be extremely popular. Healthcare is very team-based, very practical. And so we try to mimic being professionals working and functioning at a high level as a team. Peer support is extremely valuable.
Q. What advice do you have for prospective healthcare management master's students to help them succeed in their academic pursuits?
A. They have to be conscientious and very well organized. They have to have good time management skills. And also energy management. They have to realize that if they're working, they have to choose a time [to study] convenient to them, of course, but they have to have the energy to do it. They mustn't be pooped out. We have students who dedicate an entire Saturday, for example, to their studies. Or they do an hour a day. It varies enormously. But energy management is really important.
Q. It's one of the advantages to having some professional experience before coming into an academic program online is that you develop some maturity and self-discipline. The kind of things you need for an online program.
A. Right. And we've had really minimal problems with students. We've had a couple who got Covid, and there are life issues. People get transferred across the country. We've had a couple of people have a baby. Some people got sick. They don't drop out of the program, they just take a semester off and then come back in again. Our program's flexible, so we accommodate these life events quite easily.
Q. No matter how much planning you do or how much self-discipline you have, sometimes there are things that you just can't plan for.
A. Exactly. We work very closely with students to get them going and accommodate them. What's nice about this degree is that people sign up because they're dedicated to advancing their careers. They know what they're getting into. They don't make these decisions on a whim. Fortunately for us we have really minimal loss of students because they know what they're doing and they recognize that the degree is a ticket they're going to punch to get the skills and the credit for advancement to senior management and even the executive suite.
FAQs About Online Healthcare Management Master's Degrees
What are the admissions requirements for an online master's in emergency management?
The requirements for admissions to most master of science in healthcare management online programs are very similar, which is not surprising. That doesn't mean there aren't some differences, however, and it is incumbent upon you to understand and meet, in detail, every requirement for each program to which you apply. Nothing will mess up your academic plans faster than an incomplete application package or missed submittal deadline. With that in mind, here's a look at the admissions requirements that are typical to most online healthcare management master's programs:
Previously-earned degree: All applicants must possess a bachelor's degree from a properly-accredited U.S. college (or international equivalent) earned with a stated minimum GPA. Submittal of official transcripts is typically required as proof. Most programs will accept degrees in any major or discipline.
GMAT/GRE Scores: Some programs do not require the submittal of GMAT or GRE test scores. Those programs that do often waive the requirement for applicants that meet certain qualifications, such as a given minimum undergraduate GPA, possession of an advanced degree (master's, doctoral, etc.), post-baccalaureate professional license or certification, or substantial work experience in a healthcare management-related field (healthcare, informatics, information systems, computing, data analytics, etc.).
Additional requirements: Other common application requirements include a current CV or resume, one or more letters of recommendation (from sources such as professors or employers), and a personal statement or statement of purpose describing the applicant's interest in the degree program and career goals. Non-native English speakers are additionally required to provide proof of English proficiency, usually through submittal of TOEFL or IELTS test scores.
How long will it take to finish my master's in healthcare management online?
On average, most students will take around two years to complete all of their online healthcare management master's requirements. How long you will take will depend on several factors, including total credit hours required, the time you take to complete your culminating activity, and most importantly, whether you choose to pursue your studies full-time or part-time. Remember that one of the key features of online degree programs is study flexibility, and that includes program completion times. For example, the University of Arizona's online Master of Science in Health Management program can be completed in as little as 12 months, but students may take up to three years to complete all requirements.
Can I earn a master's in healthcare management 100% online or will I need to visit campus?
As mentioned earlier, the coursework in healthcare management lends itself particularly well to a distance-learning environment, which is why the majority of online healthcare management master's degrees are available in 100% online formats. There are a few exceptions, however, such as the MS in Healthcare Management and Informatics from Kennesaw State University, whose curriculum includes a combination of online and in-person classes attended on the school's Kennesaw, Georgia campus. Be sure to check with each program you're considering to confirm whether or not it includes any in-person requirements.