Undocumented students are born outside of the U.S. and have not received a legal immigrant visa to the country. Although they may not be eligible for federal financial aid, they often qualify for scholarships and private student loans.Some state legislatures have even passed laws allowing undocumented college students to receive state funding.
Financial aid is still a challenge for undocumented students, though. Fortunately, several organizations offer scholarships to undocumented students in addition to internal resources from specific schools. There are also many external databases for scholarships, financial aid, legal services, and more. This guide provides insight into some of the most valuable resources for undocumented master's degree students.
Graduate Scholarships for Undocumented Students
Finding scholarships as an undocumented student requires extra research since most scholarships require citizenship for eligibility. However, there are still many resources and opportunities for scholarships and other types of funding for undocumented students.
Scholarship databases, financial services at universities, and legal resources are good places to start. The following list details scholarships available for undocumented students, from general scholarships to more niche ones based on location or study focus.
Amount: Varies
Eligibility: Enables or assists students in pursuing an educational program in mechanical engineering or mechanical engineering technology at the undergraduate and graduate levels.
Multiple scholarships/Varying amounts
Eligibility: Available to students pursuing careers in the food industry. Must be a permanent resident or attending a school located in Massachusetts or Connecticut. All Big Y employees are eligible regardless of residence.
Amount: Varies
Eligibility: For children of active members of CTA and CTA/NEA-retired or deceased CTA member attending or who attended continuation high school or an alternative education program.
Amount: Varies
Eligibility: Depending on the school and degree program, the scholarship covers up to full tuition plus housing and living expenses for the number of terms necessary to complete the degree.
Amount: $500
Eligibility: Open to any student enrolled in an American or Canadian post-secondary educational institution. Can be used to pay for classes, textbooks, or living expenses. Must write an essay stating where you see the future of the energy industry.
Amount: $500 to $2,000
Eligibility: Over 50 scholarships are awarded annually to academically-talented and highly-motivated Hispanic/Latino students.
Amount: $2,500
Eligibility: Available to full-time undergraduate and graduate students attending an accredited college or university and with a cumulative 3.7 or higher GPA.
Amount: $6,000
Eligibility: Applicants must be previous recipients of an undergraduate Kennedy-King scholarship, demonstrate financial need, and complete an application.
Amount: Varies
Eligibility: This scholarship, in memory of Libbie H. Hyman, one of America's foremost invertebrate zoologists, helps students take courses or pursue research on invertebrates at a marine, freshwater, or terrestrial field station. It's intended to support a first meaningful field-station experience for a first-year or second-year graduate student or an advanced undergraduate.
Amount: $2,000 to $10,000
Eligibility: For law students seeking to further MALDEF's mission of advancing the civil rights of the Latino community in the U.S.
Amount: $1,000 stipend for university housing plus round-trip travel costs up to $550 and application fee waiver to apply to a Rackham Graduate School program
Eligibility: For 2023, students interested in the fields of Asian Languages and Cultures, Classical Studies, Comparative Literature, History, Linguistics, Romance Languages and Literatures, Sociology (qualitative), and Women's and Gender Studies (any humanities field) are eligible.
Amount: $5,000
Eligibility: PCLP provides future healthcare professionals with an opportunity to experience the challenges and rewards of primary care practice in community health centers across the U.S. Open to medical students and graduate-level nursing and physician assistant students poised to become leaders in primary care.
Amount: Based on need
Eligibility: Empowers LGBTQ students earning their undergraduate, graduate, and doctoral degrees at accredited colleges in the U.S.
Amount: $500 to $10,000
Eligibility: Encourages the study of geophysics and related geosciences in universities around the world. Applicants must include their current transcripts and email addresses for two faculty members to serve as references.
Amount: $17,000
Includes leadership training, access to a vibrant network of Switzer Fellowship alums, and opportunities for professional development and grants beyond the fellowship year
Eligibility: Students of color, first-generation graduate students, and individuals from traditionally underrepresented communities in environmental graduate programs are strongly encouraged to apply.
Amount: $1,000
Eligibility: For students enrolled at either a community college or university. Deadlines are September 15th and January 5th of each year.
Amount: $1,000 per semester
Eligibility: Awarded twice a year and need-based. Available to bachelor, master, and PhD students accepted into accredited colleges in the U.S.
Amount: $1,000
Eligibility: Open to high school, college, and graduate school students currently enrolled full-time or planning on enrolling within 24 months.
Tips for Standing Out on Your Application
Standing out on your scholarship application is essential for earning an award. It involves creating a unique application that is representative of you as a student and an individual and that will help you to get noticed and remembered by the award committee.
A good way to stand out is by highlighting your unique experiences, skills, and talents and by showcasing your achievements, awards, and any other extracurricular activities. You also want to provide a compelling personal statement that demonstrates your passion and commitment to your field of study. Finally, include any relevant references or letters of recommendation that can attest to your qualifications.
Obtain Strong Letters of Recommendation
Ask for recommendations from teachers, mentors, and employers who can vouch for your effort, achievements, work ethic, etc. The people you have the strongest relationships with are the ones to reach out to since they are most likely to have a good understanding of how to best represent you.
Don't Miss the Deadline
To help alleviate your stress and to show preparedness and punctuality, the sooner you can submit your application, the better. As soon as you know what scholarships you want to apply to, start working on each application and notice the overlaps in the content, so you can repurpose elements and not have to do the same work more than once.
Highlight Your Extracurriculars & Volunteer Work
Scholarship committees like well-rounded individuals who are focused on more than just academics. Even if you've done activities or volunteer work that seems completely unrelated to your application, include it to offer a deeper understanding of who you are as a person.
Demonstrate Your Interest
Demonstrate your interest in the program or school you're applying to by researching and gaining a clear understanding of what the program offers and why it's a good fit for you. Do the same for the organization supplying the scholarship award. Make your interest apparent in your application material to show that you're not just writing a generic application.
Highlight Your Strengths
Highlight your strengths and accomplishments by including any awards, honors, or other achievements that make you stand out from other applicants. Every application the scholarship committee reads shows a list of credentials, so figure out how to distinguish yourself to make your application stand out and garner positive attention.
Resources for Undocumented Students
If you are an undocumented individual looking to pursue a master's degree in the US, there is a broad collection of resources available to answer your questions, ease your fears, and help guide you along your educational journey. Below is a list of 30 quality resources to get you started.
American Civil Liberties Union: The ACLU gives guidance in matters concerning constitutional violations, institutional discrimination, and other practices or policies resulting in unequal treatment against any group, including immigrants or undocumented Americans.
American Council on Education: ACE is a membership organization that mobilizes the higher education community to shape effective public policy and foster innovative, high-quality practice.
American Immigration Council: The AIC helps to create a more humane immigration system. They use four coordinated approaches to create change: litigation, research, legislative and administrative advocacy, and communications.
Asylum Seeker Advocacy Project: ASAP provides a digital community, legal resources, and member-led advocacy for asylum seekers.
CollegeBoard: The College Board provides resources to help understand immigration policies.
Freedom for Immigrants: This organization is dedicated to abolishing immigration detention worldwide while ending the isolation of people currently suffering in the profit-driven American immigration detention system.
FWD.us: FWD advocates for smart immigration policies that keep families together and create economic opportunity.
IMMI: Immi helps immigrants in the U.S. understand their legal options. Its online screening tool, legal information, and referrals to nonprofit legal services organizations are always free.
Immigrant Legal Resource Center: Equips immigrants and their allies with knowledge and skills to create a more just society.
Immigrant Legal Services : Immigrant Legal Services helps clients navigate the complex immigration system through high-quality, affordable legal representation.
Immigrants Rising: This organization transforms lives through education by empowering undocumented young people to rise to their fullest potential.
Immigration Advocates Network: Connects immigrants and advocates to quality legal resources and experts.
International Refugee Assistance Project: IRAP is a global legal aid and advocacy organization working to create a world where refugees and all people seeking safety are empowered to claim their right to freedom of movement and a path to lasting refuge.
Immigrant Justice Corps: The Immigrant Justice Corps is a volunteer program that provides legal assistance to low-income individuals. IJC awards promising, committed new lawyers and college graduates with two-year fellowships, providing an unprecedented entry point into the field of immigration law.
Kino Border Initiative: This organization offers direct humanitarian assistance and holistic accompaniment of migrants, education and encounter between migrants and others that transforms people and communities towards solidarity with migrants, and policy advocacy in Mexico and the U.S.
Latino/a Educational Achievement Project: LEAP provides scholarships and financial support for all historically under-served and underrepresented students regardless of immigration status and advocates for educational policies to close the opportunity gap.
My Undocumented Life: A resource to help immigrants and undocumented individuals access educational opportunities, scholarships, and other resources.
National Association for College Admission Counseling: Helps students navigate college admissions and immigration processes.
National Immigrant Justice Center: NIJC provides legal consultations and representation for low-income immigrants seeking a wide range of immigration legal relief. They help:
Eligible youth seeking to apply for Deferred Action for Childhood Arrivals (DACA) and employment authorization
Immigrants applying for permanent residence through a family-based application
Permanent residents applying for citizenship
Immigrants who are victims of domestic violence or violent crime and seeking protection in the U.S.
Victims of international human trafficking
Immigrants applying for Temporary Protected Status (TPS) or NACARA
Immigrants detained by Immigration and Customs Enforcement in Illinois, Wisconsin, Kentucky, or Indiana
Asylum seekers, including LGBTQ individuals seeking safety from persecution based on their sexual orientation or gender identity
National Immigration Law Center: Defends and advances the rights and opportunities of low-income immigrants and their families.
National Immigration Project of the National Lawyers Guild: Equips advocates to fight for justice in immigration law.
Northwest Immigrant Rights Project: A non-profit organization providing free legal services to DACA recipients.
Pueblos Sin Fronteras: A trans-border organization made up of human rights defenders that promote accompaniment, humanitarian assistance, leadership development, recognition of human rights, and coordination of know-your-rights training along migrant routes. It also monitors and raises awareness of human rights abuses against migrants and refugees in Mexico and the U.S.
TheDream.US: Provides college scholarships to students regardless of immigration status. You do not need DACA or TPS to apply, and you can apply if you came to the U.S. before November 1, 2017.
United We Dream: Builds the power of immigrant youth and allies to win dignity and justice across the U.S.
Washington LawHelp: Provides school rights for immigrant and refugee children and their parents in Washington state. Information is available in English, Spanish, and Russian.
Women's Refugee Commission: The WRC works to advance gender equality and promote resilience and humanitarian response to transform the lives of refugee women, children, and youth.
Interview with a Graduate Advisor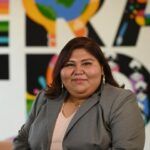 Yessenia Hernandez is a motivated leader passionate about working with young adults and overseeing their academic success. She is most excited for the opportunity to continue student support by helping first-generation immigrant students transition to college, find resources, become involved on campus, and familiarize themselves with Dominican University. As a recent MSW graduate, Yessenia looks forward to working with community organizations that provide support to undocumented students and communities.
Note from Yessenia: I don't love the word undocumented, so when I refer to unauthorized students, I mean undocumented. No human is undocumented. These students have documentation from their home country; however, they are unauthorized to work or be in certain places.
Q. What are some of the primary challenges undocumented students may face when applying to a college/university?
A: Many struggles are financial. Undocumented students cannot legally receive any federally funded student financial aid, including loans, grants, scholarships, or work-study money. Many students often must pay their tuition out of pocket. Many unauthorized students find themselves in states where they may feel unwelcome and restricted from continuing their educational aspirations. Not all states allow undocumented students to continue their education there, and these states are lock-out states. Lock-out states restrict admissions and do not provide financial support to these students. Additionally, institutions have different policies when admitting students. Some institutions provide more financial aid to students while some institutions may not be able to provide as much aid. Depending on the state, there may be some state aid. An example is Illinois and its alternative application for state aid that came into effect through the RISE ACT. Furthermore, some students can become intimidated by the process as they may have to disclose family information and income and often do not have the same information (e.g., social security numbers) as their peers. In some instances, undocumented students are considered international students.
Q. What are some of the most valuable types of resources undocumented students can look for if struggling with applications?
A: Some of the most valuable types of resources students can look for are mentors who have gone through the college experience and also networks for undocumented students. Many students have connected with me and our office due to a mentor reaching out on their behalf.
Students often need to advocate for their needs and often this means having to disclose their status with their counselors/advisors. This is something that is not easy to do and can be detrimental to a student. Therefore, students should be provided with the appropriate resources and support. Often, scholarships also provide support for students.
Q. Does every school offer support to undocumented students?
A: No, unfortunately not all high schools, colleges, or universities have the information and resources to provide support to undocumented students. As explained above, some states are not welcoming to students, and the states that are may not be prepared to serve students in a culturally and trauma-responsive way.
Q. What, if any, challenges may an undocumented student have once enrolled in a program?
A: Many. In recent studies, I learned that undocumented students experience high levels of clinical anxiety due to many stressors and different individual dynamics. Often, undocumented students don't know who to trust with disclosing their identity. Students sometimes have disclosed feeling isolated in the classroom, particularly when immigration discussions and topics come up. Undocumented students cannot be categorized like other students because they take on multiple identities. Many of them are adult learners, parents, caregivers, and even the cultural navigators of their families. Therefore, each individual has a different story and unique needs. Students come from multiple cultural backgrounds and should not be generalized. Students have reported being in constant fear of being detained or deported or having a loved one detained or deported due to DACA being at a standstill for new applications.
Younger college students find themselves with limited access to professional development opportunities. Some internships request that interns have work authorization, and, unfortunately, many undocumented students do not have the authorization due to the DACA standstill. Similarly, some internships and opportunities request fingerprinting and background checks. This can be a challenge as many students do not have some of the documents requested for the procedures. There are limited opportunities for paid experiences, and many experiences are unpaid due to not having authorization forms.
Lastly, as students become graduates, it can be hard for them to obtain professional licensure. While some states have been more welcoming and provide licenses regardless of immigration status, not all states are the same. The job search after graduation can be overwhelming for some individuals as they are unable to practice within their field.
Q. Is it likely that the resources available to help undocumented students will vary between public and private schools?
A: Yes. They also vary depending on the state and the policies the institution holds. In Illinois, recent legislation passed that paved the way for public institutions to have appointed individuals who could support undocumented students. Due to their commitment to supporting students, many private institutions also followed in creating such positions. Private institutions have private donors and are also able to provide resources as opposed to public organizations that have federal support that cannot go toward supporting undocumented students.
I also encourage you to check out Higher Ed Immigration Portal to see the lock-out states and the way they are with policies for students.