For most students, grad school is an arduous undertaking all on its own. But when the demands of earning a graduate degree are compounded by the stress of managing a chronic condition, the effort necessary to succeed can feel downright Herculean.
So if you're personally bearing the additional burden of a chronic condition during your educational journey, know this: You are strong, and you're not alone. In fact, the CDC reports that six in 10 adults in the U.S. have a chronic disease, and four in 10 adults have two or more.
While recognizing the sheer pervasiveness of chronic conditions may provide some comfort, even more can be derived from the power of knowledge. That's the purpose of this guide. In it, we break down some of the most common chronic conditions and their possible impacts on your education, as well as specific techniques for academic success.
Keep reading to arm yourself with the knowledge you need to approach graduate school with the confidence and strength of a mythological hero.
Common Chronic Conditions Facing Master's Students
Although there is a vast range of chronic conditions, some are more prevalent than others. In the section below, we cover 12 examples of conditions that are most likely to impact students in graduate school. Keep reading to gain insight into each and develop an understanding of how they present unique academic challenges for those who are affected.
How to Set Yourself Up for Success
Despite the difficulties you may face as a student living with a chronic condition, you can take steps today to protect yourself throughout your academic journey. Some of these are environmental, like familiarizing yourself with your surroundings so you know how to reach resources when you need them. But many have more to do with finding support — through the help of others, or through your own research. Below, find specific tips and ideas designed to help you succeed at school.
Advocate for Yourself
By far, the most important thing you can do to ensure your academic success is to be a strong self-advocate. This means knowing your rights, communicating them to others, and ensuring that they are being respected. Familiarize yourself with the Americans with Disabilities Act (ADA), which outlines the protections you are entitled to under the law. You are legally entitled to reasonable accommodations that enable you to obtain an education. However, you cannot receive accommodations if you do not disclose your condition to your school and provide documentation, so be sure to research your school's specific procedure for this.
Communicate with Professors
Although it might be a little uncomfortable, consider talking with your professors about your needs to ensure you will receive the accommodations you need to be successful. Instead of just handing over an accommodation letter, you will have a chance to connect with your instructor as a person. And don't put it off — make an appointment as early in the semester as possible. You'll want to plan this conversation so that you know exactly what to say when explaining how your accommodations will assist you in meeting academic expectations. And consider following up with a written summary of your issues. If you've done all of this but still not finding support, reach out to school administration.
Create a Routine and Stay Organized
Because some difficulties like brain fog, fatigue, and depression are common to many chronic illnesses, there are certain approaches to organization and routines that can be useful, no matter your specific condition. For example, simplifying your physical and mental environment through techniques like decluttering, brain dumping, and creating effective to-do lists will prevent overwhelm, save you time, and ensure that you are focusing your precious energy on priorities. Also, adding in a solid meal-prep routine and house-cleaning schedule will help you stay on top of basic self-care tasks. And don't forget to keep track of all assignments, appointments, and other obligations in one place, such as a paper planner or planning app, so that you don't overlook anything important.
Lean on Your Support System
The people who know and love you (your partner, family, friends, co-workers, etc.) most likely want to support you, so don't be afraid to ask for help. For example, if you must miss class, consider asking a classmate for lecture notes and a recap of main highlights. If you have a stressful doctor's appointment coming up and need moral support, check to see if a friend is available to accompany you. When asking for help, always be clear about your needs and ask in a way that doesn't put the other person on the spot. And don't forget to express your gratitude!
Prioritize Your Health
Even though your educational journey is important, there is nothing more important than your health. Regardless of how busy your schedule becomes, it is imperative that you make time to put your health first as you strive to achieve your academic goals. Start with the basics — getting enough high-quality sleep, daily physical activity, and eating a healthy diet. In addition, make sure that you stay on top of doctor's appointments, take all medication as specified, and care for your mental health. If you are attending to each of these areas, the rest will be more likely to fall into place.
Take Advantage of Program Resources
According to the U.S. Department of Education, virtually every postsecondary school has a disability services or ADA coordinator. This is a great place to start when looking for resources on your campus. Besides offering basic accommodations, many campuses feature special programs geared toward various learning challenges. For example, the University of Michigan offers several mental health and counseling resources as well as a program and support group specifically for students who have Crohn's and colitis. And Virginia Commonwealth University provides additional support through its Association of Students with Disabilities and Chronic Conditions.
Top Tip: Be Kind to Yourself
The unpredictability of most chronic conditions means that no matter how well you plan or prepare, you may still get thrown off course from time to time. Although this can be discouraging, avoid the temptation to engage in self-blame and negative self-talk. After all, you are a human being, and your juggling act is more complicated than the average person's, so cut yourself some slack. All you can do is your best! Make every effort to let go of negative emotions over circumstances beyond your control. If you struggle with this, consider trying a mindfulness practice such as loving-kindness meditation, which requires you to direct kindness toward yourself and others. This technique has actually been linked to a decrease in depression symptoms.
Chronic Conditions and Online Degrees
Although you may be aware that online degree programs offer advantages in terms of accessibility, affordability, and flexibility, you may not have considered how these aspects can directly benefit you as a person managing a chronic condition. In many ways, online programs may be a vastly superior option for those with chronic conditions. Check out the information below to get the specifics on why this option might perfectly suit your needs.
Accessibility
Completing a degree online enables you to access course content and materials from virtually anywhere. That is, as long as you have a reliable device and strong internet connection, you can attend class. This can be especially beneficial if you have a chronic condition that might cause you discomfort or embarrassment. Instead of being forced to sit in a crowded lecture hall, you can log in and participate from the comfort and privacy of your own home. Furthermore, the reassurance of easy access to all necessary facilities and amenities is likely to lower anxiety, which can improve focus and concentration.
Affordability
In general, online degree programs are more affordable than traditional programs. This is attributable to a variety of factors, including lower overhead costs and elimination of additional expenses, such as transportation costs, housing, and assorted fees associated with attending class on campus. And saving money is quite important for students with chronic conditions. In fact, the American Action Forum reports that those who are chronically ill spend approximately five times more in direct health care costs than people without chronic health conditions.
Flexibility
Most chronic conditions can interfere with your ability to attend traditional classes consistently. For example, certain conditions involve flare-ups that trigger debilitating symptoms, making it impossible to get to campus. Others may require frequent doctor's appointments or even hospitalizations. In such cases, online degree programs can provide the flexibility that you may need to get your coursework completed with as little stress as possible. The asynchronous option offered for many online programs means that you are not expected to log in at certain times. Instead, you can log in and complete your work at any time that is convenient. This eliminates the worry of missing class content or getting behind on assignments.
Lessons Learned: Advice from a Master's Graduate with a Chronic Condition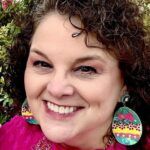 Jena Wayt has been serving as the librarian for Spring Hill Primary and Intermediate libraries in Longview, Texas since 2021. She is responsible for campus budgets, purchasing books, maintaining a well-organized library system, and teaching classes every day. She earned her master's in media design and technology from Full Sail University in 2012, as well as a master's in library information science from the University of North Texas in 2019. She is an avid reader who loves to explore different genres, share books, and help students cultivate a love for reading.
How did your chronic condition impact your decision to pursue a graduate degree, and what factors did you consider when choosing a program?
My chronic condition was a factor in pursuing my graduate degrees because they were all online degrees. I had to consider if my rheumatoid arthritic (RA) hands could handle the strenuous class schedules after working all day.
Can you describe any specific challenges you faced in terms of managing your chronic condition while handling your academic workload?
When I started my degree, the workload was daunting. I had a new class every five weeks (all on computer) plus writing a thesis for the end of my master's. My hands would swell and become stiff the more that I typed on the computer or created online curriculum for different classes. I was trying various biologics to help keep my RA in a stable condition while also attempting to keep the arthritic pain to a low level. When I began my second graduate program, I was teaching and taking several classes a semester. I had been working with my doctor for several years to maintain a minimum level of pain. There were many days that the pain was overwhelming, but I was determined to push through and finish my second graduate degree.
What strategies or techniques did you find most helpful in managing your time and energy during your graduate studies?
In the morning, I massaged my hands or gave one of my dogs a massage in order to work the stiffness out of my hands. I always created a calendar to keep up with my schedule. I worked on assignments after my children went to bed and often stayed up late to complete assignments. For most of the time I was working on my master's degrees, I was on a steroid—prednisone. This drug helps with inflammation and swelling, but not the pain associated with my RA. Pain was something I had to work through if I wanted to attain my goals.
How did you navigate the process of seeking academic accommodations, and what advice would you give to others in a similar situation?
I did not seek any academic accommodations while working on my degrees. I communicated with my professors if I felt I needed more time to complete an assignment due to my condition. Most professors were accommodating and gave me extra time. If I were to give advice, I would suggest talking to your mentor/advisor about your chronic condition and ask what accommodations are available.
Can you share any self-care practices or routines that you found particularly beneficial in maintaining your well-being throughout your studies?
As I mentioned before, in the morning, I massaged my hands to release the stiffness, and I also massaged one of my dogs to help with this. I made sure to be consistent in taking all of my medications to help relieve any flare-ups. Keeping my RA at a regular level was my most important strategy for maintaining some type of normalcy and keeping the pain at a lower level. Furthermore, there are many diets for all types of conditions. I tried to keep what I ate in mind if something caused increased stiffness and joint inflammation or irritation. I also made sure that I took time to read a book for fun, go out with family and friends, watch a movie, etc. to help relieve the stress of maintaining a work/school balance.
How did you build a support network, both within and outside of the academic environment, to help you cope with the challenges of your chronic condition?
Building a support network was extremely important in helping me cope with the challenges of my chronic condition. Family, friends, and cohorts gave me support throughout the entire graduate process. Many professors did the same. When you have support from all of these people, coping with a chronic condition is less stressful because you know you have them behind you, and you are not alone.
Were there any unexpected benefits or positive experiences that resulted from managing your chronic condition while pursuing your graduate degree?
The most positive experience was completing two master's degrees all while managing my chronic illness. I did not let this illness define who I was. I worked through it and attained my end goal.
Looking back, is there anything you would have done differently in preparing for or navigating your graduate studies with a chronic condition?
I am not sure I would have done anything differently in preparing for my graduate studies. I already had a network of support and a doctor who was working with me to find the right combination of medicines to help maintain a "normal" work/life balance. I am not saying that I did not have flare-ups, but I was able to work through them with help and support.
What role did technology or online resources play in helping you succeed academically while managing your condition?
Both of my graduate degrees were online. Technology and online resources were all I used to finish both degrees. Typing was the most difficult when I had flare-ups from my RA. My fingers would swell with inflammation the more I typed. I had inflammation medicines that helped calm the flare-up to a degree to allow me to continue to work. Sometimes I did have to stop and just take time to let my hands have a break from being used.
What words of encouragement or advice would you offer to aspiring master's students who are managing chronic conditions as they embark on their academic journey?
I would advise having a strong support network before starting any master's degree while managing a chronic condition. Maintain any medication you are taking to keep your condition at an even level. Look into diet plans that might help prevent any extra flare-ups. Pace yourself when working on assignments. Always create a calendar to keep track of assignment due dates. Do not wait until the last minute to complete any assignments. This will only cause more frustration and inflammation/pain associated with your chronic illness.