Graduate school is a time of intense learning — about topics that interest you, a career that calls to you, and even about relationships that both inspire and frustrate you. Accompanying all this learning is an inherent need to adopt basic life skills that will serve you beyond the walls of your chosen college — namely, how to improve your communication and better establish boundaries.
Renowned author/therapist Prentis Hemphill describes boundaries as "…the distance at which I can love you and me simultaneously." This may be the antithesis of some people's knee-jerk response to the concept, which is something divisive, territorial, or selfish. But without boundaries, we can end up in situations where we feel excessively drained by putting others' needs first. Ultimately, one of the most effective, evidence-based ways to maintain healthy relationships is through the creation of boundaries.
If you're a graduate student (or soon to be one) and ready to learn about the sometimes complicated dynamics of relationships with colleagues, mentors, faculty, family, partners, and friends, keep reading. In this guide, we'll examine these dynamics and offer helpful tips for healthy boundary-setting and communication. We'll also present common relationship scenarios and offer practical solutions for navigating complex situations.
Types of Relationships Students Have in Graduate School
Let's begin by taking a deeper look at some of the relationships students commonly have in graduate school. We'll also examine the nuances of each type of relationship, pointing out some of the reasons these connections can be helpful to your success in school — or, at times, how they can complicate things.
Student-Professor/Advisor/Mentor
Depending on your course of study, the role of faculty, advisors, or mentors will vary widely. Some will help you for just one course, while others you'll interact with regularly — but the bottom line is, you'll never know if you may connect with them again, so it's always a chance to put your best foot forward and learn from their expertise. Keep in mind, if you decide to continue your education into doctoral study, for example, a particular faculty member could decide your fate. This means relationships with professors, advisors and mentors are potentially intense, and the dynamics may shift over time.
Student-Student
Relationships with your fellow students often lay the groundwork for future connections in your chosen field. You'll meet during coursework, come to understand their strengths in a field of shared interest, work together in moments of need during your studies — and even potentially work with them in your future career. You'll also collaborate with students during group projects, which mimics the way projects are often completed in the workplace. Learning how to form positive, respectful connections with your peers will be beneficial in your career.
Employee-Supervisor Relationships
Many students maintain outside employment while in graduate school, so the tone of your relationship with your supervisor can affect your feelings about school. If you have a supervisor who is supportive and willing to be flexible — as long as your work is accomplished, that is — it will facilitate your ability to pursue a degree while working. However, this relationship can sour if a supervisor perceives that your job performance has declined and attributes this to your studies.
Coworkers
If you're working while you pursue your degree, you may find that you rely on coworkers in a different way than you did before you started graduate school. You may have been the coworker who was typically willing to trade shifts or provide urgent coverage, and now you may have to be more judicial with your offers. Take the time to maintain your connections with your coworkers and continue to display generosity with them as much as possible, all while communicating the ways your needs have changed since you returned to school.
Friendships
In every stage of life, friendship serves an essential function. In contrast to family relationships, these connections are made and maintained purely by choice and desire to foster connection with one another. In an optimal deep friendship, both people should feel like they are supported and thriving in their connection. These friendships should remain a priority — especially with one's closest friends — so leave energy to cultivate these meaningful relationships.
Acquaintances
These relationships are more casual in nature and can both enter and fade from your life during graduate school. On one hand, you'll be meeting other students at school through classes or other functions, but at the same time, you may have a harder time connecting with the acquaintances from your past experiences. Those who are meaningful from a setting tend to become friends, where we set aside time to seek out mutual shared time. But don't discount the welcoming presence of a rotating cast of casual connections who happen to frequent the same bar you visit.
Family
While we'd always like to think that our family is our biggest group of cheerleaders, these dynamics can be the most complicated. With any luck, they've celebrated every step of your decision to pursue a graduate degree; however, keep in mind that it can be challenging for them to come to terms with your lessening availability for family gatherings. You may need to be clear with your family about how your life is going to be different while you're in graduate school. A good tip is to try to be specific about how your family members can best support you during this change.
Romantic
Whether you're in a partnership when you enter graduate school or you are hoping to meet someone during this chapter, romantic relationships tend to be the most fruitful during a time of productive personal growth. While you're pursuing your passion in graduate school, it might put you on the path to meeting someone equally engaged in their pursuits. For an existing partnership, you'll need to remember to set aside time for your partner. Not only does this relationship help you maintain your needs when school stress mounts, but it hopefully provides you with emotional support and grounding.
Healthy Boundaries vs. Unhealthy Patterns
Now that we've considered the common relationship types, let's dive into the specifics of what a "healthy boundary" looks like — and, conversely, what it doesn't. Take inventory of your relationships, and see if you can see some of the following represented.
Healthy Boundaries Look Like…
Owning your time: Your time is yours to dedicate in the way that makes the most sense to you. Of course, certain commitments, like classes or internships, must take place at a certain time. But the rest is in your control.
Be realistic: You likely have a pretty good idea of how much you can take on and complete in a specific time frame. You try not to overextend yourself, because you know that leads to burnout.
Learn to say no: "No" is a complete sentence. It does not require a "good enough reason" to decline. You may find yourself on the receiving end of another person's disappointment, but that's ok, because adults can manage these feelings.
Don't try to solve others' problems: As tempting as it can be to help a friend in need, you know this is not always the best solution. You are there to lend an empathetic ear, but you don't interject yourself into someone else's situation.
You clearly communicate your needs and wants: You're firm, clear, and direct about your wants and needs in each situation. You communicate proactively, which is the best way to prevent resentment.
Experience your own emotions, not those of others: You have enough on your plate; you don't need the guilt or negativity of another on there, too. You focus on acknowledging and managing your feelings while practicing respect and empathy for others.
Unhealthy Patterns Look Like…
Over-committing: Rather than declining proactively, you take on a project that crashes and burns at the last minute because you are over-committed.
Frequently feeling resentful: Guilt drives you to offer help, and others take advantage of these offers. You know this is a prescription for resentment, and yet you do it anyway.
Feeling overwhelmed or exhausted: Your stress level is sky-high, you're entirely overextended, and you're consistently ignoring your own needs. Sleep is a luxury you can't afford.
Putting others before yourself: You find yourself prioritizing others' wants over your needs. You feel guilt for taking time for yourself, and you would never consider ignoring a request from a friend.
Mastering Effective Communication
With a clearer picture of healthy boundaries in mind, you may be asking yourself: So what exactly are the best ways to communicate effectively? Below you'll find concrete strategies for improving communication in your personal, professional, and academic life.
Practice Active Listening
Hearing is the passive process of receiving a piece of auditory information; listening is a proactive process that adds in the element of engagement to better understand the information. Active listening is defined by several key traits, including making eye contact, resisting any impulse to interrupt, repeating a message back to ensure understanding, and responding in a way that shows shared meaning. Try reframing what you're hearing, beginning with the words, "If I'm understanding you correctly, you felt…" or something similar that solicits feedback. Active listening is an ongoing process that involves both the sender and the receiver of information.
Emotional Intelligence is Key
While graduate school is a time to learn academic content, continuing your emotional education and developing personal emotional intelligence is essential to healthy relationships. "Emotional intelligence" refers to your understanding of your own emotions and those of others, as well as a willingness to take accountability for your actions, empathizing appropriately with others, and prioritizing personal well-being.
Body Language Matters
How you sit, stand, and even position your limbs has the power to send messages. Crossing your arms may feel powerful to you, but it may communicate ambivalence to another person. Speaking while gesturing with your palms upward can communicate openness and positivity, while speaking with your palms face down can communicate control and rigidity. Pay attention to whether you are leaning away from or towards your companion, for example, and consider the added context of your body language to the content of your conversation.
Articulation & Tone
Tone can drastically change the meaning received in a conversation. How you say something is as important — if not more important — than what you say, and we sometimes have a hard time understanding how our own tone can be misconstrued. However, there's no dictionary for tone, so consider changing it up slightly if you're encountering communication challenges. And keep in mind that tone comes across in all forms of communication — including in the written medium. If the recipient reads your words in an entirely different tone than you intended, miscommunication can ensue. Try to save weighty communication for an in-person conversation, not a text or email.
Ask Relevant and Thoughtful Questions
Building relationships requires mutual interest and investment in one another, so asking relevant and thoughtful questions of your friend, colleague, advisor, or partner shows that you are curious enough to dive deeper. Use open-ended questions that express your desire to learn more. Some prompts you could use include:
"Tell me more about that."
"What do you think will be the most challenging part of that project?"
"What are you most looking forward to about that?"
Tailor to Your Audience
You constantly shift between formal and informal tones depending on our audience, often without even consciously doing so. For example, you speak to the dean of your institution during an admission interview far differently than you speak to your sibling. Be thoughtful about the requisite amount of decorum and formality of a setting, and save the more unbridled content, especially profanity or overly personal information, for your close personal relationships — not professional or academic ones.
Be Clear About Your Needs or Concerns
We often couch our needs or concerns in passive language so we're not perceived as being too aggressive or forceful; however, practicing assertive communication is a clear, respectful, and effective way to express your needs. Implicit to this form of communication is the need to be factual, reference behaviors and not the character of the other person, and state your desired outcome.
Look for Positives
When delivering challenging news, it can be helpful to serve a "positive feedback sandwich." Identify one positive observation to share first, then express the constructive feedback, and finish with another positive observation. For example: "I've noticed that you have been very thorough with your citations. I'd like to see you work on incorporating a wider array of sources of differing viewpoints. I'm looking forward to reading your next assignment, as you always pose interesting and engaging arguments."
Uncomfortable Situations & How to Handle Them
Learning theoretically about boundaries and relationship dynamics can be helpful, but most people benefit more from tangible examples of how they can effectively handle common interactions with grace and composure. If you agree with this, you're in luck — because we're about to pose some challenges and solutions.
Below, you'll read about some common uncomfortable scenarios you may encounter during grad school. This is followed by a solution that offers the establishment of a healthy boundary using your newly acquired effective communication skills. Ready? Let's jump in.
Situation #1 – Advisor or professor crosses a line (or vice versa)
Situation: Professor asks for your personal contact information rather than communicating with you through institutional channels.
Solution: "Thank you so much for asking! I'm really working hard to organize my schoolwork in a way that ensures school-related matters happen in school-specific channels, just so I don't miss anything. Thanks for your understanding and for helping me stay organized. Here's that email…"
Situation: Advisor asks you to take on a substantial number of administrative or clerical tasks that benefit them and each of your colleagues, who will not be assisting.
Solution: "It has certainly been difficult to keep track of lab ordering since we've had so much staff turnover. But I do know we all need lab equipment delivered promptly. Because placing and tracking orders can be so time-consuming, I'd like to offer an alternate solution: May I write a Standard Operating Procedure for placing orders so that each of us can take turns? We're all working on experiments and analyses, so that will help us distribute the workload. What are your thoughts on that?"
Situation #2 – Explaining time restrictions to close friends and family
Situation: Telling family that you will not be able to travel for Thanksgiving due to academic commitments and they express their disappointment and begin brainstorming solutions so that you can return for the family celebration.
Solution: "I feel really disappointed by this outcome, too. I knew that graduate school was going to limit my time, but I never imagined I'd miss Thanksgiving. I love spending time with everyone, and I was hoping to be able to come home, but it's just not possible. I know we all feel disappointed. Anyhow, I wanted to tell you ahead of time so we can all get used to the situation so that it doesn't affect our ability to enjoy the holiday, even separately. I promise I'll FaceTime, and we can all enjoy a toast even if I can't be there in person!"
Situation #3 – Talking to a supervisor about schedule availability
Situation: Supervisor asks you to switch in-office days with a newer hire so they can have more support, but your work-from-home days align with synchronous course time.
Solution: "It seems like John is doing a good job acclimating, and I would love to be able to support his growth more. However, with your permission last August, I built my class schedule knowing I'd be working from home on Wednesdays and Fridays so that I can attend my synchronous course that starts right after I finish the workday. Is there any way we can work together to come up with a solution for this semester, perhaps involving some 1-on-1 Zoom time with John on those days so I can be a resource to answer his questions? Then we can revisit my in-office days once I'm constructing my schedule for next semester. I'm so grateful for xx company's support during my master's study, and I know what I'm learning will help me make an even greater contribution on your team down the road…though I know it's not always easy to accommodate, so I appreciate your help thinking through these solutions.
Situation #4 – You are partnered with someone who isn't pulling their weight.
Situation: Your group for a project decides on a mutual deadline for the various portions of the assignment, and one person missed it. You have worked with this person previously and a similar experience happened. You have your final project coming up, and you need their piece of the project to be submitted on time.
Solution: Speaking to the person privately, "You have a lot of insight to offer our group and our project, and it's really important that we'll be able to put all of the pieces together on time so that we can meet our deadline in submitting our final project. We agreed on a deadline and your part is not prepared, which also happened last semester. It seems like mini-deadlines like these are harder for you to maintain. Is there a way that I can support you in submitting your portion of the final assignment on time? I know we both share the value of working together toward earning a good grade on this assignment."
Situation #5 – You are struggling and need help from a professor or advisor.
Situation: It is Monday, and you have an assignment due on Friday that you very likely will not have time to complete.
Solution: "I wanted to speak to you about the assignment that is due on Friday. While I realize that deadline is still several days away, I am anticipating that I will not have a suitable final project by then. Can we discuss an extension to the following Monday? I am coming to you early because this assignment and course are important to me, and I do not want to disrespect our relationship by sending you a frantic email on Thursday night when I know today that I'll need additional time."
Resources for Healthy Communication & Boundaries
Lucky for all of us, we have so much to learn about effective relationships and boundaries available right at our fingertips. We've compiled a list of these resources, from blogs to podcasts to books and beyond, each of which has something to offer as you work toward a goal of healthier communication.
Expert Interview – Counselor/Therapist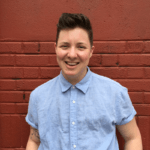 Em Gormley, LCSW, is a psychotherapist at Thomas Jefferson University and in private practice in Philadelphia. He received a master's degree in social work from the University of Pennsylvania in 2016. His areas of clinical specialty include work with LGBTQIA+ communities, trauma, and harm reduction.
How can students communicate their needs effectively to peers and colleagues in a way that fosters mutual respect and understanding?
Focus on clear, direct communication. Do your best to ask directly for what you need. At the same time, work to make sure that the other party feels understood by you. Use active listening skills to show that you understand their perspective or what they're asking for, and if you've misunderstood, continue trying to clarify until you get it right. If your needs conflict with someone else's, focus on working toward a solution that meets everyone's needs, or if this isn't possible, compromise. Try to focus on moving forward and identifying solutions, versus focusing on being 100% heard and understood. It's possible to work effectively and arrive at solutions without being fully on the same page.
What are some strategies for dealing with difficult or toxic relationships in graduate school?
Toxic and difficult relationships — particularly with people in positions of authority such as advisors or professors — can be challenging to navigate in grad school. My best advice is to seek support and guidance from someone who you respect and trust. Focus on managing the relationship with the challenging person in a way that protects your interests. If you're someone who is more passive, you might need to push yourself to be more direct and assertive about your needs and boundaries. Conversely, if you're someone who's more reactive, you might need to pause and take some time to consider the best course of action before following up with the person. Regardless, remember that you can't change or control another person's behavior, so focus on what you can control — how you choose to respond to the situation.
How can students navigate power dynamics in relationships with professors or advisors and maintain a healthy balance of power?
The power differential between students, professors, and advisors in grad school can seem daunting. It can be helpful to keep in mind the power that you have, including how you choose to act and navigate these relationships. If you don't understand something or your needs aren't being met, don't be afraid to ask questions or ask for help. If you're struggling in a particular relationship — if you're able to, try to address it directly with that person, or otherwise, get feedback and support from someone trustworthy and figure out how best to address it.
How can a student manage the stress and pressure of graduate school while also maintaining healthy personal relationships with those around them?
Self-care is essential in managing the stressors of graduate school and maintaining healthy relationships. Self-care isn't limited to things like creating time to meditate, practice yoga, or take a bath — although it might include those things. It can also look like creating time to prioritize relationships with your friends and family, practicing time management with school responsibilities, and upholding boundaries around work and school so that you have enough space for your other life needs.
What should a student do if they feel their boundaries are being violated?
I think this really depends on the context and the sort of boundary violation. If you feel comfortable and safe doing so, it's almost always best to start by addressing your concern directly with the person who crossed your boundaries. Try to approach them with curiosity about what happened, while also being clear and assertive about your needs. For example, if a peer is not participating in a group project, you might first try approaching them directly about what's going on, then try to problem solve with them to make sure they're doing their fair share of the work. If you don't feel comfortable directly addressing the person who crossed your boundaries, seek support from someone you feel you can trust. For example, if the issue is with a supervisor in an internship, a professor or field liaison might be able to assist. Depending on your context, there might be a specific procedure you are supposed to follow — e.g. in a workplace context, going first to your immediate supervisor, etc. If this is the case, make sure you follow the recommended order of operations for addressing the issue.
How can students avoid burnout and maintain a healthy work-life balance while also building strong relationships in graduate school?
Practicing self-care and doing your best to maintain a healthy work-life balance is essential while in grad school. Do your best to have clear boundaries around your work life, e.g. avoiding work email and phone calls outside of work hours, etc. You might also create a ritual or routine to ground yourself after work and distinguish between work and home, especially if you're working or learning remotely. At times, it might not be possible to do this perfectly — grad school can demand a lot of time and energy. Do your best to take care of the essentials: Make sure you're getting enough sleep, eating well, moving your body in ways that feel good, and setting aside some time for friends/family. If you're really struggling with burnout and motivation, it can sometimes be helpful to try to connect to your values — whatever it is that brought you to grad school in the first place — and use that to motivate yourself. It can also be helpful to remember the power that you have, and the active choice that you're making every day by showing up, working, and learning.
What are the signs of boundaries working well in various contexts (personal relationships, among academic peers, with supervisors/faculty)?
When boundaries are working well, everyone in a particular context should feel able to freely, safely express themselves and communicate about their needs. They should feel listened to and trust that their thoughts, ideas, and concerns are taken seriously. They should also feel able to safely bring up issues or concerns and know that they will not be punished or retaliated against for doing so.
What role does self-care play in establishing and maintaining healthy boundaries and relationships in graduate school?
Self-care is foundational in terms of maintaining healthy boundaries and relationships. When we're taking care of ourselves, it's much easier to show up fully in our lives. This starts with the basics, like getting enough sleep, eating well (or at least reasonably), exercising, etc. When we don't do these things, everything else becomes infinitely more difficult, including managing our emotions, thinking clearly, and communicating about our needs.