Are you detail-oriented, observant, and feel called to serve? Are you an IT professional, law enforcement professional, or first responder looking for career advancement? Earning a homeland security master's degree online could be for you. This degree opens endless career opportunities in federal, local, and state government as well as in the private sector. Getting your master's online gives you the flexibility and affordability you need to take this next step.
Choosing the right program to suit your life and fit your budget can be tough. This guide showcases this year's best online master's in homeland security programs, It also answers frequently asked questions, breaks down career opportunities after graduation, and dives deeper into specialization options and courses you can expect to take. Read on to learn more about taking the next step in a field that's vital to our national security.
2023's Top Online Master's Degrees in Homeland Security
Detailed Look: Popular Online Master's in Homeland Security
To further help you research your homeland security degree online options, we've provided detailed write-ups of three top programs that offer flexibility, experienced faculty, and a high-quality education. These programs are skill-focused, employing professors who have real-world experience in the homeland security field. See if one of them has what you're looking for or simply compare them to other programs you're considering.
The George Washington University

Located in Washington, DC, The George Washington University (GW) offers world-renowned education with proximity to endless job opportunities in the homeland security field. GW's top-ranked online Homeland Security Master of Professional Studies program gives students a comprehensive view of the field with a focus on current and emerging threats. Students learn from experienced faculty in the homeland security field. GW offers an extensive curriculum covering national and information security policy and gives students the skills they need to be successful in both the public and private sectors. This 100% online program requires 36 credits to graduate and can be completed in 16 months.
The GW online master's in homeland security is designed to benefit professionals with experience in the field such as first responders, emergency managers, law enforcement officers, and corporate security personnel. The curriculum builds on that real-world experience to prepare students for leadership roles in the homeland security field.
Virginia Commonwealth University

Located in Richmond, Virginia, just 90 miles from the nation's capital, Virginia Commonwealth University (VCU) was founded in 1838 as a medical college, and its focus since that time has been on professional education. In 2005, VCU launched its first-in-the-nation homeland security and emergency preparedness program. This fully online master's in homeland security program requires 36 credits for completion and emphasizes online discussion as a key element in learning.
VCU's Master of Arts in Homeland Security and Emergency Preparedness was designed to be interdisciplinary, grounding students in theoretical and practical knowledge for success in either the public or private sector. The curriculum focuses on international and domestic security preparedness and issues ranging from terrorist threats to national disasters. Coursework focuses on five key areas: risk and vulnerability analysis, strategic planning dilemmas of disasters and disaster preparedness, cybersecurity, institutional coordination, and intelligence operations and legal/constitutional aspects. Through research, policy analysis, and risk assessment, students are prepared for leadership in the homeland security field.
St. Joseph's University

St. Joseph's University (SJU) is a regionally accredited university offering a top-ranked homeland security concentration. Fully online, the Master's Degree in Criminal Justice with a concentration in Homeland Security prepares students for leadership careers responding to threats such as terrorism and natural disasters. The degree requires 30 credits and can be completed in two years. SJU prioritizes the online student experience, offering 24/7 technical support and making it easy to chat with librarians, counselors, and faculty.
The homeland security concentration offers a curriculum focused on risk assessment, disaster preparedness, and response. Coursework includes a study of the history of terrorism and its root causes and effects and the lasting effects of disasters on communities. Students will also be grounded in homeland security policy and gain an understanding of interagency coordination in preparation for leadership roles in local, state, or federal government and the private sector.
Advantages of Earning an Online Master's in Homeland Security
There are many advantages to earning your master's in homeland security online, such as flexibility, affordability, and career advancement in a field that changes rapidly. You will also learn valuable online communication skills and connect and network with professionals in the field.
Flexibility

Online programs offer working professionals and students with families the flexibility they need to complete coursework at their own pace when their schedules allow. They can plan their schooling around their lives rather than planning their lives around their schooling, leading to less stress and a more fulfilling experience. Online programs also expose you to new forms of technology and online communication, which are increasingly important in the rapidly changing American and global work space.

Networking and Mentorship

Top online master's in homeland security programs offer coursework taught by faculty who are homeland security professionals themselves. That's important in a field that's constantly changing. Plus, learning from homeland security professionals gives students the opportunity for networking and mentorship, which often opens doors to job opportunities.

Career Advancement

While a bachelor's degree is enough for many entry level homeland security careers, an online master's in homeland security provides you with the leadership skills to advance quickly. You may also start your career at a higher pay grade or in a higher-level position, allowing you to tap into your knowledge to ensure the safety of our nation.
What You'll Learn in an Online Master's in Homeland Security Program
While earning your online master's in homeland security, you can expect coursework to cover the full spectrum of current and emerging threats to the nation's security. Instruction helps you understand security policies and provides current best practices used to maintain preparedness and meet threats head on. Coursework will also teach you the leadership skills needed to be proactive in addressing security threats and coordinating a crisis response. Coursework subject matter will run the gamut from cybersecurity to budget management to civil liberties. The scope of homeland security's mission is vast. Read on to learn more about some of the classes you can expect in homeland security master's degree online programs.
Sample Coursework
Political Violence and Terrorism

This course outlines the history and evolution of terrorism and other politically motivated violence. Students learn about the origins and motivations of regional, national, and international groups that use terrorism as a tactic. Instruction also covers current trends in terrorist activity and counterterrorism strategies.

Security and Civil Liberties

Instruction grounds students in an understanding of how government agencies must balance a security approach with the civil liberties of United States citizens. Students learn the complexity involved in distinguishing between criminals and terrorists and understand the limitations placed on government action by the United States Constitution.

Information Systems Protection

Coursework gives students a broad understanding of the major categories of information security. Subjects covered include risk management, cybercrime, and cyber conflict. Students learn about technologies used in cyberattacks and systems protection, causes of information and cyber insecurity, and how to create, implement, and maintain information security programs.

Interagency Cooperation

Coursework gives students an in-depth understanding of the internal dynamics of the Department of Homeland Security. Students learn about interagency cooperation issues, legal and interorganizational challenges, and departmental organizational structure. Students also gain an understanding of mutual assistance agreements and the regional, national, and international structures of those agreements.

Emergency Management and Crisis Communication

Coursework gives students an understanding of the role of crisis communication in emergency management operations. Students learn about incident command and the critical communications tasks of an emergency command center. Instruction includes strategies and tactics for effective crisis communication among emergency managers.
Specialization Options
As a student, you have many options to specialize your master's in homeland security online degree. Choosing to specialize in a field makes you stand out to employers who are looking to fill positions with those specific skills. A person working in cybersecurity requires different skills than someone in emergency management. The homeland security field is vast, and specializing will help you to hone the skills needed for the type of job that suits you best.
Biodefense

A specialization in biodefense provides training in risk assessment and natural and man-made biological threats, giving students the skills to develop risk-reduction strategies using both science and policy.

Criminal Justice Leadership

By specializing in criminal justice leadership, students are prepared for leadership roles in homeland security and the administration of criminal justice. The curriculum focuses on ethics in leadership and the decision-making process within a large governmental organization. Students study leadership in criminal justice organizations such as the police, courts, and corrections and gain an in-depth understanding of the challenges these leaders face.

Emergency and Disaster Management

A specialization in emergency and disaster management prepares students to contribute to community safety, health, and welfare. Students gain the skills necessary for risk assessment, emergency and disaster planning, and emergency response. Emergency and disaster management programs also ground students in the federal policy necessary to apply for disaster relief funds and to account for the distribution of those funds.

Cybersecurity

Specializing in cybersecurity helps students gain a base of knowledge about current policies relating to administration of homeland security. A cybersecurity specialization focuses on cyberattack prevention while staying within the confines of the law. It also teaches students to assess network vulnerabilities and system threats and to combat cyberterrorism.

Counterterrorism

A specialization in counterterrorism grounds students in the current policies and operational parameters of homeland security. Coursework focuses on providing students with a detailed understanding of terrorist organizations: their motives, threats, recruitment strategies, and operational tactics. Instruction also details the history of U.S. counterterrorism and complying with the Constitution.
Accreditation for Online Master's in Homeland Security Programs
What You Can Do with a Master's in Homeland Security
As one of the largest agencies in the federal government, the Department of Homeland Security (DHS) offers endless opportunities for a fulfilling career with steady employment and great benefits. Whether your interests lie in cybersecurity, counterterrorism, emergency response, or airline safety, there is a career path at DHS.
However, your career options are not limited to working within DHS. An online master's in homeland security can open doors to a new career in other federal agencies, state and local government, as well as in the private sector. In fact, government positions are often springboards to lucrative private sector contracting positions.
Many career opportunities in the homeland security field fall into one of these categories:
Emergency Management
Disaster Preparation and Mitigation
Counterterrorism and Intelligence
Cybersecurity
Law Enforcement
Infrastructure Protection
The following are a few of the many career options available to a graduate of an online master's in homeland security program.
Information Security Analyst
Information security analysts are cybersecurity experts. They research and evaluate potential vulnerabilities in computer networks for government entities, private companies, and individuals. This field shows high growth over the next 10 years as the world becomes more dependent on technology and cyber warfare and hacking becomes more prevalent.
| 10th Percentile | Median Annual Pay | 90th Percentile |
| --- | --- | --- |
| | | |
Emergency Management Director
Emergency management directors work for state and local governments and also for private-sector entities like hospitals, universities, and corporations. They develop plans and procedures for natural disasters and other emergencies and coordinate the response to such events. Directors are also responsible for analysis of the response after the event is over and for applying for necessary federal and state disaster funding.
| 10th Percentile | Median Annual Pay | 90th Percentile |
| --- | --- | --- |
| | | |
Criminal Investigator
Detectives and criminal investigators solve crimes by gathering evidence to uncover violations of local, state, or federal law. They work in local police departments, state law enforcement, and for federal agencies like the FBI and the U.S. Postal Service.
| 10th Percentile | Median Annual Pay | 90th Percentile |
| --- | --- | --- |
| | | |
Intelligence Analyst
Intelligence analysts work across federal and state governments. Their job is to take the raw information collected by intelligence gatherers and synthesize it into briefings for decision makers at the highest levels. These positions require a deep understanding of current threats and the ability to communicate effectively in writing.
| 10th Percentile | Median Annual Pay | 90th Percentile |
| --- | --- | --- |
| | | |
Counterterrorism Analyst
Counterterrorism analysts work inside government agencies and the private sector with a specific focus on terrorist threat mitigation and prevention. Counterterrorism analysts have a deep understanding of the motivations behind terrorist acts and of current threat assessments, and they use that knowledge to brief decision makers.
| 10th Percentile | Median Annual Pay | 90th Percentile |
| --- | --- | --- |
| | | |
Costs and Financial Aid for an Online Master's in Homeland Security
An online master's in homeland security can advance your career or open doors to a new career. It is also a significant commitment of time and resources. Accredited schools offer financial aid and scholarships. However, it is essential to research the cost of any program you are considering. Larger state universities tend to offer all–online programs, but you may pay a higher tuition cost if you live out of state. Private universities that specialize in online education may seem more expensive up front but often include all the program fees in their projected costs. It's a good idea to contact an admissions or enrollment counselor for any program you are interested in; they can create a personalized cost estimate for you. The following cost chart covers a range of online homeland security master's degrees.
What Your Online Master's in Homeland Security Could Cost
| School Name | No. of Credits | Cost/Credit | Total Tuition Cost |
| --- | --- | --- | --- |
| | | | |
| | | | |
| | | | |
Q&A with Rohin Sharma, an Online Master's in Homeland Security Professor at George Washington University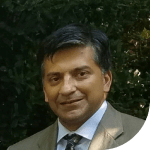 Rohin Sharma is the senior Middle East/Terrorism Analyst at the US Army. In this capacity, he is responsible for briefing the senior Army leadership (including the Chief of Staff) on all issues relevant to current operations in the CENTCOM region. He coordinates open source and intelligence information to ensure that Army equities are informed of the threat and current situation relating to ISIS, Al Qaeda, and large Middle Eastern trends. Previously, Rohin worked at the Defense Threat Reduction Agency. At DTRA, he was responsible for analyzing threats and assessing vulnerabilities related to Weapons of Mass Destruction and nuclear proliferation. Rohin also worked as an analyst with the Department of Defense, specifically focused on the IED problem set. In this capacity, he integrated academia, industry, and the intelligence community in defeating this threat. He was recognized as a subject matter expert in his field and briefed at numerous conferences, meetings, and congressional forums. Rohin spent seven years on active duty in the US Army as an intelligence officer. While on active duty, Rohin deployed to OPERATION IRAQI FREEDOM as a Battalion S–2 with the 101st Airborne Division. In addition, he was a J2 planner during OPERATION ENDURING FREEDOM from 2003–2004. Rohin also served as a ground surveillance platoon leader in the Republic of Korea in 2001.
Q. What type of professional or academic background best prepares a student for success in a program like GW's?
A: Our students have all sorts of backgrounds, from brand new undergrads to people who have 20 years of professional experience. We usually look for some professional experience in the program, so students have an idea of the field before they want to pursue it. Students should have decent writing and analytical skills, where are measured during the application process.
Q. What makes GW's program stand out among other online Homeland Security master's programs?
A: GWU has several advantages over most other programs. First, and most important, is the top-notch faculty. Due to GWU's proximity to DC, we have people who have worked within the Department of Homeland Security, Intelligence Community, and the various police departments located in the area. You won't get that level of experience or connections with most other programs. Furthermore, GWU has a strong reputation, and that is reflected in the rigor of the curriculum. You can be assured that GWU is not a degree mill. Finally, the quality of the students is really top-notch. As I mention in my first class, you will learn as much from your fellow students as you do from the faculty. Any prospective student won't be disappointed by their cohort.
Q. How much one-on-one time do students get with professors? How do your online students collaborate and get personal attention?
A: During the pandemic, I have been able to provide numerous one on one sessions with the students. Some of the questions are about the material, but most have to do with networking and job placement. I can't speak for everyone, but I do think that in addition to the instruction, students do deserve an opportunity to advance in their careers. In one of my classes, I am always available to talk one on one. As far as collaboration, students are required to do one 30-minute group brief for my class, where they have to coordinate across their locations. I also provide a weekly YouTube synopsis.
Q. Do most of your students go on to work at DHS or other federal agencies?
A: I would say about 1/3 of students go on to work with the DHS "enterprise"—to include DHS, state and local law enforcement departments. Another 1/3 work within the typical DC national security establishment–either with the FBI, Department of Defense, active duty military or with one of the big DC contractors (Booz Allen, SAIC). The final 1/3–especially for the online cohorts–comes from the private sector, traditionally within the security departments of large corporations.
Q. Can you give me an example of a student success story?
A: I will say that when there is a national crisis, I likely have a few students who are intimately involved. I am writing this on January 18th, 2021 and I know of former students who are working with the National Guard to secure various state capitols, with the DC and Capitol Hill Police who are securing downtown, and on state fusion centers trying to watchlist right-wing extremists that may disrupt the inauguration. I take great pride that former students (really colleagues now) play such a central role during crisis periods for our country.
For more information, please consult: https://www.cps.gwu.edu/homeland-security-master-professional-studies.
For more information on Professor Sharma, see: https://www.cps.gwu.edu/rohin-sharma
FAQs About Earning a Homeland Security Master's Degree Online
What are the admissions requirements for an online master's in homeland security?
The admission requirements for online master's in homeland security programs vary from program to program, but most share these basics:
Application
Two or three letters of recommendation, both academic and professional
Undergraduate degree from regionally accredited university
Official undergraduate transcripts
Resume
Statement of purpose
Minimum GPA between 2.7 and 3.0
Some schools allow prospective students with a lower GPA to write a statement explaining their grades and why they have the skills to be successful in the program.
Additional requirements may include a phone interview and GRE scores. The GRE is required for some, but not all, online master's in homeland security programs. Be sure to review your program's admissions requirements. Many schools also have admissions counselors to help you through the process.
How long will it take to finish my master's in homeland security online?
The amount of time it takes to complete your online master's in homeland security depends upon your program and your time commitment. Most online master's in homeland security programs require between 30 and 36 credits to graduate. Some programs can be completed in as little as 16 months with a rigorous course load; others take up to five years if you attend part-time. Most students complete their master's in homeland security degree in two to three years.
Can I earn a master's in homeland security completely online or do I need to visit campus?
Many master's in homeland security programs are 100% online. The coursework often includes online discussion and has the same requirements and benefits as in-person programs. Some online master's in homeland security programs do require an on-campus orientation. Others require an internship, which can often be completed in your local area. It's best to research each program's degree requirements to determine what works for your individual needs and career goals.