Within the LGBTQIA+ community, there are some large inequities among student groups. While race and socioeconomics do often factor into this, there is strong evidence that trans and non-binary students are the largest groups being left behind financially when it comes to paying for graduate school. The Williams Institute at the UCLA School of Law reports that 51% of transgender adults took out federal student loans to finance their education in 2021, compared to 35.9% and 27.9% of LBQ cisgender women and GBQ cisgender male borrowers, respectively.
Fortunately, there are a variety of scholarship opportunities available to help trans and nonbinary students fund their graduate studies. Read on to discover scholarship opportunities you can apply for now, plus other resources for trans and nonbinary students who are currently pursuing or hoping to earn a master's degree.
Graduate Scholarships for Trans and Nonbinary Students
Thankfully, there are many ways for trans and nonbinary grad students and prospective grad students to ease their financial burdens. In addition to subsidized loans and in-state tuition, private scholarships are available for grad students in a wide variety of disciplines.
Some of the scholarships listed are specific to trans and nonbinary students, or members of the LGBTQ+ community more generally, while others are open to current and future grad students more generally. Some are available regardless of course of study, while others may be for those in certain fields. Have a look at 30 scholarships you can apply for as a trans or nonbinary grad student today:
Amount: $4,000
The American Psychological Foundation (APF) sponsors this scholarship for a graduate student from an underrepresented community who is studying societal structures that negatively impact communities of color. Applicants must demonstrate financial need, and preference is given to those preparing for a career in academia.
Amount: $2,500
This award is granted to current students at an accredited U.S.-based institution, including graduate programs. Applicants must be a queer woman or trans person (including nonbinary) who is also Asian American or Pacific Islander.
Amount: $20,000
The American Sociological Association (ASA) offers this fellowship to students currently enrolled in a doctoral program in sociology. Students must be members of a recognized racial or ethnic minority group to be eligible.
Amount: $2,000
The American Society of Health-System Pharmacists (ASHSP) offers this award annually. Applicants must be enrolled in a professional Doctor of Pharmacy program at an accredited US institution with a GPA of 2.75 or higher.
Amounts vary
The Aqua Foundation offers funding opportunities for queer women, trans and nonbinary persons pursuing a degree — associate's, bachelor's, master's, or doctorate. Scholars are also assigned a mentor and meet regularly with both their mentor and fellow scholars.
Amounts vary
The Boren Fellowship provides funding for U.S.-based graduate students planning to participate in an exchange or study abroad program. Applicants must be planning to undertake study in a country in which they are not a citizen. Current U.S. graduate students only.
Amount: $1,000
This award, in memory of activist Sylvia Rivera, is granted to the best book or article on transgender studies to be published in the past year. Applicants may be students or professional researchers, but their work must already be published.
Amount varies
Boston's Fenway Health Institute offers graduate students and early-career researchers the opportunity to take part in their summer health training on LGBT public health and health initiatives. Applicants should be pursuing a postgraduate degree in medicine, public health, or a related field.
Amounts vary
For Americans considering graduate school in the United Kingdom, Fulbright Scholarships offer a variety of scholarships to study at U.K. institutions. Applicants must be U.S. citizens looking to study at graduate programs in the U.K. Fulbright Scholars will participate in events together.
Amount: Up to $6,000
The Gleason/Kettel Summer Law Fellowship offers a law student or recent graduate support for the study of, or work surrounding, issues of sexual orientation and/or gender identity in law and public policy. Fellowships are offered annually.
Amount varies
Transgender residents of Michigan are eligible to apply for this award, which will provide financial support for any accredited higher qualifications — including grad school — from an educational institution in Kent County, Michigan.
Amount: Up to $15,000
Hofstra Law sponsors three law students every year with the renewable Hofstra Law LGBT Rights Fellowship. Applicants must use the funding for summer internships with organizations that support LGBT rights. Applicants must be enrolled at Hofstra Law school.
Amount: Up to $7,000
The Kosciusko Foundation offers several scholarships for graduate-level studies (doctoral, master's, or professional school). Applicants must be Americans of Polish descent or ancestry and be pursuing graduate studies in the U.S. or at an English-language medical school in Poland.
Amount: Up to $1,000
The American Psychological Association (APA) offers this grant to graduate students in psychology to advance the study of gender identity and sexual orientation in psychology research. Applicants must be enrolled in a full-time graduate program in psychology at an accredited institution.
Amounts vary
Out to Innovate supports LGBTQ+ people studying and preparing for a career in STEM fields. Their scholarships are open to LGBTQ+ STEM students at any stage of their secondary and postsecondary education, including grad school. Applicants must have a minimum GPA of 2.75.
Amounts vary
PFund scholarships from the PFund Foundation support LGBTQ+ students from the Upper Midwest at all stages of their education — including graduate school. Applicants must be LGBTQ+ students residing or attending school in Minnesota, Iowa, Wisconsin, or North or South Dakota.
Amount varies
Students who have been accepted to the PhD program in Sociomedical Sciences at Columbia University are eligible to apply for the predoctoral fellowship in gender, sexuality, and health. The fellowship provides advanced training in gender identity and sexual orientation as they relate to health and sociomedical studies.
Amounts vary
The Pride Foundation offers 60 different scholarships, including graduate funding opportunities, for LGBTQ+ people living in the Pacific Northwest. Applicants fill out a single application to be considered for all available scholarships.
The Queer Mobilization Fund, a grassroots organization based in North Carolina, offers funding for a wide range of events and initiatives relating to LGBTQ+ liberation across the American South. Grad student activists are welcome to apply for funding, particularly for research or extracurricular work relating to social justice.
Amount: $2,000-$10,000
The Ritchie-Jennings Memorial Scholarship is sponsored by the Association of Certified Fraud Examiners (ACFE). Eligible applicants may be enrolled in undergraduate or graduate programs pertaining to accounting, finance, business administration, or another fraud-related discipline.
Amount: $9,000
The American Psychological Foundation (APF) offers this grant to graduate students in psychology who are studying LGBTQ+-related issues. Particular interest is given to individuals whose research concerns LGBTQ+ family therapy, and preference is given to dissertation-level students.
Amount: Up to $1,500
The Society for the Scientific Study of Sexuality (SSSS) offers annual awards for graduate students at accredited institutions studying sexology and sexuality from a scientific perspective. Grantees are also awarded travel funds to the annual conference of the SSSS.
Amount: $5,000
The Kinsey Institute offers an annual fellowship for graduate students at any U.S. institution from any discipline who are conducting research on the history, politics, and methodology of sexology and sexuality studies. Grantees will conduct several weeks' research at the Kinsey Institute.
Amount varies
The Skadden Foundation offers this fellowship every year to recent law school graduates and judicial clerks who want to work in the public interest. This can include work with the poor or homeless, or human rights work on behalf of communities deprived of civil rights, including the LGBTQ+ community.
Amounts vary
TSER offers a variety of scholarships, including funding to support graduate students, every year. Students must be transgender, nonbinary, two-spirit, or otherwise gender diverse, and be attending or planning to attend an accredited institution.
Amount: $1,000
The LGBTQ+ Bar offers this scholarship for recent (December 2022 or Spring 2023) law school graduates who are preparing to take the bar examination. Applicants must be transgender or nonbinary, recent law school graduates registered and preparing for the Summer 2023 bar exam, and persons of color.
Amount: $15,000
The American Psychological Association (APA) offers grants of up to $15,000 for doctoral students, graduate students, and early-career researchers at accredited not-for-profit institutions who are studying behavioral or social sciences as related to LGBTQ+ issues.
Amounts vary
The Williams Institute, the LGBTQ+ institute at UCLA's School of Law, offers grants to PhD students and academics studying the impact of various measures surrounding the inclusion of trans youth and trans students in athletics.
Amount: $5,000
The second summer fellowship offered by the Williams Institute, this program offers $5,000 to a law student or recent graduate to support them over a 10-week fellowship at the Williams Institute working full-time on LGBTQ+-related legal and public policy issues. Multiple fellowships are offered annually.
How to Stand Out on Your Scholarship Applications
Even highly specialized scholarships, such as those for trans or nonbinary graduate students at a particular university or studying a particular field, can be highly competitive. For larger scholarships with more applicants, this is even more the case. That's why you should work at making your scholarship applications the very best they can be — and that's a process that extends from choosing which scholarships to apply for until you submit your application. Here are some tips for crafting a stellar batch of grant and scholarship applications and improving your odds of receiving aid:
Tip 1: Apply for as many scholarships as you can.
As with all scholarship applications, it's a law of averages: Submitting more applications means more chances to be granted aid. While applying for scholarships shouldn't detract from your studies, it's a good idea to increase your odds of success by applying to a wide range of scholarships. One efficiency tip: Set up a template, including columns for such "must haves" as a resume and list of extracurricular activities, which can speed up the process when applying for multiple scholarships.
Tip 2: Apply for scholarships with more eligibility requirements (which typically means fewer applicants).
Fewer applicants for any given scholarship means your application has a better chance to catch the review committee's eye. One way you can ensure your application has room to shine is by applying to very specialized scholarships with a wide range of eligibility requirements. While a scholarship open to any trans or nonbinary student in America will likely have many applicants, one for trans or nonbinary students at your university, or studying in your particular field, will have far fewer eligible applicants — meaning a smaller pool for you to dive into.
Tip 3: Strategically choose sources for letters of recommendation.
Many scholarship applications will ask you for letters of recommendation. These should be from someone who knows you well and can speak not only to your strengths as a student and scholar, but also to your strength of character and success-driven nature. Your letters of recommendation can be from current or former professors, employers, mentors, or someone else entirely — just make sure they're someone who knows you well and supports you.
Tip 4: Wow with your essay.
While not every scholarship application asks for an essay, the majority of them do — and your distinctive story provides a great opportunity for you to stand out. The essay may ask about your experiences as a trans or nonbinary person, it may ask about your academic work and motivations for coming to graduate school, or it may be up to you. Whatever you choose to write about, make sure you're being honest and sincere — not just writing what you think they want to hear. And don't forget to proofread before submission, watching out for pesky typos!
Tip 5: Don't forget about the deadline.
Getting your application in before the deadline is important, as applications submitted late will likely not be considered. If you can, try to get your application in with time to spare before the deadline. This will not only help take any worries about the timeline off your mind, but it also gives the scholarship committee time to contact you if there are any questions or concerns about your application — so you can correct them before the deadline.
Tip 6: Share your unique experiences.
Remember, while there are many intelligent, highly motivated graduate students out in the world and applying for scholarships, there's only one you. Your scholarship applications should reflect that. From your educational history, your work history, your reasons for going to grad school, and your personal experiences, your life thus far has been unique — and sharing that uniqueness will make your application stand out.
20 Helpful Resources for Trans and Nonbinary Master's Students
Starting grad school can be a major adjustment for all students, not to mention the extra stress inherent to navigating financial challenges and applying for scholarships. Happily, there are a variety of online resources — some exclusive to trans and nonbinary graduate students and some more general — that can help make your grad school journey easier. Here are some places to get started:
Interview with a Trans Graduate Student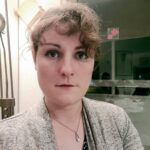 We spoke with Dr. Rachel Tome Valencia Hamilton about some of the financial and social aspects of being a trans graduate student. She graduated in 2021 with a doctorate in geography and the environment from Oxford University and currently lives in Finland with her spouse.
1. Were you out as trans while in grad school?
I came out in term 1, in 2016, and dealt with logistics a year after — by the end of 2017, I had figured out the logistics of my transition, which can be very complicated in the U.K. Then I was doing fieldwork and finished my doctorate while in the process of transitioning.
2. How did being trans impact your thesis topic, if at all?
Basically, as I was coming out, this was also at the same time as a lot of really intense debate, some of it very discriminatory. I wasn't really equipped to deal with that, as I had a background in the hard sciences, and needed a way to understand what I was going through on an intellectual level.
My way of understanding this ended up very much influencing the approach I developed to the law I was studying in Indonesia. I was really influenced by a body of literature on how the state operates in relation to trans lives, and I began looking at government decentralization and grassroots rights through that lens, and how much can be accomplished through legislative means.
3. Did you have funding in grad school? How did you manage your finances?
I had external funding for year 1 — the Green Studentship, which meant I did environmental stuff around my college in exchange for funding. For the other years, I didn't have full funding, so I applied to some things, grants and small scholarships, and I also worked.
4. What kind of work did you do as a grad student?
I would find teaching roles, but there weren't as many as you'd think. I also did things like desk work, preparing departmental catering, chaperoning visitors to the department around on tours. I also worked in a bar that was owned by my college, but open to the public.
5. What advice would you give to a trans or nonbinary person looking to apply to or start grad school?
For the U.K., where I studied, maintaining access to hormones and trans healthcare generally can be hard — have a plan, and make sure you stock up. There's also an issue of discrimination. Spaces you'd hope are accepting may not be, so make sure you're finding spaces that are explicitly queer-inclusive, or that you know have supportive people in them.
Queer communities can be very tight knit, and they can be good to reach out to and get a support network. With one, amazing things are possible, but without one, it can be really hard.