Practical. Goal-oriented. Someone who thinks outside of the box.
Do these descriptors sound like you? If so, you might be a good candidate for pursuing a business graduate certificate online. Typically lasting a year or less (which appeals to your practical side, no doubt), these flexible programs cost less than a degree but signal to employers your commitment to lifelong learning and a passion for all things business (sounds pretty out-of-the-box to us).
While nearly every candidate for a job you want may have a business degree, fewer have taken that extra step to earn a business graduate certificate. In addition to setting yourself apart from other job seekers, you'll walk away with specialized training in areas like leadership, finance, business management, and project management, helping you take the next step in your career (there's that goal you're shooting for!). Best of all, a graduate certificate in business applies to many different fields, increasing your value to potential employers.
But it's normal to have questions before committing, so we're here to provide insights into high-quality programs, tell you what to expect, and help you feel confident taking the next step.
Ready? Let's begin.
College Spotlights: Best Business Graduate Certificate Online Programs
If you're like most students, you're looking for affordability, flexibility, and the accreditation you need to advance your business career. The first step is finding a program that meets your needs, so we're highlighting three top-rated schools in this ranking that represent best-in-class online business graduate certificates. Also, be sure to check back later this year, as we'll offer a complete ranking of top business graduate certificate programs online.
University of California, Los Angeles

UCLA Extension offers 19 online business and management certificates with various options, including advanced leadership, business analysis, enterprise risk management, and human resources management, among others. Highlighting its proximity to Hollywood, UCLA also features a certificate in business and management of entertainment for aspiring film or television executives.
Programs typically take about 12 months to complete. According to the UCLA Extension Certificate Graduates Survey (as featured on program pages like this one), about 25% of learners receive a pay raise after starting the programs, while half decide to switch jobs after finishing their studies. Furthermore, 85% of graduates believe a certificate helped advance their career and recommend the program to others. Learners typically complete four courses as part of the program.
Students pay an average of $6,250 per certificate, which includes application fees, program tuition, and textbooks. UCLA holds accreditation from the Association to Advance Collegiate Schools of Business (AACSB).
North Carolina State University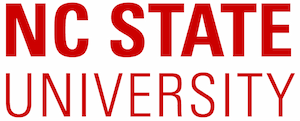 Based in Raleigh, North Carolina State University's (NCSU) Poole College of Management offers online graduate certificates in business analytics, finance, marketing, operations and supply chain management, and professional communication and managerial skills. Each certificate can be completed from any location with an internet connection.
Most NCSU business graduate certificate online programs consist of 12 credit hours, with some setting prerequisites before admission. Applicants must hold at least a bachelor's degree. Students currently enrolled in an MBA or master's in management can also enroll in a certificate program. Applicants should have a 3.0 undergraduate GPA and at least two years of full-time professional employment history at the time of application.
Semester and total tuition rates depend on residency status, credit hour registration per semester, and graduate enrollment. Certificate tuition costs are based on the MBA program rate; please note that fees differ between on-campus and distance education classes.
University of Pennsylvania

Penn's renowned Wharton School of Business offers several online business certificate programs to help you take your business career to the next level. Each program comprises three to four courses, and some are self-paced. The asset and portfolio management certificate costs $3,000, while the digital leadership certificate costs $2,250. Other options include leadership and management ($3,600) and digital marketing ($2,340).
In the leadership and management certificate, for instance, students complete classes in leadership in the 21st century, managing and motivating talent, managing the global firm, and competitive and corporate strategy in strategic management.
Wharton's online business graduate certificate programs are designed for early-to-mid-level business professionals, meaning applicants should have at least two years of experience before applying. All programs are taught by the same faculty members leading campus-based courses.
Top Reasons to Earn an Online Business Graduate Certificate
Before committing to a year of study — not to mention a significant financial investment — you need to consider the top reasons for pursuing this type of continued education. If the benefits below align with your goals, this could be the right path for you.
Benefit #1
Business graduate certificates straddle the line between one-off online courses and full MBA programs, providing the opportunity to gain specialist knowledge with deeper focus but less commitment. This means that while you gain additional education, you won't pay the cost of a multi-year graduate degree program.
Benefit #2
Business graduate certificates hold weight in the business world and often lead to promotions, with hiring managers recognizing students' dedication to earning this type of credential. Given the vast spectrum of business topics, they also demonstrate that you prioritize knowledge in a specific area.
Benefit #3
With many business professionals working toward a graduate certificate while working full-time and balancing personal responsibilities, the flexible nature of online business graduate certificates makes it easy to build additional knowledge without feeling pulled in too many directions.
What You'll Learn in Business Graduate Certificate Programs Online
Given the vast array of business certificate programs, the curriculum can vary dramatically. For example, students who want to focus on enterprise risk management will naturally take different courses than someone interested in supply chain management.
Because most certificate programs consist of only three or four classes, most do not conclude with a capstone project — although some certificates may still require culminating projects. Below, we look at a few of the most popular courses within online business graduate certificates to give you an idea of what to expect.
Popular Courses
Strategic Leadership
This course introduces learners to the skills needed to effectively manage teams, foster collaboration, and build solid and lasting coalitions. You will learn how to develop your leadership style and identify effective methods for leading diverse teams.
Finance and Accounting
Designed to help with business leadership decision-making, this course familiarizes you with commonly used financial statements and how they can be used as quantitative data when evaluating performance and charting the next steps. Students also delve into risk management topics.
Organizational Behavior
Whether working in a start-up, heritage corporation, or government agency, understanding how individuals, groups, and organizations behave proves incredibly valuable. This course examines topics in behavioral theories and analysis, action vs. analysis, and how to build healthy behaviors throughout companies.
Marketing Fundamentals
In the rapidly evolving world of digital marketing, understanding how to develop and maintain a competitive edge is critical for any business leader. Students consider questions about their marketing decisions and how to implement new strategies effectively.
Global Enterprise
Designed for business professionals who want to work in international business circles, this course examines the current global market through competitive issues. Students learn about trade theory, global supply chain management, diplomacy, import and export, and the cultural nuance required when working with global business leaders.
Business Certificate Specializations You Can Earn
Colleges and universities throughout the United States offer diverse options for their business graduate certificate online programs, giving you plenty of ways to find a specialization that works for you. We look at some of the most popular options below.
Finance
Finance specializations provide the skills needed for corporate finance, investment banking, financial management, cost accounting, budgeting, and financial analysis.
Leadership/Management
Leadership and management specializations build the interpersonal and strategic skills needed to lead diverse companies with innovation and sensitivity.
Lean Six Sigma
Professionals interested in building skills in cost savings, performance outcome improvements, organizational processes, and project management often select this specialization.
Marketing
Pursuing a marketing specialization provides skills in strategic planning, digital marketing, social media management, brand identity, and public relations.
What Can You Do with a Business Graduate Certificate?
Online business graduate certificate programs accept students who already possess a bachelor's and/or master's degree. So, while these certificates do not open the door to entry-level roles, they do help graduates negotiate for higher salaries or better titles — or provide the updated training needed to transfer into a new job.
Jobs in major business sectors are expected to grow in the coming years, with roles for marketing managers anticipated to expand by 10% and positions for management analysts by 11%. Regarding financial management roles, the Bureau of Labor Statistics projects that these jobs will grow by an impressive 17%, creating more than 123,000 new jobs by the start of the new decade.
Costs and Financial Aid for Online Business Graduate Certificate Programs
While online business graduate certificate programs typically cost less than a full master's degree, it's essential to carefully consider the financial commitment before enrolling. As the table below demonstrates, certificates usually cost between $3,800 and $7,900, though exceptions exist on the lower and upper sides of these figures.
It's less common to find financial aid for certificate programs, but students looking to save money can apply to programs that fall on the lower end of the tuition spectrum. They can also discuss tax-free educational assistance with their current employer or even the possibility of their company paying for the certificate outright in exchange for staying with that organization for a set amount of time.
What Your Business Graduate Certificate Online Program Could Cost
| School Name | No. of Credits | Cost/Credit | Est. Total Tuition Cost |
| --- | --- | --- | --- |
| | | | $3,795 (includes certificate discount) |
| | | | |
| | | | |
Frequently Asked Questions About Business Graduate Certificates Online
What is the Difference Between a Graduate Certificate in Business, an MBA, and a Master's Degree?
Within the world of graduate business education, certificates, MBAs, and master's degrees are the typical options. Certificates appeal to professionals who want a shorter education program or one specifically focused on a niche topic in the field. Master's degrees in business typically take students with little-to-no professional experience. At the same time, MBA programs usually look for candidates with at least a few years of full-time work on their résumés.
That said, certificates meet the educational needs of early-career professionals and senior leaders, given the opportunity to continue building skills in a specialty area. Students who have already completed an MBA or master's degree routinely seek graduate business certificate qualifications to continue expanding and deepening their skills and knowledge.
What Are the Admissions Requirements for an Online Business Certificate Program?
It's common for admission requirements to vary from program to program, with more competitive schools typically setting a higher benchmark for entry. But admission requirements often look similar across certificate programs, given that admission officers are all looking to understand if you're prepared for the rigor of their certificates. Some of the admission requirements you may encounter include:
Completed application and payment of application fee
Official transcripts demonstrating completion of, at minimum, a bachelor's degree
Minimum GPA
Work experience (requirements for the amount of experience are likely to vary)
English proficiency
Some schools may also require GRE scores, though this is not as common as it is for full degrees
How Long Will It Take to Finish My Business Graduate Certificate Online?
Most business graduate online certificates consist of 12 credits, though several require only nine credits. Most learners take one class per term and usually need a year to finish, although accelerated and self-paced programs can also be found. Given the flexibility of many of these programs, you can find one that works with your time requirements.
Can I Earn My Business Graduate Certificate 100% Online, or Do I Need to Take Classes on Campus?
While the answer to this question depends on the individual school and certificate, the general answer is yes; you can earn a graduate business certificate entirely online. Some schools may only offer hybrid or in-person options, but plenty of 100% online options also exist to make it easier for working professionals. This also allows you to cast the net wider and attend programs unavailable within driving distance.