In the dynamic realm of marketing, the competition is fierce. If you're looking to succeed in this field, gaining a blend of hands-on experience and ongoing education is the best way to stand out. But it can be hard to know where to start, especially if returning to school full-time is not a viable option with your current schedule or obligations.
Fortunately, you do not need to earn another degree to further your marketing career. Instead, consider earning an online graduate certificate in marketing. which allows students to follow flexible schedules from the comfort of their homes. These affordable, flexible online programs empower professionals to seamlessly integrate education into their lives while simultaneously boosting their marketing careers.
If you're still unsure whether an online marketing graduate certificate is right for you, use this guide to explore typical program costs, duration, and curriculum. Keep reading for a curated list of some of the best online graduate certificates in marketing for 2024.
College Spotlights: Best Online Graduate Certificate in Marketing Programs in 2024
We ranked the top online graduate certificates in marketing based on several criteria, including affordability, flexibility, and accreditation. These programs were selected specifically for students who already hold a bachelor's or master's degree, offering you a chance to further your skills, broaden your network, and obtain additional credentials.
Below, you'll find the top three marketing management certificate programs online as a preview of our complete ranking, to be released soon.
Colorado State University

Colorado State University's Marketing Management Graduate Certificate is a one-year, 100% online program designed for current marketing professionals. The curriculum focuses on areas such as product development, marketing strategy analysis, and consumer behavior.
This online graduate certificate in marketing requires two mandatory courses (Marketing Management and Marketing Strategy and Planning, both worth two credits) plus five one-credit electives that allow you to customize the program. For students hoping to pursue further business education, the nine credits earned through the program can be applied toward an MBA at Colorado State University.
Tuition for this online graduate certificate in marketing costs $998 per credit. Applicants must have a minimum GPA of 3.0 to be eligible for the program. Colorado State University is regionally accredited through the Higher Learning Commission.
Saint Joseph's University

Saint Joseph's University offers its Marketing Certificate as a stand-alone program, part of the MS in Marketing, or part of the stackable MBA program. This marketing management certificate consists of a core online course in marketing management and three elective courses from a wide selection. Options include advertising and consumer insights, promotional strategy, and predictive analytics. This online graduate certificate in marketing focuses on strategic thinking and offers the opportunity to connect with alumni currently working in the industry.
The online graduate certificate in marketing is 12 credits, for $1,140 a credit. In addition to financial aid, St. Joseph's offers tuition discounts for a wide variety of students, including those with military or volunteer service, alumni, and those who work with certain partner companies. A majority of students complete the program within six to 12 months.
Boston University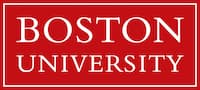 The Online Global Marketing Management Graduate Certificate from Boston University focuses on Internet-based marketing approaches, such as SEO, web design, and social media marketing. Students will be prepared to operate in a global environment, leveraging modern technology toward marketing goals. Program coursework can be completed either entirely online, on-campus, or as a hybrid.
This digital marketing online certificate program requires four courses. Two courses are mandatory and cover e-commerce and innovative marketing techniques. Additional coursework can be selected from the full catalog of graduate-level Administrative Sciences courses, with approval. Options include marketing analytics, global supply chains, and strategic brand solutions.
The 16-credit program is priced at $955 per credit. Financial aid is available, including scholarships, graduate loans, and payment plans. Credits earned in this online graduate certificate in marketing can be applied to the MS in Global Marketing Management.
Top Reasons to Get a Marketing Graduate Certificate Online
Earning a graduate certificate in marketing online can be easier and less expensive than in-person coursework. Keep reading to see if the benefits outlined below match your goals and requirements.
Flexibility
With long hours and personal responsibilities, many marketing professionals don't have the time to squeeze advanced studies into an already-packed schedule. However, when you don't have to commute to campus and can do your coursework at any time that suits you best, an online graduate certificate in marketing makes it feasible to go back to school.
Affordability
Pursuing a graduate certificate in marketing online can be more affordable than attending traditional in-person classes. Tuition rates for online courses often are lower and don't come with extra costs, such as for relocating or transportation. Part-time online school also lets you continue working, decreasing the need for loans to pursue your education.
Career Advancement
Marketing requires a combination of business and scientific knowledge, soft skills, and practical experience. As such, an online graduate certificate in marketing supplements your degree, offering you the most up-to-date techniques in the field. A digital marketing certificate online can also be useful in obtaining a promotion or raise by signaling your qualifications to management.
What You'll Learn in Online Graduate Certificate Programs in Marketing
In an online graduate certificate program in marketing, you'll take classes designed to complement your current skills. Generally, these classes focus on more technical aspects of marketing, such as analytics, digital marketing, research methodology, and management for the marketing industry. Oftentimes, courses can be selected as electives, allowing you to customize your experience.
Unlike a master's degree, online graduate certificates in marketing typically don't culminate in a project or thesis. Programs tend to be primarily classwork-based but often include opportunities to network with alumni or to apply your skills in a real-world scenario.
Popular Courses
Marketing Management
Marketing management is the practice of overseeing a marketing campaign from beginning to end. Coursework for a marketing management certificate online trains students in strategic thinking, brand positioning, and measuring the campaign results. At a graduate level, this course prepares students to lead marketing teams and oversee all aspects of the marketing process.
Consumer Behavior
Rooted in psychology, consumer behavior is the study of how consumers evaluate, purchase, and use goods. Students review the major models of consumer behavior, cultural issues influencing consumer behavior, research methods, and current trends in psychology. These are all placed within a framework of how this knowledge can influence marketing strategy.
New Product Development
A new product development course leads students through all steps of the product development cycle. Beginning with idea generation and prototyping, students follow the product through financing, launch, and brand management. In many courses, students develop a product of their own to gain an appreciation for each phase of the product life cycle.
Global Finance
Global finance introduces students to the principles of multinational finance and management. Potential subjects of study include managing risk, hedging strategies, derivatives, and the international flow of capital and its effect on exchange rates. In an era of multinational marketing, the course prepares students to understand the financial context of the companies, brands, and products they'll work with.
Research Methodology and Market Research
Coursework in research methodology introduces students to qualitative and quantitative research and analysis within the context of marketing. Courses focus on qualitative market research, such as running focus groups, or quantitative research, ranging from surveys to big data market analytics. Students are exposed to the techniques, regulations, and technologies necessary to effectively research and understand a market's landscape.
What is the Difference Between a Graduate Marketing Certificate and a Professional Certification?
An online graduate marketing certificate is different from a professional certification. A professional certification is a credential, often obtained after an exam, that shows that you're competent to perform a specific job. These certifications are typically provided by professional organizations, such as the American Marketing Association, rather than by universities. An online graduate marketing certificate, on the other hand, shows you've completed further education at a post-baccalaureate level. Marketing management certificates online are typically provided by colleges and universities.
While a graduate marketing certificate doesn't provide a series of credentials that you can list after your name, it can still be highly valuable. The coursework you take increases your skills, deepens your experience, and updates your knowledge to reflect the most current thinking in the marketing industry. It can also sharpen your ethical training, making sure you're applying your knowledge while considering the moral implications of your actions.
What Are Some Specialized Certificates in Marketing I Can Earn?
Students in an online graduate marketing certificate program can specialize in different aspects of the marketing landscape.
Marketing Management
Marketing management is the practice of analyzing demand for a product and positioning it to succeed. With a marketing management certificate online, you'll learn to work with a finance team to uncover new markets and successfully promote products and services across the global consumer landscape.
Digital Marketing
Digital marketing leverages the Internet, and particularly social media, to connect products with consumers. This area of marketing leverages a variety of technologies and platforms to understand consumers' wants and how best to reach them. A digital marketing certificate online teaches you to use data and analytics to get a big-picture view of the marketing landscape.
Market Research
Market research is the process of using direct research techniques to understand consumers. Both quantitative and qualitative research methods, including surveys and focus groups, can be employed to get a better idea of what consumers are thinking. Market research insights influence everything from package design to sales strategy.
What Can You Do with a Graduate Marketing Certificate?
Most students with an online graduate certificate in marketing pursue careers in marketing management. They lead teams to launch and manage products and services, overseeing the products at different stages of their development and sales cycle. Some students choose to specialize, pursuing leadership in a particular area such as market research or advertising and promotion.
While it's possible to break into marketing with just a bachelor's degree, a graduate certificate or master's degree helps advance your career and prepares you for a promotion or management responsibilities. Many companies even offer tuition benefits to assist employees returning to school to further develop their skills.
Marketing managers have a good job outlook. According to the Bureau of Labor Statistics, positions are slated to grow by 6% (faster than average) between 2022 and 2032 and command a median salary of $138,730.
Accreditation for Online Graduate Certificate Marketing Programs
If you pursue an online graduate certificate in marketing, be sure it's from an accredited university. Educational institutions are accredited by regional organizations overseen and certified by the Department of Education, which maintains a list of all accredited institutions. This not only protects you by making sure your program can teach what it promises, but it also signals the validity and quality of the program to your current or future employer.
Some schools may also be departmentally accredited by an organization such as the AACSB or Accreditation Council for Business Schools and Programs. This means the school meets additional standards set by that accrediting body. Departmental accreditations are useful for showing your digital marketing online certificate meets rigorous standards.
Costs and Financial Aid for Online Graduate Certificate – Marketing
Although earning your graduate marketing certificate online can lead to an increased salary, you'll be paying for your courses based on your current income. Many programs offer financial aid, which is usually explained on the program's webpage. A certificate is not a degree-granting program, so it's generally not eligible for federal financial aid. However, federal financial aid may be possible if you're pursuing your coursework as part of a master's program.
Check with a school's financial aid department and the FAFSA website for details. For those currently working in marketing, many employers offer tuition assistance. Contact your HR department to find out what your company offers.
What Your Marketing Graduate Certificate Online Program Could Cost
| School Name | No. of Credits | Cost/Credit | Est. Total Tuition Cost |
| --- | --- | --- | --- |
| | | | |
| | | | |
| | | | |
Frequently Asked Questions About Online Graduate Certificates in Marketing
What is the Difference Between a Graduate Certificate in Marketing and a Master's Degree?
An online graduate certificate in marketing certifies that you have completed additional classes through a university. It is not, however, a degree. A master's degree in marketing shows that you have completed a longer, more extensive course of study, developing deep expertise in a subject.
Online graduate marketing certificates typically only require you to complete coursework. A master's degree, on the other hand, usually culminates in a large project. Examples include a thesis paper, a capstone project, or an internship applying your skills in a real-world environment.
The credits earned in a graduate certificate in marketing often can be used to complete a future master's degree. Some programs also let you apply the credits to an MBA.
What Are the Admissions Requirements for Online Marketing Graduate Certificate Programs?
Typically, requirements are fairly relaxed for admissions to an online marketing graduate certificate program. They include:
Work experience: Some programs require at least a year or two of work experience. Additionally, most programs allow students to work while they study part-time.
Previous degrees: Most programs require students to hold, at a minimum, a bachelor's degree.
Previous academics: Many programs have a GPA cutoff for admissions—typically a 3.0.
GRE scores: While graduate certificates typically don't require a GRE to apply, you may need to take the GRE later if you're pursuing a master's degree using credits from your graduate certificate in marketing. Different programs have varying cutoff scores for the GRE.
How Long Will It Take to Finish My Marketing Graduate Certificate Online?
Completing an online marketing graduate certificate takes at least 6 months. However, these programs typically don't last more than one year. Many marketing management certificate programs are self-paced, so you can take longer if you're unable to juggle a larger course load.
Some in-person programs may be quicker because they can condense courses to save time. However, this sacrifices the flexibility and convenience offered by online graduate certificate programs in marketing.
Can I Earn My Graduate Certificate in Marketing 100% Online, or Do I Need to Take Classes on Campus?
The majority of marketing management certificates can be completed 100% online. These programs are primarily designed for working professionals, so flexibility and remote access are necessary for most students. For students who prefer to take classes in person, some graduate marketing certificates can be completed either entirely in person or as a hybrid of online and in-person courses.