Online communication master's programs can help you gain the strategic written and verbal skills sought by top employers without forcing you drop everything in your life. You can complete coursework at times and places that fit best into your busy schedule, allowing you to earn your master's on your terms. If earning your master's in communications online sounds like the right path for you, this guide is a great starting point. You'll find a list of top-ranked programs, information on career options after graduation, and answers to key questions about cost, admissions requirements, and accreditation. Keep reading to take the first step towards your online master's in communications.
Top Online Master's in Communications for 2023
Inside Look at Three Reputable Communications Master's Programs
Something you'll discover very quickly once you begin your program search is a surprisingly large number of quality online communications master's degree programs to choose from. That's a very good thing, but it also means you'll have to put some real time into sorting through all of those programs to find the right one for you. To help get your search going, we're spotlighting three fully-accredited online master's in communications programs currently available. See if a program like these might work for you.
Arizona State University

ASU's online master of arts in communication degree provides advanced training in communication theory and practice designed for working professionals seeking a career change, as well as individuals currently employed in the communication field interested in advancing into leadership positions. The 30-credit hour curriculum includes three core courses in communication theory and research methods, along with six elective courses in subjects such as communication in the workplace, communication and gender, crisis management and communication, and negotiation theory and practice. The curriculum culminates with a capstone project in which students answer a question or solves a problem tailored to their professional needs, goals, and interests in the communication field. All degree coursework is accessed and completed 100% online.
Admissions requirements for ASU's MA in Communications program include either a previously-earned bachelor's degree in a communications-related major or a master's degree in any field. The program features multiple start dates throughout the year and affordable tuition costs that are the same for both in-state and out-of-state residents.
Liberty University

Flexibility is an important element of any online degree program, but it's a key feature of Liberty University's online master's in communication program. The non-thesis, 33-credit hour program consists of 11 eight-week-long courses covering a range of communications and strategic communications topics. All coursework is completed 100% online in an asynchronous format. Students can transfer in up to 50% of the required credits from qualifying previously-completed courses, saving money and allowing for an average degree completion time of one year. Students choose one of eight starting dates to begin their studies.
Liberty also features broadly-accepting admissions requirements. To be admitted in good standing, applicants must possess a previously-earned nationally or regionally accredited bachelor's degree, in any major, earned with a minimum 2.5 GPA. Applicants who earned their bachelor's with less than a 2.5 GPA may also be admitted with caution. Applicants with a previously-earned master's degree or at least 12 graduate-level course credits are considered based on their master's-level work.
Purdue University

The development of advanced strategic communication skills is the main focus of Purdue University's online master of science in communication degree program. Earning the degree requires completion of 30 credit hours of coursework, including 18 credits of core courses and 12 credits of elective courses. Students have the option of choosing from among four concentrations (Communication and Leadership, Health Communication, Integrated Communication and Advertising, and Strategic Communication/Public Relations) or may customize their studies to fit their own professional goals and interests. There is no thesis or capstone project requirement. The program is offered 100% online with no in-person residencies. Study time is estimated at 15 to 20 hours a week, making the program ideal for working professionals. Students typically complete all degree requirements in 12 to 20 months.
Program admission requirements include a bachelor's degree in any major. Application submittals include a current resume, three professional letters of recommendation, and a 500-word (minimum) personal statement. Three start times are available each year: fall (August), spring (January), and summer (April/May).
Advantages of Earning an Online Master's in Communication
Given the substantial commitment of time, effort, and money required to pursue any degree, it's entirely reasonable to ask if earning an online master's in communication is worth it. The answer is that it depends on you: your career goals, the balance you want to strike between your personal and professional lives, and what you want to be doing, in actual terms, during those hours you're at work. With that in mind, here are three big benefits to earning an online communication master's degree:
Greater Knowledge and Skills

Advances in the communications industry are coming fast and furious, particularly in the digital and social media worlds. A master's in communications is an excellent way to gain these cutting-edge skills needed to meet today's complex communications challenges.

Expanded Career Opportunities and Options

The breadth of types of businesses and organizations that employ highly-skilled communications professionals is tremendous. That's why having a communication master's degree greatly increases your chances of finding a job that fits your interests perfectly, whether it's in the public or private sector, human resources, mass media, research, or academia.

Program Flexibility and Affordability

Most online master's in communication programs are either fully or predominantly online and feature asynchronous coursework. That means you can access and complete coursework anytime and anywhere that fits your busy schedule. So, unless you live within walking distance of campus and have all the time in the world to devote to academic pursuits, the study flexibility and cost benefits of earning your communication master's online are substantial.
What You'll Learn in an Online Communications Master's Degree Program
Effective communication skills are crucial to the success of virtually every organization in every segment of the economy. It's the main reason why the curriculums of online master's in communication programs are so broadly based on their offerings. Students completing their online communication master's programs will possess the full range of skills required to launch and build successful careers regardless of their chosen industry, including those concerning:
Communication research, data interpretation, and audience analysis
Effective messaging creation and dissemination
Problem solving and conflict resolution
Human resources and internal organizational communications
External messaging (advertising, marketing, and public relations)
Leadership and management
Finally, while a thesis is required of master's students in most majors, most master's in communication programs are non-thesis, and your studies will likely culminate in the completion of a capstone project.
Here are examples of five courses you'll likely take as part of your online communication master's course of study:
Common Courses
Advertising, Marketing, and Public Relations

This course deals with creating, implementing, and analyzing the results of policies and practices related to an organization's advertising and marketing of its products and services, as well as protecting and promoting its public image. Some programs offer separate courses and/or specialization options for these three subjects.

Communication and Gender

Issues of gender identity and bias often play key roles in affecting positive communication messaging. This course examines the relationship between communication and gender. For instance, it explores topics such as the different verbal and nonverbal communication patterns of males and females, and the perceptions of gender differences and their implications in various social and cultural contexts.

Communications Research

This course is an introduction to theories and methods (qualitative and quantitative) employed in creating and conducting research in the professional communications field. Students learn to analyze, present, and apply the information and data culled from their research efforts. Topics covered include sampling techniques, questionnaire construction, interviewing practices, and the ethical considerations involved in survey research.

Digital and Social Media Communications

This course is an examination of the uses, impacts, and implications of current and emerging trends in digital and social media. Topics covered include digital and social media platforms (blogs, websites, social networks, wikis, etc.), and their use in professional communications contexts; design and marketing of new media campaigns; and the relationship of social media and digital technologies and culture.

Law and Ethics in Communications Practice

This course introduces both the philosophical and practical ethical questions that arise in professional communications practice. Students additionally examine the potential legal challenges in communications through a survey of applicable laws and regulations, and the relationship of law to issues of censorship, libel, obscenity, intellectual property, and the right to privacy.
Specialization Options
Because of the breadth of the professional communications field, specialization options are commonly offered within online master's in communication curriculums. The number and titles of these options vary significantly between programs. If no specializations are available with the program you're considering, though, you'll likely be able to tailor your studies to your particular interests through elective courses. Regardless of specialization availability, you can be sure that you'll receive a comprehensive education that touches the full range of important communication subjects.
Here are five examples of common specializations currently being offered by online communication master's programs:
Advertising

Students opting to specialize in advertising prepare for careers in this highly-competitive field by learning to strategize, create, and manage advertising campaigns. Topics include strategic advertising and marketing principles and practices, digital/social media branding, research design, and more. Graduates with this specialization typically find jobs with advertising agencies and strategic marketing companies, corporation marketing and advertising departments, and nonprofit organizations.

Digital Communication

The future of the communication profession lies squarely within the virtual world. Students choosing this specialization will be ready to meet the challenges of that world by gaining important knowledge and skills in the use of various digital platforms, creating and implementing strategies for effective digital content, analyzing performance data to measure the effectiveness of new media messaging, and more.

Leadership

The leadership specialization is a good choice for current communication professionals seeking to move their careers up the corporate ladder into supervisory positions within a larger communications department or agency. Students learn how to identify and implement applicable theories and principles of leadership, facilitate clear communication between employees and management, and create an empowering environment in the workplace.

Public Relations

Courses in this specialization emphasize theory, research methods, and implementation skills related to creating strong and effective public messaging, primarily for private companies and nonprofit organizations. There are a lot of crossovers when it comes to the skills employed in the advertising and public relations fields. The difference is that advertising professionals are concerned with a company's products and services, while public relations professionals are focused on promoting (and protecting) an organization's public image.

Strategic Communication

Those individuals with an interest in crafting policies and practices to improve effective communications and information flow within an organization may want to consider the strategic communication specialization. Students in this specialization learn to create and implement communication strategies and plans, conduct assessments to measure the effectiveness of organizational policies and procedures, and work to facilitate and improve small group and interpersonal communications.
Accreditation for Online Master's in Communications Degrees
Accreditation is the process by which colleges and their degree programs are vetted and assured to meet certain stated academic standards. Accreditation is your way of knowing that the program you choose will provide the quality education and respected credentials you're looking for. In short, proper accreditation is the foundational requirement of any and every program you consider.
There are two major types of accreditation related to postsecondary education: programmatic and institutional. Programmatic accreditation concerns the vetting of specific degree programs and is typically carried out by profession-specific private associations. Many communications-related degree programs are programmatically accredited by the Accrediting Council on Education in Journalism and Mass Communications (ACEJMC). However, there are currently no professional associations that specifically accredit U.S.-based campus or online communications master's programs.
Institutional accreditation concerns the vetting of colleges and universities as a whole and is administered by several independent regional and national accrediting agencies recognized by the Department of Education (DOE). Proper institutional accreditation is essential when considering an online master's in communication program, especially since programmatic accreditation is not available. You can be assured that all of the programs mentioned in this guide have proper institutional accreditation, and it's highly likely that any other online communication master's program you look at is, also. Nevertheless, it's your responsibility to confirm the accreditation status of programs you're considering before signing up. You can do so by visiting the program's website or the school's accreditation website, or by using this DOE search engine.
What You Can Do with an Online Master's in Communications
It's probably no surprise that master's in communication degree holders often build successful careers in advertising, marketing, public relations, mass media, and corporate communications. What you may not realize, though, is that earning an online communications master's degree opens you up for a variety of occupations across a broad range of other professional fields. These opportunities include journalism, research, government, politics, fundraising, human resources, international relations, corporate management, and many others.
Below are job titles and descriptions for five popular careers for communication master's graduates, along with current earnings figures from the U.S. Bureau of Labor Statistics Occupational Outlook Handbook:
Marketing Managers
Marketing managers create and oversee the marketing policies, strategies, and programs for products and services offered by businesses. Specific tasks typically include collaborating with company management to determine the demand for the company's products and services; developing price strategies to maximize market share and profits; creating advertising, promotion, and marketing campaigns; and overseeing the activities of marketing staff. Marketing managers are employed directly by companies and firms, but may also work for marketing or advertising agencies developing and managing the marketing efforts of business clients.
| 10th Percentile | Median Annual Pay | 90th Percentile |
| --- | --- | --- |
| | | |
Human Resources Managers
Human resource (HR) managers are responsible for a company's or organization's workforce. HR managers work with management to develop and implement employee-related policies and procedures. They're involved in employee hiring and retention, salaries, work arrangements, scheduling, benefits, initiatives, workplace safety, and more. They're also responsible for ensuring the organization's compliance with applicable employment-related federal, state, and local laws and regulations.
| 10th Percentile | Median Annual Pay | 90th Percentile |
| --- | --- | --- |
| | | |
Public Relations and Fundraising Managers
Public relations (PR) managers work primarily for private companies and nonprofits supervising their organization's public image. Typical tasks include planning and implementing public relations strategies, creating and releasing publications and PR statements to the press, planning special organization/public-related events, representing their organizations online through podcasts and blogs, and (in larger organizations) supervising PR staff. Fundraising managers work primarily for nonprofit and charitable organizations overseeing events and campaigns aimed at soliciting and collecting donations.
| 10th Percentile | Median Annual Pay | 90th Percentile |
| --- | --- | --- |
| | | |
Public Relations Specialists
Public relations specialists are typically part of the PR staff of larger companies and organizations. Their job duties are similar to those of public relations managers in executing advertising and marketing strategies and campaigns. Communication master's graduates may want to consider a public relations specialist position as a way to launch their careers with a bigger organization that offers greater professional advancement potential.
| 10th Percentile | Median Annual Pay | 90th Percentile |
| --- | --- | --- |
| | | |
Technical Writers
A career opportunity not always thought of first for communications master's graduates. Technical writers prepare, write, edit, and publish the technically-related copy used in instruction manuals, professional journal articles, and similar documents. A career in technical writing may be a good choice for communications master's holders who have additional expertise in STEM-related fields, such as computer science, electrical engineering, and mechanical engineering.
| 10th Percentile | Median Annual Pay | 90th Percentile |
| --- | --- | --- |
| | | |
Costs and Financial Aid for Your Online Master's in Communications
As master's degree programs go, the cost of a quality online master's in communications degree is refreshingly affordable. However, most students will still need to obtain financial aid to help pay their program costs. Fortunately, there are lots of financial aid sources available for online communication master's students, including student loans, college-sponsored and private scholarships, grants, fellowships, work–study programs, employer tuition assistance programs, and more. To learn more about how to finance your online master's in communication degree, visit our financial aid page.
What Your Online Master's in Communications Could Cost
Below are the current tuition costs for three online master's in communication programs to give you an idea of what you might pay. Keep in mind that your total cost will be greater due to additional program fees, internet access fees, the cost of books and supplies, etc.
| School Name | No. of Credits | Cost/Credit | Total Tuition Cost |
| --- | --- | --- | --- |
| | | | |
| | | | |
| | | | |
Online Master's Q&A with a Professor of Communications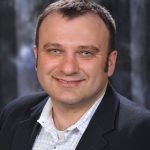 Dr. Pavel Shlossberg is an Associate Professor of Communication & Leadership Studies and Department Chair at Gonzaga University in Spokane, Washington. He is the author of the book Crafting Identity (published by the University of Arizona Press) and presently Associate Editor for The Latin American Research Review and editorial board member for both the Journal of International and Intercultural Communication and Journal of Hate Studies. Dr. Shlossberg received his BA (cum laude) from Williams College in Williamstown, Massachusetts, and earned his Ph.D. and MA from Columbia University in New York City. Prior to his appointment at Gonzaga, Dr. Schlossberg was a postdoctoral fellow at the University of New Mexico and lecturer at the University of Virginia.
Q. What kind of student is Gonzaga's online master's in communication & leadership designed for?
[The program is] built for a range of students. It's certainly designed with working professionals who are balancing multiple roles and responsibilities – working, studying, and continuing to pursue their educations – often with family and other responsibilities and commitments as well. So, we try to be flexible. That's really important, especially in an online context. Being timely, relevant, and applicable so that people can take the learning they're getting in the classroom and apply it directly to their current career or career goals.
Q. Speaking of current careers, what are the types of students you have coming in? What are they doing currently?
I'd say that about half of our students or so already have a career in the field of communication, broadly defined, which could be everything from public relations and journalism to corporate communication and marketing. We also have folks in other industries. For example, we have quite a few students in education and the nonprofit sector who are looking for opportunities to enhance their communication skills.
Q. Are you seeing students coming into the program to obtain up-to-date skills in digital and social media?
Yes, absolutely. We have very intentionally increased our own offerings around digital communication. It crosses through all of the other areas, whether it's strategic and organizational, intercultural communication, or applied communication. Digital is and will continue to be of increasing relevance and importance. It's not an option anymore.
Q. Is there any particular advice you might have for prospective students regarding issues they may not have thought of prior to starting their online degree programs?
A couple of things that I would suggest to them. With an online, professionally-focused master's degree, you want to have access to faculty, student services, and advisors. Something that we certainly pride ourselves on is accessibility. Also, having on-campus residencies. Something that students really appreciate is having the chance to meet their peers and faculty face-to-face.
One other thing I'll mention [regarding admissions] is that students shouldn't assume, especially if they have a couple of years of experience, that the most important thing is their GPA and their recommendations from faculty. Those certainly matter. But we also recognize that people develop and grow, for example, from where they were at 22 to now, five or ten years after graduation from their undergraduate programs. That really matters as well.
Q. So you consider personal and professional experience in your admissions choices?
Absolutely. Those things are relevant. We have individuals who are academic superstars, and we love having those students. But we also have very successful students who have a good combination of academic background with some really interesting, impactful experiences in work and life after school.
Q. Do you have any advice for prospective students concerning online study?
I would say to reach out to your department chair and faculty members who are teaching classes you're interested in. Have those conversations. See if the admissions specialists can connect you, not just with faculty members, but with a student or alum of the program that has similar interests and needs. See what that fit is like, how the program resonates with your interests. It's also a way to check how engaged, accessible, and relational the program is. Those things are always very important, but even more important when you're a student in an online context.
Networking and reaching out is always good advice.
And it's really great for us, as well, to connect with students who take that extra step and are interested. It's really a way of taking charge of their own education and career. It helps us and it helps them.
FAQs About Online Master's in Communication Degrees
What are the admissions requirements for an online master's in communication?
The admissions requirements for most online master's in communication programs are pretty similar, but they're not identical. There's nothing that will mess up your academic plans quicker than missing an admissions deadline or submitting an incomplete application packet. It's important, therefore, that you understand and meet all requirements—to a T—for each program to which you apply. With that in mind, here's a list of common admissions requirements for online master's in communication programs:
Previously-earned degree: A bachelor's degree in any major from a regionally or nationally accredited college or university (or international equivalent), typically earned with a stated minimum GPA (2.5 to 3.0 is common).
Additional application requirements: Other typical application requirements include official transcripts for all previous college-level coursework, letters of recommendation, current resume, and a written personal statement. Proof of English proficiency, usually in for form of minimum TOEFL scores, is additionally required for international applicants.
How long will it take to finish my communication master's degree online?
Average program lengths range anywhere from one to 2 ½ years, with most students taking around 15 months to two years to complete their degree requirements. The time it will take for you to complete your online communication's master program will depend on several factors, including your rate of progress (full-time or part-time study) and the number of previously-earned credits that can be transferred in. Given that online communications master's degree programs are geared toward working professionals, though, most of them feature generous total completion times on the top end.
Can I earn a master's in communication 100% online or do I need to visit campus?
It depends on the program. Some programs, like the three spotlighted in this article, are completed entirely online. Others include one or more in-person components. For example, Syracuse University's MS in communications program requires two weekend-long immersions on the school's main campus, and Gonzaga University's master's in communication & leadership program includes one 3-day on-campus immersion. Also, programs may offer students the option of taking some of their classes on campus. Be sure to contact any program you're considering directly if you have questions about on-campus or other in-person requirements.