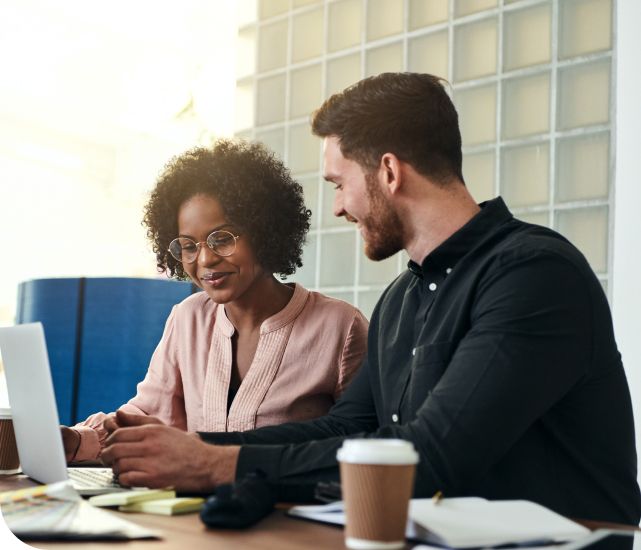 You might meet people who assume that the field of social work is intuitive. But if you hold a bachelor's in social work (BSW), you know that providing support and aid to our most vulnerable populations requires a highly evolved skill set. Skills that constantly change to include up-to-date, evidence-based practices, program evaluation findings, and the use of trauma-informed care.
As the field evolves, and through the advocacy of organizations like the National Association of Social Workers (NASW), the term "social worker" is protected in many states. So, unless you have a degree in social work, you cannot hold a position with that title. If you hold a BSW and pursue entry-level social work positions, you will experience professional growth within your role in the years ahead.
For most positions, however, a Master of Social Work (MSW) is the preferred or required degree for clinical, administrative, or leadership positions in the field. If you have already earned a BSW, you're closer to your MSW than a student whose undergraduate degree is in a different area.
By building on your existing knowledge of social work theory and other foundational principles, you can accelerate your studies in an advanced standing online MSW program. Many schools offer advanced standing MSW programs online, allowing even greater flexibility in advancing your studies and growth potential.
As you consider earning a master's degree from an online MSW program, you might have questions about cost, flexibility, vetting the best program for you, and additional application requirements, to name a few. Please read our guide to learn what you'll need to know as a prospective advanced-standing candidate to help you make the most informed and confident decisions as you apply to online MSW programs.
Best Online Advanced Standing MSW Degrees for 2022
We've identified this year's best 50 programs that offer online advanced standing MSW programs. After combing through data from The Integrated Postsecondary Education Data System (IPEDS) and the Council on Social Work Education (CSWE), these select schools shine in crucial factors like overall affordability, online learning availability, and student support metrics. For more information on how we calculated our rankings, check out our "About the Ranking" button below. And check out our top five picks.
How Does an Advanced Standing MSW Differ From a Traditional MSW?
An MSW earned through an online advanced standing curriculum program will adhere to the same rigorous standards set forth by the Council on Social Work Education in classroom and field practicum education. Applicants with a BSW are typically expected to have earned a 3.0 GPA in any previous social work courses, although standards vary by institution.
Students whose transcripts may not meet the standard requirements may take the GRE to demonstrate aptitude, although it is typically not required for MSW programs. Some advanced standing MSW online programs require you to complete your BSW within a prescribed period for continuity.
As a student with a BSW, you already have a great knowledge base about social work theory, human behavior in the social environment, and social justice covered in the early MSW curriculum. By drawing from your previous studies, you can focus on advanced skills in your MSW programs, such as clinical skills, advocacy, research, and policy, and working with different systems, such as education and government systems.
While most MSW programs do not include a capstone project, you will execute several large projects with your field placement, including projects related to social change or program evaluation.
Who Are the Best Candidates for MSW Advanced Standing Online Programs?
The individuals who could benefit most from an online advanced standing MSW program have already earned a BSW and want to continue to experience growth in the field and specialize further. For the BSW with work experience in the field, the ease, flexibility, and accessibility of an online advanced standing MSW program streamline the process of increasing you're earning and professional advancement potential.
Ease, Flexibility, Accessibility
Learning online from well-respected institutions has never been easier, particularly as almost every institution defaulted to online or hybrid status during the initial stages of the COVID-19 lockdown. With increasing numbers of institutions observing how much the transition to online learning benefits their students, you can take advantage of the flexible scheduling, asynchronous and synchronous materials, and clearly defined curricula to earn your MSW.
Increased Earning Potential
While social workers are primarily motivated by their altruistic desires to help others, supporting yourself and your family are important factors. Positions that require an MSW are typically compensated at a higher pay grade than those that only require a bachelor's or associate's. These higher positions also offer advancement opportunities.
Increased Professional Potential
As a BSW, you may max out your ability to grow and evolve. Even professional, evidence-based models require a master's degree to begin their training program. With a master's degree from an accredited MSW online program, you'll be eligible for licensure, advanced clinical supervision, and leadership roles in agencies to affect positive social change in your community.
Tougher Admissions Requirements For Advanced Standing MSW Degrees
Standards for an advanced standing MSW are consistent with standard MSW programs, which usually include a holistic review of each student as a prospective social worker and an addition to the field while considering their demonstrated aptitude for the rigors of the institution's curriculum.
While the GRE or other exams are not required for admission, students with a lower undergraduate GPA may take the GRE to supplement their application and demonstrate their seriousness in master's-level studies.
Many online MSW programs also seek to accept individuals with various lived experiences for what they contribute to classroom dynamics and debate and how they will continue to affect positive change in their communities.
Bachelor of Social Work (BSW) from a CSWE-accredited program
Minimum GPA of 3.0
B- or better in all undergraduate social work major courses
How Long Should I Expect to Be in School
Generally, programs can be completed between three and six semesters, depending on your schedule and status. Most online advanced standing MSW programs offer the flexibility of full- or part-time study. Your online coursework may be paced differently than your on-campus colleagues and require more discipline, mainly if your courses are offered asynchronously, and you don't have the accountability of gathering for a course meeting.
However, every online MSW student's program is paced by their field placement, with at least 15 hours on-site per week, allowing everyone to implement content they are covering in their courses to the populations that they serve.
Online Advanced Standing MSW Programs Can Focus on Different Concentrations
One of the benefits of being a social worker is having a plethora of choices in terms of concentration, specialization, professional trajectory, and work setting. Most online MSW program concentrations can be divided into three categories: direct practice social work (or macro/clinical social work), advanced generalist social work, and macro (or policy) social work.
Direct practice settings include settings in which you have one-on-one contact with the recipient of services and conceptualize an individual's circumstances, presentation and treatment plan through a social work lens and set of values. Work in this area could include school social work, working with incarceration and re-entry, providing care in a substance use disorder treatment program, providing individual psychotherapy, medical social work, or other areas of direct interaction with the recipient of services.
Macro or policy social work focuses on advocacy, nonprofit organizations, and understanding leadership through social work theory and perspectives. Education and work in this area include a deeper understanding of the history of various social programs, such as housing or healthcare policy, learning skills to assume a leadership role in a nonprofit organization that provides social services, or advocating on a local, state, or federal level for improved programs to serve community needs.
Advanced generalist social workers are prepared for a wide variety of roles, which include providing services for housing, food resources, child and family services, job placement, and healthcare access. Advanced generalists may assume leadership roles in various settings or engage in program evaluations and will likely have direct contact with service recipients.
Frequently Asked Questions About MSW Advanced Standing Online Programs
Is an advanced standing MSW the same as an accelerated program?
In short, an advanced standing MSW is an accelerated online program. These programs consider your previous BSW coursework, allowing you to eliminate redundancy in content such as social work theory and other Council on Social Work Education requirements for a degree to speed up your advancement into a master's degree.
Students must have already earned a BSW to engage in an advanced standing MSW program online—this should not be confused with collapsing MSW coursework into a shorter course of study.
Are internships or hands-on experience required?
Field placement is an essential requirement from the Council on Social Work Education (CSWE) to earn a degree in social work at the bachelor's or master's level. These field placements are provided at agencies or organizations that provide social work services to individuals through advocacy, assessment, intervention, counseling, or other support or needed services.
Many online MSW programs will allow you to complete your field placement in your home area after identifying an appropriate supervisor at a qualifying agency for your field practicum coursework, which you'd complete online.
What type of accreditation should a social work program hold? What license can I get with an MSW degree?
Any degree in social work should be accredited by the CSWE. This independent organization upholds curriculum and practice standards for institutions that offer instruction in social work. Pursuing a degree at an unaccredited institution puts you at risk of not qualifying for licensure in your state, limiting your ability to practice social work at your fullest potential.
What is the median salary for a person with a Master's in Social Work?
According to the US Bureau of Labor Statistics, the median salary for a master's level social worker in 2021 was $50,390, or $24.23/hour. Various factors impact social work salaries, including the type of work you complete, whether you work for a government agency or private organization, and your years of service or experience. The field is expected to grow by 12 percent by 2030, leaving plenty of room for prospective social workers to impact their communities positively.