A master's degree should be an exciting career boost, but the realities of paying for graduate school can feel like a huge weight to shoulder. That's because the majority of master's students take on debt to complete their degree. In fact, over 60% of master's degree holders have debt when they graduate and owe an average of $66,000, according to the National Center for Education Statistics. While 60% is a large percentage, it is possible to be in the 40% who graduate debt-free.
When you think outside the box as you brainstorm funding options, you can more easily graduate from your master's degree program without financial woes. This guide details the ins and outs of graduating from your master's degree program debt-free. We'll look at the basics of financial aid, underrated funding options you probably haven't thought of, and explore real-world examples of how other students are graduating without debt. By the end, you'll be ready to graduate with a sense of accomplishment instead of with unbearable financial burdens.
Start Here: Choose a Program You Can Afford
There's a lot to consider when choosing your graduate program, such as the learning format, what the curriculum covers, and the academic reputation of a college. One consideration you shouldn't overlook is the cost. While you might have your eyes set on a specific school, you might be able to get the same degree at a fraction of the cost somewhere else. Taking the time to weigh your options to choose a program that suits your needs and budget is important — and finding this program isn't always a quick and easy decision. It should be a thoughtful process weighing many financial factors, including the following:
Cost
Of course, this may be the most important and obvious consideration, especially if your goal is to graduate debt-free. For each school you're interested in, research their website for graduate student tuition. Sometimes, individual program pages will list the cost as well. When searching, keep in mind that the cost for the same degree can vary from school to school.
Some students find it useful to create a spreadsheet to document important details about potential master's programs. If you use this organization method, be sure to add a column for cost so you can do a side-by-side financial comparison of all the programs you're considering.
Financial Aid Package
The initial tuition price isn't the full story — you'll also want to consider the financial aid available to you. Students usually get a financial aid package from each university they apply to with two sources of funding. The first source is FAFSA, the government's program to award grants and student loans to qualifying higher education students. The other source is the university itself. Through endowments, donations, and state funding, universities can offer fellowships, scholarships, and other funding options to master's students. The exact funding available varies, and some institutions have better packages than others, but overall, over 57% of master's students receive some financial aid.
Look at In-State Public Institutions
When looking at master's programs, you'll find some are housed in private universities and others at public institutions. A main difference between the two is that public colleges receive federal and state funding, meaning they can offer education at a lower price. This lower price is usually referred to as in-state tuition and applies to residents of that state. For example, if you're a resident of Ohio, you'll pay $4,722 per semester as a master's student at Ohio University, while a resident of another state would pay $8,718 per semester. Often, in-state universities have more fellowship funding for graduate students as well.
Consider an Online Master's Degree
Typically, an online master's degree can be more affordable than an in-person program. That's because it's cheaper for a school to host a program online than to reserve classroom space for lectures and labs.
Even if an online master's degree is the same tuition cost as an in-person program, there's other ways you can save by getting your degree virtually. As an online student, you won't have to pay for transportation to and from campus and student activity fees. You'll also have greater flexibility in your schedule, giving you the ability to work more hours and earn more money to fund your graduate studies.
Compare Program Details
At the end of the day, you want to compare the holistic snapshot of different graduate programs. When deciding on a program, pay attention to the tuition and expected financial aid package, but don't forget to look at the quality of education as well. To help you decide which program is right for you, ask yourself these guiding questions:
Will the program help you to achieve your goals?
Does it have a good reputation in your industry?
Will it help you find a job after graduation?
Is the program accredited?
What unique opportunities does this program provide you with?
Is it online, hybrid, or in-person, and does this match your preferred learning format?
9 No-Debt Funding Options for your Master's Degree
Based on 2022 data, the average cost of a master's degree is $62,500. Most of us don't have that kind of money at our fingertips, but that doesn't mean you have to go into debt while attending graduate school. Instead, try these nine ways to fund a master's degree without student loans.
Don't be afraid to stack these efforts, as you may need to use several different avenues to pay for your degree. Most students, for example, use some scholarships, some grants, and also work to pay for their school. The more options you pursue and secure, the less debt you'll carry come graduation time!
Scholarships
As a master's student, you can apply to state-funded, federally funded, and privately funded scholarships to offset the cost of your education. In fact, there are hundreds of scholarships out there, just waiting to be claimed. Some students, such as Elizabeth Timothy, use scholarships to fund their entire master's degree. Timothy, a master's student at Texas Woman's University, was awarded an International Peace Scholarship to cover the cost of her tuition.
To get started on your search, check out these 68 scholarships for master's students.
Grants
Grants are another funding option for master's students. Similar to a scholarship, an institution provides money for education in the form of a grant. Students usually have to meet more specific requirements for a grant than a scholarship, such as agreeing to teach in an under-resourced school upon graduation. Adam Elzarka, for example, knew he wanted to get his master's degree before starting a career in refugee resettlement. To fund his continuing education, he applied for and was awarded a grant from the Truman Scholar program.
Graduate Assistantships
Assistantships are one of the most common funding options for students who are full-time master's students. With a graduate assistantship, students either work as a research assistant helping a professor with their research or as a teaching assistant helping teach undergraduate classes. Some institutions, such as the University of Washington, offer both types to master's students. In the University of Washington's assistantship program, as well as many others, assistantships are compensated with a tuition waiver and a living stipend.
Employer Reimbursement Programs
If you currently have a full-time role (or even a part-time one), your employer might have a tuition reimbursement program. In these programs, an employer will pay for all or a part of a graduate degree, typically if it enhances the employee's skillset related to their role. Employers who offer reimbursement programs include Apple, Capital One, and Target. Each program has different requirements, so make sure to check with your company's HR department if your master's program qualifies for employer reimbursement.
Work Through Grad School
One of the best ways to avoid debt while in college is to make enough money to cover your cost of living and tuition. There are many avenues to fund your education, from having a full-time, salaried position to freelance work to working in a field with lots of tips, such as bartending. The right option will depend on how much time and energy you have to commit to a job while balancing graduate school obligations.
Join the Military
Many people know that the military funds undergraduate students, but they also have a program to fund graduate students, too. The military provides fellowships, loans, and scholarships to current and retired members of all branches. For more information on what scholarships you might be eligible for if you join the military, check out the U.S. Department of Education Federal Student Aid page for military personnel, veterans, and their families.
Merit Scholarships
If you had great grades in your undergraduate degree or bring a unique professional background to the table, you should consider merit-based scholarships. Merit scholarships are based on past academic and professional experience instead of financial need. They can be provided by universities, state governments, or private organizations. Often, these scholarships have specific requirements to apply. For example, to be eligible for the Amelia Earhart Scholarship, you should be a female-identifying student getting a graduate degree in aviation.
Loan Forgiveness Programs
In certain situations, you can have your federal student loans forgiven, canceled, or discharged, as long as you meet certain requirements. These requirements are constantly changing, so for the most up-to-date information on who qualifies, check out the Federal Student Aid's loan forgiveness page. Some private employers, such as Google, also have loan repayment programs as part of their employee compensation package.
Additional Ways to Save on Your Master's
Remember when we said you might have to get creative to graduate debt-free? These additional ways to save on your master's degree definitely fall into that category. Whether you are reducing your expenses, looking for bargains on textbooks, or increasing your income, there are many ways to increase your chances of being able to graduate debt-free beyond scholarships and assistantships. Check out five of our favorite underrated ways to save or increase your income while in graduate school.
Learn to Budget
Sticking to a budget is crucial to avoiding student loans or paying off student loans if you already have them. But just how important is a budget? Sofia Bastida paid off $120,000 in student loans, and she credits a strict budget as part of her success. A budget helps you gain awareness of how much you're spending, how much you're making, and where all that money is going. This awareness allows individuals like Bastida to take control of how they're spending and saving their income. For more information on setting up a graduate school budget that actually works, check out our budgeting 101 guide.
Reduce Living Expenses as Much as Possible
When working on your budget, consider ways you can reduce your living expenses. Some expenses, such as rent and food, are necessary and should be kept in your budget. Other expenses are nice-to-haves, not must-haves. Some nice-to-have expenses you could eliminate include a Netflix subscription or buying designer clothes.
Other areas of your life could benefit from a reduced budget in order to fund your graduate studies. Areas where you could cut back your spending include:
Alcohol and/or going out with friends
Eating out
Entertainment, including concerts, movies, and other events
Fitness – an affordable gym (or even a home set-up) could be just as effective as those expensive cycling classes
Rent or Borrow Textbooks
Over 33% of students spend more than $400 a semester on textbooks. While you most likely can't eliminate this expense, you can spend less on required readings for your degree. Tennessee Tech has a great guide on where you can go online to find more affordable textbooks. Along with online options, your university might have resources to help. At the beginning of each semester, check to see if your university library has textbooks available to either rent out or use when in the library. You can also talk to your professor to see if they have any ideas about how to get a textbook at a more affordable or discounted rate.
Take Advantage of Student Discounts
Textbooks aren't the only college expense you might be able to get at a discounted price. Many companies and public organizations provide discounts for graduate students. As a graduate student, you can get a discount on services such as Amazon Prime and Spotify. You can also get discounted access to museums and federally funded cultural sites. The Museum of Modern Art in New York City is one of the many museums with a student discount. Check out our free guide for a full list of master's student discounts and deals.
Earn Credit Card Rewards
If you understand how credit card points work and choose the right card for you, you can earn money back for every dollar you spend. Some credit cards offer rewards that can be spent only on certain purchase types. For example, the points earned on the Venture X card from Capital One can only be spent on travel-related expenses. Other cards provide points that can be spent anywhere, such as the points from the Chase Freedom Unlimited credit card. For more information on how to earn points and cash back while you spend, check out NerdWallet's guide to credit card rewards.
Resources to Learn More
Want to take some tangible steps right now to improve your financial prospects as a graduate student? Check out these 20 free resources on graduating debt-free. Below, you'll find websites, podcasts, blogs, and more dedicated to helping graduate students find the most affordable programs, set up a budget, and learn how to deal with other common financial challenges
Interview with a Financial Expert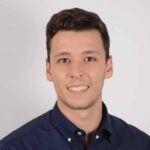 Pedro Braz is passionate about finance, marketing, and technology. He is a growth marketer for several online businesses and the co-founder of Investing in the Web, the TripAdvisor of investment fintech. Before starting his personal finance business, he self-funded his MBA in economics and management.
Q. What are some ways to reduce living expenses in graduate school?
There are many ways to reduce living expenses during graduate school. Some I used include sharing accommodations with roommates to split rent and utility costs, utilizing campus resources such as libraries and computer labs, and preparing meals at home and limiting eating out. I also took advantage of student discounts on transportation, entertainment, and other services.
Q. How can students create a budget that will help them stay on track with their finances during a master's program?
Students should start by listing all sources of income and expected expenses. Next, categorize expenses into fixed (e.g. rent) and variable costs (e.g. groceries), and allocate a portion of income for savings and emergency funds for each category. To stay on track, regularly track and review spending habits to identify areas for improvement.
Q. Are there any underrated ways to save money that most graduate students probably haven't considered?
While I did fund my master's with more traditional money-saving options, such as applying for scholarships and grants, I also found some unique ways to save money, too. To cut entertaining and networking costs, I opted for free campus events. For extra income, I participated in research studies and offered skills or services to fellow students.
Q. How can a master's student prepare themselves financially for life after graduate school and ensure that they can maintain a debt-free lifestyle?
During a master's degree, you can develop a strong credit score by using credit responsibly and maintaining a budget. Post-graduation, you can start an emergency fund and prioritize repaying student loans.
Q. What are some common mistakes that students make when trying to avoid debt during their master's program, and how can students avoid them?
The most common mistake I see graduate students make is overusing credit cards. Limit credit card usage to an amount you know you can pay off balances in full each month. You should also make sure you seek financial aid. Before each semester, research and apply for scholarships, grants, and work-study programs.
Q. What steps can a master's student take now, while still in school, to set themself up for a financially stable post-graduation future?
Your financial future post-grad starts with the decisions you make while in your master's program. The obvious financial advice, such as developing a strong credit score and maintaining a budget, apply. However, there's also an often-overlooked aspect that can create a financially stable future: networking. When you network with professionals in a desired field, you are creating more money-generating opportunities, such as job and business partnerships.
Q. What is the most underrated way to save money while in graduate school?
While obvious in some ways, very few students take advantage of the scholarships and work-study options available to them. Apply, apply, apply, and keep applying to these opportunities throughout your degree.