Are you the first in your family to pursue a graduate degree? You're not alone. Studies show that anywhere from one-fourth to one-half of all college students are considered "first-generation" students, depending on how you define the term.
First-generation undergraduates face many barriers in their pursuit to become the first in their families to graduate college. You are likely navigating the admissions process, financial aid, postsecondary coursework, and more – without having a set path before you.
According to a Pew Research Center study, first-generation college graduates aren't on equal footing with their peers who have college-educated parents. The differences are even starker for graduate-level students. First-generation master's students tend to be financially at a disadvantage and hold less wealth than peers with parents who hold a college degree or higher, leading to a wide gap in outcomes between first-generation and second-generation students.
But we're here to help close the gap. If you're looking for a head start on your journey, we've rounded up the best resources for first-generation students to help you succeed in school and beyond.
Am I a First-Generation Master's Student?
It can be tricky to know whether or not you are a first-generation student, because there are a few different ways to define the term. Additionally, some universities and specific scholarships may differ in their approach to who qualifies as a first-gen student.
However, some common factors categorize first-generation graduate students. Read through the Q&A below and see which characteristics apply to you.
Did your parents graduate college? If not, you are considered a first-generation student. This is the most common definition for first-gen students.
Did your parents attend some college but never graduate? If yes, you are considered a first-generation student. As long as neither of your parents has a college degree, you are still considered a first-generation student, even if they earned a partial education.
Do you have a sibling who has attended college, but your parents did not? If yes, you are still considered a first-generation student. Being a first-gen student means that your parents did not complete a 4-year college or university degree, regardless of other family members' level of education. However, having a sibling that has earned a degree can be a great resource for you as you navigate your schooling.
Did your grandparents, stepparent, or other close relatives attend college, but your parents did not? If yes, you are considered a first-generation student.
Final note: If you graduated with a bachelor's degree and were considered a first-generation student, you are still considered a first-generation student in graduate school.
Key Support Areas for First-Generation Grad Students
We've rounded up a wide list of support areas for first-generation grad students, which includes financial, basic needs, healthcare, campus work, academic success resources, and more.
This list may not apply to every student, nor is it exhaustive. But given the stats that many first-gen students lack access to the same resources as their peers and they have lower graduate rates, these considerations can aid in first-gen student success.
Financial – Scholarships, Loans, and Grants
Financial aid is often the prime concern of any student, let alone a first-generation graduate student. When starting the scholarship search process, it can be helpful to look at websites like Niche and BigFuture to see which ones you may be eligible to apply for. The Department of Education also provides several helpful financial resources. Next, you will want to go through your specific school and see which scholarship programs are offered for first-gen, master's-seeking students.
Lastly, grants play a big part in a graduate student's financial aid package. Grants are similar to scholarships because you will not have to pay them back — unless you withdraw from school or fail to maintain eligibility. While scholarships are often merit-based, grants are given based on need and can relate to your prospective academic and career field.
Basic Needs – Housing & Food
Having a plan for how you will meet your basic needs, like housing, food, bills, etc., is another crucial aspect of your graduate education. While many scholarships and grants cover academic costs like tuition and books, some won't cover your monthly expenditures that cover the cost of living. Because you likely won't be able to work full time while in graduate school, you'll want to be sure you have a good understanding of the cost of your monthly bills and spending and have a plan to cover those expenses.
Health Care – Access to Student Health and Mental Health Services
As a student, you should have access to your school's healthcare plan. You'll want to make sure you understand what health benefits you have access to as a graduate student and ensure that you are equipped with adequate student health and mental health services. You also may have the option to enroll in a Health Insurance Marketplace plan. Either way, it's critical to have coverage for your day-to-day healthcare needs as well as for the more serious health complications you may face.
Campus Work/Study Opportunities
Many graduate students choose to find jobs on campus to help fund their education. You can usually find a wide variety of available jobs, often including research and teaching assistantships. This hands-on experience can be crucial for your academic and professional career, no matter the field you decide to pursue.
Graduate assistantships are typically offered by professors, academic departments, and other campus offices. The benefits can include tuition and/or fee waivers, and the work is typically less than 20 hours per week. Graduate Research Assistants (GRAs) work on academic research projects under the guidance of a professor. Graduate Teaching Assistants (TA) help teach graduate and undergraduate courses at the university.
Academic Success Resources
Your academic success is, of course, one of the most critical measures of your overall success while in graduate school. From preparing yourself for entrance exams like the GRE and GMAT to navigating research and dissertations, you can find a wide range of academic resources that can help your educational journey at every step along the way. See below to read more resources that we recommend for first-generation students.
8 Steps to First-Gen Master's Success
Like any endeavor, preparation is the key to success. As you get ready to embark on your graduate degree, certain tasks can help you get started on the right foot. These eight tips can help first-generation students take advantage of the tools and resources available to them and have a higher degree of success in their master's program.
Get Your Family Involved
Your parents or family members may not have attended college, but they can help encourage and support you in your success. Having a wide support network will give you the confidence you need to successfully take on your education.
Create Community Among Your Peers
Building a strong community among your fellow graduate students is essential to your success. Research shows that the more engaged a student stays while in school, the more likely they are to be successful.
Some examples of peer resources include a study group or a campus organization. It can also be helpful to find other first-generation students in your program who may be experiencing some of the same situations and questions as you.
Building a community will help you weather the ups and downs of your graduate school experience.
Apply for Financial Support and Scholarships
While financial support and scholarships are much more easily found at the undergraduate level, there still are a wealth of opportunities available for first-generation graduate students.
You just need to know where to look. Financial aid packages could range from small one-off gifts to funding your entire tuition. Be sure to look for scholarships that focus on students of underrepresented groups. Earning financial support will help ease the burden of school so that you can focus on your studies.
Connect to Supportive Resources on Campus or Through Your School
Many schools have resources to support first-generation students on campus. The University of Nebraska-Lincoln First Generation Nebraska is just one example of how a university can support students through resources, events, community, and more. The University of North Carolina also has a similar program called Carolina Grad Student F1RSTS that helps support first-generation graduate students on campus.
Become Your Own Advocate
When it comes to pursuing your graduate degree, you should expect a certain degree of uncertainty and that you will have many questions about the process. Don't be afraid to ask questions or ask for help navigating the system.
As a graduate student, you're taking steps that show your commitment to a greater understanding and mastery of your field. And you should be treated as such. Learning how to be assertive about what you need and deserve is a skill that will be useful for the rest of your career.
Find a Mentor
This may be a professor or someone who can help you navigate your program, or a more experienced peer who can answer general questions when you have them. It's always a good idea to have trusted individuals in your circle who have had similar life/school experiences and are willing to offer advice when you need it.
Get Out of Your Comfort Zone
The greatest amount of growth and learning happens outside of your comfort zone. While you will learn an immense amount in school, you will also grow and learn outside of the classroom. Make it a goal to experience new opportunities and learn new things to grow your perspective.
Bring Your Unique Perspective to the Table
You might not have the same background as someone else, but that doesn't mean that your experience is less than anyone else's. Our uniqueness is what allows us to learn from each other. Remember, your perspective as a first-generation master's student makes you uniquely qualified to help others in similar situations or to seek information from those with a different background.
20 Resources for First Generation Master's Students
From podcasts, Facebook groups, books, and more, you can find abundant resources to help you navigate your graduate studies. The resources below can be handy as you look to find more information, whether you are studying for an MBA, a master's degree in science, or anything in between.
Scholarships for First-Gen Master's Students
No matter your specific background, you're likely to find many scholarships that you are eligible to apply for. We've rounded up some great options for first-generation students. These include scholarships for law students, STEM, music, and many more options. Be sure to also check the financial aid office of your specific school to find other scholarship options through your program.
Interview with a First-Generation Graduate Student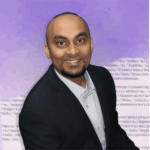 To provide some perspective on the challenges and opportunities of being a first-generation graduate student, we spoke with Bishal Dasgupta. He is a digital transformation consultant currently pursuing his MBA with interest in sustainable business practices. During his career, Dasgupta has facilitated transformation projects for Fortune 500 clients.
Q. What would you want to know about the first-generation grad student experience?
A. It's challenging yet rewarding. It's ambiguous yet fulfilling. The experience is unique and helped me know myself better. I know this sounds cliché, but my grad student experience is as much about learning about myself and understanding how I operate as it is about learning new business concepts in school.
Q. What would be good for first-gen students to know that could support them in their journey?
A. I would encourage first-gen students to take that first step and aim at challenging their own doubt. It's those initial, critical moments during a pivot that matter the most.
One of my big hurdles was to be financially able to cover the cost. There are various kinds of funding opportunities that are more available today than a few years back, like a collateral-free, cosigner-less education loan — and you should be educated on it to better prepare financially.
Q. What has been the biggest challenge for you during your studies?
A. Irrespective of my stellar career achievements, initially I found myself in self-doubt. When I dived deep, with the help of self-awareness and validations from mentors and seniors, I was able to realize that it was the ambiguity and the uncertainty of the future that was the root cause of my doubt.
Identifying the problem and finding the root causes are important. Only when you have identified this can you work towards a resolution.
Q. What has been the biggest help and/or greatest resource for you?
A. People — the right people. I am not sure if there is a secret sauce to this. I was fortunate to meet people I could be comfortable speaking with. One must proactively develop relationships while not being completely dependent on others. I think the balance comes with practice.
Also, pick up every win on the way and look back at them to be confident and not complacent.
A physical success board helps me feel motivated and gain momentum on days when the energy dips, showing me my capability to make progress.
Q. How can universities better help support their first-generation students?
A. They should openly speak about, accept, and provide resources for the problems students face. At the Katz Graduate School of Business, this was a part of the orientation agenda. It was verbalized that there will be times when students may feel the going is getting tougher. When something like that happened, we learned how we could reach out for help and speak to people around us. Universities can also help by walking the talk and instituting a culture of community and togetherness.